This article first appeared in The Edge Financial Daily, on March 18, 2020.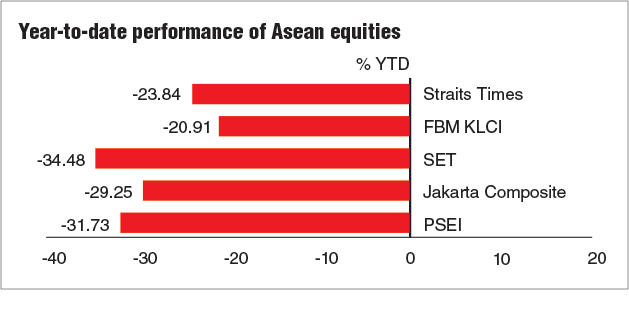 KUALA LUMPUR: It has been almost a week since Covid-19 was declared a pandemic, triggering an avalanche of panic selling across global markets, including Bursa Malaysia. And it does not look like the bloodbath is ending anytime soon, as the clamour of an imminent global recession gains momentum.
Yesterday, Bursa Malaysia-listed companies lost some RM28.05 billion in market capitalisation as local equities continued to sink, bringing the total market cap wiped out in the past week to over RM200 billion.
The day started with the benchmark FBM KLCI down on opening at 1,217.28 points, with 63.35 points or nearly 5% shaved off from Monday's close, before it clawed back some losses to settle at 1,256.58 points — the lowest recorded since May 2010. It was still in the red with 24.05 points or 1.88% lost.
All but one of the indices on the local bourse was in the red, with the biggest loser being the REIT (real estate investment trust) Index, which lost 35.39 points or 4.15% yesterday to close at 817.08 points. The Technology Index, the sole gainer, closed 0.4 of a point or 1.46% higher at 27.79 points.
Most of Asia, other than Japan and Hong Kong, also remained in the red. Indonesia's Jakarta Composite Index fell 4.99%, while South Korea's Kospi was down 2.47%, Singapore's Straits Times lost 1.65%, and Thailand's SET retreated 1.04%. Hong Kong, however, saw its first gain in a week when it rose 0.87%, while Japan inched up 0.06%.
The ringgit, meanwhile, continued to weaken against the US dollar. At press time, it was trading at 4.3513 against the greenback, down 1.02%.
RHB Investment Bank Bhd regional equity research head Alexander Chia told The Edge Financial Daily that it is unclear at this juncture as to where the bottom of the market could be, and that continued volatility should be expected until there are concrete signs that the Covid-19 outbreak has been contained.
"Right now, fundamentals are secondary as fear spikes with Covid-19 affecting both supply and demand dynamics," said Chia, adding that the situation is now "very negative", with significant downside risks seen to Malaysia's economic growth for 2020.
The persistently low oil price also adds fiscal risks to Malaysia, he said. The oil price slump is due to the collapse of Opec+ more than the impact of the virus on global oil demand, Chia said. And the former happened because of political posturing between Saudi Arabia and Russia, he added. At the time of writing, Brent Crude oil was trading at US$29.67 per barrel — its lowest in four years.
"In the short term, it is like trying to catch a falling knife. But we are beginning to see value in the market in a longer-term perspective, despite the elevated risk environment. Investors choosing to nibble, however, should be prepared for more near-term market volatility," Chia said.
Instead of trying to time when the bottom will be reached, investors should instead position themselves for an eventual recovery by identifying high quality names that are now cheap but are resilient and can survive the ongoing turmoil, Chia said. "Our base case view is that the Covid-19 will be largely contained within the first half of this year."
Even if that happens as predicted, Chia said there could still be some spillover economic impact that will affect companies' performance in the third quarter of the year. "So we expect the market to begin pricing in the green shoots of recovery from the economic stimulus package and easy monetary policy in the later part of 2020, and going into 2021," Chia said.
From the peak of 1,895.18 points seen in April 2019, the KLCI has come down by 33.56%. At the rate things are going, Inter-Pacific Securities Sdn Bhd head of research Victor Wan said there is a strong possibility that the decline could hit 50%, like during the 2008/09 global financial crisis, indicating the selling — which he thinks has been overdone — is far from over.
"The question then is whether the rebound is going to be V-shaped, U-shaped or L-shaped? Essentially, we are waiting for the dust to settle. Until then, we will continue to see volatility in the market," said Wan.
In the meantime, the partial lockdown announced by the government on Monday will heavily curtail economic activities, said TA Investment Management chief investment officer Choo Swee Kee. "Companies will likely report lower revenues and profits for this period. However, we prefer to look longer term on the benefits of this movement restriction order. If we can halt the spread of Covid-19, the country's economic and productive activities can resume faster and catch up on lost time," he said.
Citing Bloomberg, Choo also noted that the KLCI's price-to-earnings (PE) is now at 13.2 times, which is relatively attractive compared with the 16.7 times at end-2019, and that the present situation presents an opportunity for genuine investors who invest for the longer term to pick up good stocks.
While no one is counting on the market bottoming out at this juncture, a "good support" is seen at a PE of 12 times or an index level of about 1,100 points, Choo said.