This article first appeared in The Edge Malaysia Weekly, on August 13, 2018 - August 19, 2018.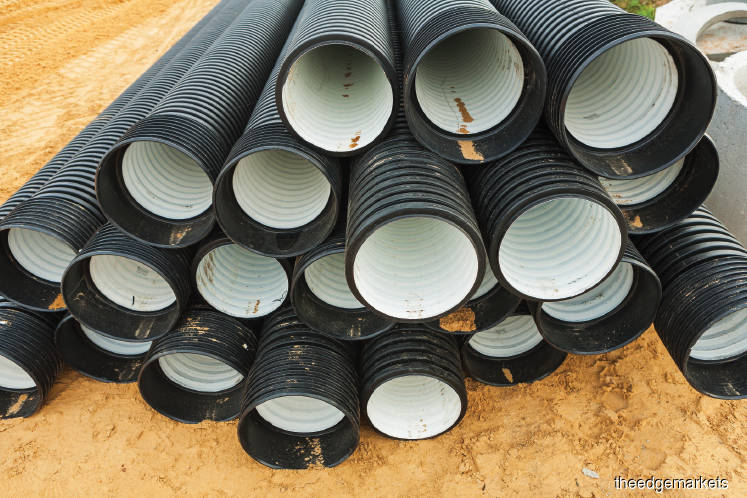 FINALLY, the decade-long water impasse in Selangor looks like it is nearly over as parties owning Syarikat Pengeluar Air Sungai Selangor Sdn Bhd (Splash) have indicated their acceptance of a RM2.55 billion offer by the state for the water concessionaire's assets.
With the Selangor government's special purpose vehicle, Pengurusan Air Selangor Sdn Bhd, apparently on the verge of acquiring Splash's water treatment assets, pipe manufacturers have again come under the spotlight.
To be clear, the resolution of the state's water assets deadlock has been bandied about for a number of years and was expected to be a catalyst for pipe manufacturers, given the vast potential of pipe replacement works.
But does this remain a pipe dream?
Not necessarily, analysts say, although they caution that it would take some time before pipe replacement orders start trickling in for pipe manufacturers.
"After acquiring Splash, Air Selangor would still have to submit a business proposal to SPAN (the National Water Services Commission). Air Selangor will be granted a licence as a certified water operator only after the business proposal is approved by SPAN," observes an analyst.
"It is only after obtaining the licence that funds will be disbursed to Air Selangor for capital expenditure. So, this entire process could take awhile."
In a recent report on Engtex Group Bhd by Hong Leong Investment Bank Research, the research firm notes that pipe replacement orders may only pick up in the second half of next year.
Non-revenue water (NRW) — treated water that has not been billed due to theft or water that fails to reach paying customers because of leaky pipes — has been a persistent problem in Selangor as about a third of treated water goes to waste.
Consequently, a substantial number of pipes need replacing.
Selangor Menteri Besar Amirudin Shari was quoted in the media recently as saying that once Air Selangor completes the acquisition of the water assets, the state will continue to replace the water pipe network on a staggered basis.
Over the past three years, the state has replaced 400km of the pipe network and reduced NRW to 30% from 33%, according to Amirudin.
It is understood that about 6,000km of the 22,000km pipe network in Selangor are made of asbestos-cement (AC) and need to be replaced at an estimated cost of RM1 billion. 
Nevertheless, Selangor only represents a part of the entire picture. Nationwide, there is reportedly about 40,000km of ageing AC pipes that also require replacement.
An aspiration of the 11th Malaysia Plan is to reduce the NRW level in the country to 25% by 2020 from about 35% at present. Hence, analysts are waiting to see if the 2019 Budget under the Pakatan Harapan government will prioritise the matter.
"If there is any new budget allocation or new policies being crafted in the upcoming national budget to tackle the NRW situation, it is likely to boost the demand for water pipes and replacement works," says HLIB in its report on Engtex.
Over the past year, the share prices of pipe manufacturers have declined. Engtex, for instance, was down 6.7% to RM1.15 as at last Thursday, nudging its price-earnings ratio (PER) to 9.53 times.
YLI Holdings Bhd has lost nearly a fifth of its share price to 40.5 sen.
But Fitters Diversified Bhd has bucked the trend, gaining 5.13% over the same period to 41 sen, although its PER is much higher at 38.2 times.
It is worth noting that all three companies are also involved in other businesses.
Only 4.5% of Fitters' total revenue is derived from pipe manufacturing and distribution. But for YLI and Engtex, the manufacture of pipes and its related products as well as distribution make up more than 90% of their revenue.
YLI posted a loss of RM8.66 million for the financial year ended March 31, 2018, compared with a net profit of RM5.18 million a year earlier, on the back of lower revenue from its construction and project management division, coupled with a substantial increase in raw material cost and a one-off impairment of goodwill.
For Engtex, net profit for the first quarter ended March 31, 2018, fell 44.8% mainly due to a gain on disposal of land amounting to 
RM7.1 million a year ago. It also attributed the decline in earnings to increased competition and raw material cost for certain steel products as well as the escalated construction cost for its recently completed property development project in Kepong.
As for Fitters, it registered a net profit of RM1.38 million for the first quarter ended March 31, 2018, against a net loss of RM840,000 a year ago. Its improved performance was attributed to its property development and construction division, which made a profit before tax of RM4.1 million.
 
Save by subscribing to us for your print and/or digital copy.
P/S: The Edge is also available on Apple's AppStore and Androids' Google Play.