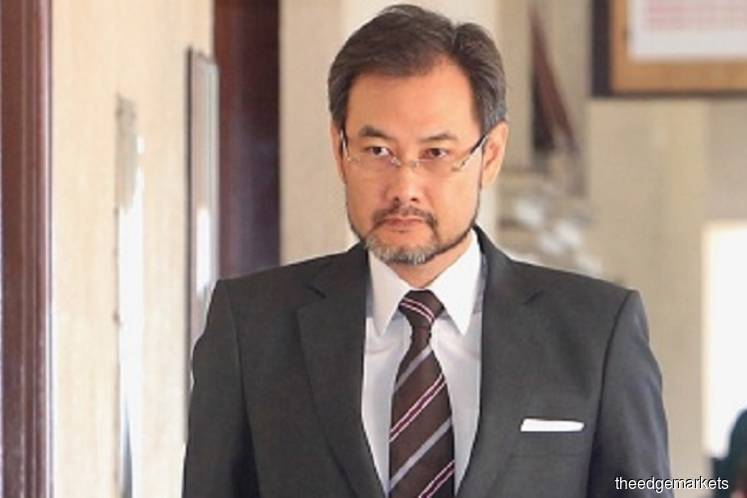 KUALA LUMPUR (Oct 8): Datuk Shahrol Azral Ibrahim Halmi, former CEO of 1Malaysia Development Bhd (1MDB), told the court that there were no lawyers on the board of directors of Terengganu Investment Authority Bhd (TIA) after the resignation of lawyer Christopher Lee Sian Teik of Christopher Lee & Co.
He said Lee and former TIA chairman Tan Sri Mohd Bakke Salleh were appointed as the first directors on the board of TIA in 2009, but it was not clear if they were picked by fugitive financier Low Taek Jho, better known as Jho Low.
Shahrol was responding to questions from Datuk Seri Najib Razak's lead counsel Tan Sri Muhammad Shafee Abdullah.
Shahrol pointed out that both Lee and Mohd Bakke were already members of the steering committee of TIA, and members of the committee would eventually become board members. He added that Tan Sri Ismee Ismail was also a member of the steering committee and became a director later.
Asked if Low and Lee shared a close relationship, the witness said they seemed like "they knew each other" from his own limited observation.
Lee had resigned from the board on March 21, 2009, the same day Shahrol was appointed CEO of TIA. Shafee asked the witness why Lee had resigned, to which Shahrol said Lee was only needed during the setting up of TIA.
"In other words, he was a promoter director," said Shafee.
"Yes, that is correct," said Shahrol, adding that he does not know if Lee was asked to resign.
"Did TIA have any lawyers on its board after that?" asked the lawyer.
"No, it was mainly accounts and finance people," replied the witness.
"That was a mistake — not having a lawyer on the board," said Shafee.
"Yes, I will remember that if I set up another company," said Shahrol, eliciting giggles in the courtroom.
Earlier, Shafee brought up the fact that Low was never paid for his services at TIA and 1MDB, to which Shahrol confirmed.
Shafee suggested that Low did "pro bono work for TIA and took billions instead", a situation he found peculiar. "Why would this shrewd businessman spend a lot of time yet he was not paid anything?" he asked.
Shahrol denied this, saying: "It wasn't pro bono because he (Low) stated that he was representing, in the early days the interest of Terengganu and in the later days, the federal government."
"But he wasn't paid," said Shafee.
"No, he wasn't paid," said Shahrol.
Shahrol is currently testifying as the ninth prosecution witness in the trial against former prime minister Datuk Seri Najib Razak, who is facing 25 counts of money-laundering and abuse of power for allegedly misappropriating billions of ringgit in 1MDB funds.
The Edge is reporting the proceedings of the 1MDB-Tanore trial live.
Users of The Edge Markets app may tap here to access the live report.
See also:
Jho Low likely proposed 'finance novice' Shahrol to 1MDB as part of scam, High Court told
Country Group Securities linked to Jho Low's father, says defence​
1MDB-Tanore trial: Jho Low installed his cronies into TIA, says witness