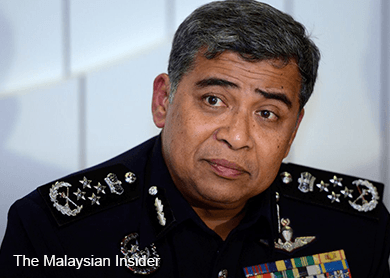 (Aug 18): Police today confirmed that they had not initiated any investigation against PetroSaudi International, a company linked to the controversial 1Malaysia Development Berhad (1MDB), as they had not received any report of wrongdoing by the company.
Inspector-General of Police Tan Sri Khalid Abu Bakar also urged all parties to stop speculating over the matter.
"Following queries from many parties, it is confirmed that the Royal Malaysian Police (PDRM) has not received any police report about any misappropriation in PetroSaudi in Malaysia that would allow PDRM to conduct investigations on the company," the top cop said in a statement today.
"In relation to that, any speculation over the matter has to be stopped."
PetroSaudi, along with businessman Low Taek Jho, otherwise known as Jho Low, has been accused of scheming to steal US$1.83 billion (RM6.9 billion) from Malaysia.
Jho Low, PetroSaudi CEO Tarek Obaid and UK businessman Patrick Mahony were allegedly behind the scam which started in 2009 with an initial US$1 billion investment by 1MDB that grew to US$1.83 billion by 2011.
The Edge Financial Daily, in one of its last reports before being suspended, reported that in the first deal, PetroSaudi was supposed to put in non-cash assets of US$1.5 billion to make it a US$2.5 billion joint venture.
However, the newspaper said PetroSaudi had never owned the main asset it was to put in farming rights to oil fields in Turkmenistan.
The joint venture was eventually called off but 1MDB never got back its cash, instead ending up with murabaha and promissory notes.
The newspaper said while 1MDB was given virtually worthless papers, the US$1.83 billion cash it had put in went to the various accounts of those involved at several global banks in New York, Switzerland, London and Singapore.
However, both PetroSaudi and 1MDB have denied this, saying that the documents used to make these allegations were tampered with.
In June, Thai police arrested Xavier Andre Justo, a former director with PetroSaudi, in Koh Samui. Justo was reported to have been paid some RM15 million to leave PetroSaudi and is now accused of asking for more money in an attempt to blackmail the oil company over its deals with 1MDB. Thai media reported that Justo has denied this.
Justo was sentenced to three years in jail by a Thai court yesterday. – The Malaysian Insider