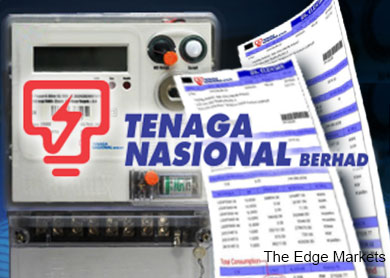 KUALA LUMPUR: Energy, Green Technology and Water Minister Datuk Seri Dr Maximus Ongkili announced today that the government has decided to keep the current electricity tariff rate until June 2015.
The government will also defer raising the price of piped gas, whereby Petroliam Nasional Bhd (Petronas) will forego a revenue of RM836 million for the period July 2014 to June 2015, the minister told reporters at Parliament lobby today.
"To ensure the tariff is maintained up till June 2015, the government will manage (absorb) the cost of RM1.683 billion for fuel and generation costs by using savings generated through the renegotiated Power Purchase Agreements (PPAs ) with the first generation Independent Power Producers (IPPs) and maintaining the current price of piped gas supplied by Petronas to the electricity sector," he added.
The electricity tariff in Peninsular Malaysia is determined through the Incentive Based Regulation (IBR) framework and the Imbalance Cost Pass Through (ICPT) mechanism implemented in January 2014, he said
The ICPT allows the government to review the tariff every six months based on changes in fuel and generation costs.
Ongkili pointed out that the ICPT cost for the period January 2014 to June 2014 is RM465.93 million, whereas the cost for July until December 2014 amounts to RM382.03 million.
These totals to RM847.96 million for this year or an increase in tariff rate by 1.62 sen/kWh, which will be absorbed by the government through the PPAs savings, the minister noted.
However, Ongkili said that after absorbing the ICPT costs to maintain the current tariff, the balance of PPA savings is RM170 million.
To recap, the average electricity tariff in Peninsular Malaysia was raised 14.89% or 4.99 sen per kilowatt-hour (kWh) to 38.53 sen/kWh from Jan 1, 2014. Before Jan 1, 2014, the electricity tariff was 33.54 sen/kWh.
For Sabah and Labuan Federal Territory, the overall electricity tariff was last raised by five sen kWh or  16.9% to 34.52 sen kWh from 29.52 sen KWJ, effective on Jan 1, 2014.