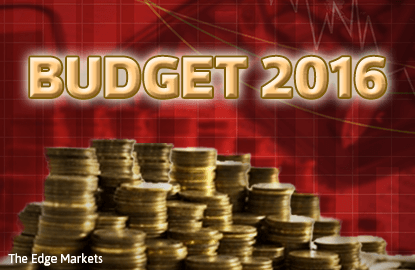 KUALA LUMPUR (Oct 7): MIDF Research does not expect any income tax cuts in Budget 2016.
In a note today, the research house said Budget 2015 had already cut a sizable amount of income tax due to the introduction of the goods and services tax (GST).
It said that amid the tightening of government revenue due to the lower oil price, an income tax cut may not be considered by the government.
"Rather the change in income tax may be more on reliefs and rebates for the middle income class," it said.
MIDF Research said the government may consider including more goods and services in the GST exempted and zero rated list, particularly food products and medical products and services.
It said this was due to the high number of requests among the public to consider including them in the exempted list.
"As Budget 2016 is expected to consider the voice of the citizens, hence the suggestion may be taken into consideration," it said.
Meanwhile, Budget 2016, which comes in the midst of domestic and global economic uncertainty, is expected to provide more stimuli, particularly in sectors that will provide high multiplier impact and boost social welfare of the country.
The research house also said GST revenue was expected to offset the reduction in petroleum-related revenue and that Malaysia would be less dependent on petroleum-related revenue.
MIDF Research said petroleum-related revenue was expected to further reduce to RM41.3 billion as compared to the 2015 revised budget of RM48 billion and the original 2015 budget at RM61.8 billion.
It said this figure was on the expectation that oil price will remain around US$50–US$60 per barrel for 2016 and Petronas would be able to achieve a net profit of approximately RM45 billion for 2015.
It said the contribution of petroleum-related revenue to the total revenue was expected to decline to 18.5% in 2016 from 21.5% in the 2015 revised budget.
"Under the Eleventh Malaysia Plan (11MP), the government is aiming to reduce the dependency on petroleum-related revenue to 15.5% in 2020," it said.
MIDF Research said government's revenue is expected to be pulled back from the lower contribution of petroleum-related revenue, making it difficult for the government to achieve the initially planned 3% budget deficit target.
However, it said the higher revenue received from the introduction of the GST should be able to cushion most of the shortfall.
"We would expect the operating expenditure to be cut by approximately 3% to RM211.5 billion relative to the revised 2015 budget figure through a more prudent spending.
"Development expenditure is expected to be higher by approximately 5.2% in order to boost the economy amid domestic and global economic uncertainty. The focus of the development expenditure is expected to be in line with 11MP," it said.