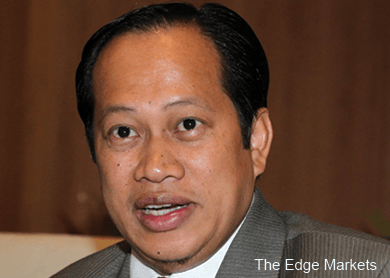 SHAH ALAM (Apr 3): Deputy Finance Minister Datuk Ahmad Maslan said that all government services charges are not subject to the goods and services tax (GST).
"The government does not intend to charge GST on the summons, penalties and services given to the rakyat. The GST will be charged to those who have commercial purposes," he told reporters after conducting a surprise visit to Proton Holdings Bhd today.
Meanwhile, Ahmad said he met with the heads of four telecommunication companies today — DiGi Bhd, Maxis Bhd, Celcom Axiata Bhd and U-Mobile Sdn Bhd — to resolve issues surrounding GST charged on prepaid reloads.
"My meeting this morning went well, and the issue on prepaid reloads will be resolved. I believe the regulator (MCMC) will provide clarifications this evening," he added.
Earlier, Proton chief executive officer Datuk Abdul Harith Abdullah told reporters that the group has set a target to sell 130,000 cars this year, boosted by the Iriz and Saga models.
"Alhamdulillah (praise to God) that sales in March has surpassed 10,000 units. If we can keep this momentum, which we will, hopefully we can achieve 130,000 units or even more this year," he added.