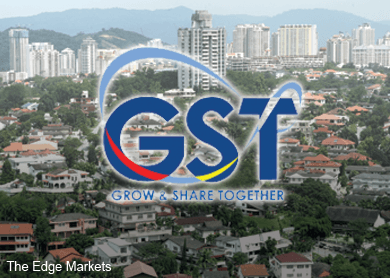 KUALA LUMPUR (Feb 26): Maintenance fees for all types of stratified residential properties will now be exempted from the goods and services tax (GST), Deputy Finance Minister Datuk Ahmad Maslan said.
He added that this was a shift in the government's policy on the consumption tax which residents of low and low-medium cost apartments had feared would still be passed to them as consumers.
The exemption would apply to all types of apartments, condominiums and flats, he said of the tax that would be enforced starting April 1.
"I want to confirm the change of policy. All of it. Whether it is a condominium, flat, low or low-medium-cost apartment. All will be exempted from GST."
"Whether it is luxury or not… medium or low… the maintenance fees will not be charged with GST," he told a press conference after a briefing on the 6% tax in Kuala Lumpur yesterday.
He said the decision was made after the government listened to the views of residents and the leaders of high-rise management bodies.
The reason for the exemption, he added, was because the government felt that building maintenance would not be a business that would make large profits.
"It is more a service that is operated by residents' committee, in relation to maintenance, repair, or paying security guards. It is not a business that focuses on big profits," Ahmad Maslan said.
He said another factor was because building maintenance was a service that affected a lot of people, and similar to public transport services, it would be exempted from GST on that basis.
Last year, property groups and house buyers' associations had claimed that GST would burden residents of low and low-medium cost apartments with higher maintenance cost.
Property industry groups had sent a petition in early December last year to the Prime Minister and Finance Minister, Datuk Seri Najib Razak, pointing out the problems with the low and low-medium cost stratified apartments.
The petition was sent by the Association of Valuers, Property Mangers, Estate Agents and Property Consultants in the Private Sector, Malaysia (PEPS), National House Buyers Association (HBA), Royal Institution of Surveyors Malaysia (RISM) and Malaysian Institute of Professional Property Managers (MIPPM).
They wanted the government to exempt all categories of stratified properties from GST on management fees.