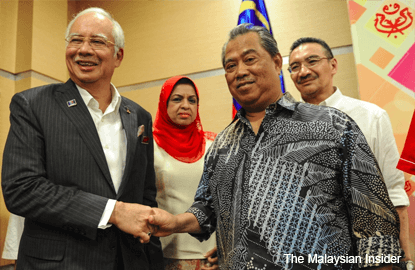 KUALA LUMPUR (Sept 10): No heads rolled at Umno's highly anticipated Supreme Council meeting yesterday, which was carried out in a "nice and orderly" manner, but some wonder how long this peace will last, especially since issues dividing the party remain unresolved.
It was the first meeting since the Cabinet reshuffle in July which tore Umno apart, when party number two Tan Sri Muhyiddin Yassin and vice-president Datuk Seri Shafie Apdal were dropped from Datuk Seri Najib Razak's administration.
The sackings did not occur as speculated, and party leaders took pains to stress that Umno's Supreme Council, including Muhyiddin and Shafie, were now behind Najib, the party president.
There was talk in the days leading up to the meeting, which had been postponed twice, that Muhyiddin and Shafie would be sacked, either by directly removing them or by asking them to politely resign.
"That was the talk 24 hours before the meeting," said a party source, adding that the plan had been set.
Muhyiddin had been vocal about how upset he felt for being removed from Najib's Cabinet and he had made this known in several speeches at Umno division meetings throughout the country.
The Pagoh MP disagreed with Najib on the 1Malaysia Development Berhad (1MDB) crisis, and questioned the RM2.6 billion donation the prime minister had received.
These are two of the main reasons he lost his posts as deputy prime minister and education minister. Some had demanded his dismissal from the party after he continued talking about these issues in public.
It was also speculated that six other Umno leaders were to be axed.
Yet no one in the meeting yesterday tabled a motion to sack anyone.
"There was no talk about sacking or taking action against anyone. Everything was nice and orderly," said Supreme Council member Datuk Seri Abdul Aziz Kaprawi after the meeting.
Sources, however, said the meeting discussed the public fallout from the RM2.6 billion donation, but Najib later told reporters that the party need not divulge details of political fundings.
This is despite the fact that last week, some of the world's top anti-graft campaigners urged Najib to come clean on the RM.26 billion "donation" if Malaysia's war against corruption was to be taken seriously.
Neither was there any discussion on how divided Umno members are now after the Cabinet reshuffle, nor how some divisions openly called for either Najib or Muhyiddin to be censured.
"The Supreme Council has not accepted any of those motions," said Datuk Tajuddin Abdul Rahman who is part of the top body.
Tajuddin also dismissed the motions as the work of one or two divisions and that they did not represent the majority of Umno members.
But political analyst Wan Saiful Wan Jan argued that these differences of opinion among Muhyiddin and Najib, the donation and the rift in Umno, are not going to go away just because they were not discussed.
"It is not surprising that Najib did not sack Muhyiddin, but one wonders how long you can sweep things under the carpet. Even if they come together now, these are issues that still remain unresolved. It's a strategy to evade the crisis in the party."