This article first appeared in The Edge Financial Daily, on March 23, 2020.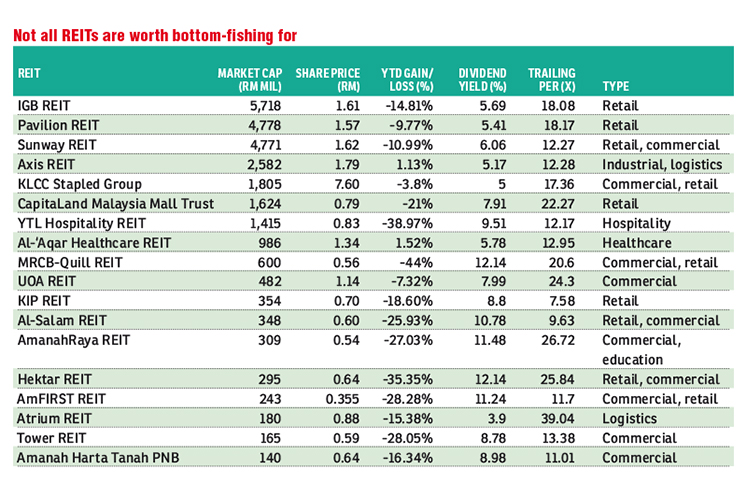 KUALA LUMPUR: Equity investors usually flock to defensive stocks like real estate investment trusts (REITs) to weather any storms in the markets.
But things are very different this time around, with the Covid-19 outbreak, and the lockdowns that ensued around the world, including Malaysia's movement control order (MCO), as governments battle the spread of the pandemic. As investors dump stocks in a rush to liquidate, REITs could not escape the panic selling.
The immediate concern is the impact of the MCO on rental payments among tenants, as well as the possibility of the partial lockdown being extended beyond March.
"At the end of the day, property owners will likely provide rental rebates as part of corporate social responsibility. So, there will be negative impact," an analyst covering the sector said.
"But it is still in early stages. Stakeholders are not so worried about the two weeks [of the MCO from March 18 to 31] compared with the possibility of an extension," said the analyst.
Retail REITs have the biggest earnings risk as the partial lockdown has resulted in malls seeing a 70% drop in visitors, according to reports.
"We gathered that most REITs had not firmed out any strategy moving forward in relation to rental during the MCO period; we do not rule out the possibility of "rent-free" rebates for tenants during the MCO period," said HLIB Research in a note last Thursday.
Moreover, landlords may have to incur any cleaning and sanitisation costs should a case be detected within their premises, the research house said.
Also at high risk are hospitality REITs, considering cancelled visits that would occur amid the MCO. The government has instructed those who have made bookings to discuss directly with hotels or booking agents for refunds. There is no indication so far of any government assistance in that respect.
At this point in time, businesses hiring white-collar workers are largely still in operation, with the outbreak forcing organisations to implement work-from-home programmes, swiftly making it the norm now rather than a privilege. It will be interesting to see whether this phenomenon will impact the office rental space after the MCO.
On the manufacturing side, while those producing non-essential products are instructed to halt operations, warehousing activities have some respite as e-commerce activities and supporting operations like logistics and last-mile delivery are still operating.
Value emerges, but overshadowed by weak earnings
Assuming the outbreak gets under control after the MCO, sector highlights like KLCC Stapled Group, warehousing and industrial-heavy Axis REIT, and healthcare-based Al-'Aqar Healthcare REIT appear to be fully valued, trading with a dividend yield of around 5% presently.
"We like KLCC as compared to, say, Pavilion or IGB REIT, mainly because their main tenant is Petronas. KLCC also has other high-end tenants with deep pockets.
"The higher-end tenants wouldn't mind paying their rents for now, especially as the tenants are mostly at KLCC for branding purposes to show that they have a presence in a high-end mall," said a fund manager who is looking after some RM1.5 billion worth of assets under management.
Meanwhile, KIP REIT, which has a portfolio of community malls, has retreated to an attractive dividend yield of 8.8%. A quick check showed that KIP Mart supermarkets nationwide are still in operation during the MCO period.
Aside from that, Amanah Harta Tanah PNB, with a portfolio leaning towards offices that have been showing steady earnings in the recent past, is now fetching a healthy dividend yield of 9%.
While many REITs, including the bulk of office REITs, are showing dividend ratios in the range of 8% to 12%, many had payouts exceeding their net earnings for the last cumulative four quarters, with some showing lower earnings year-on-year as well.
Moving forward, market watchers expect Bank Negara Malaysia to slash interest rates by another 50 basis points in May to support the economy — after it cut it twice earlier this year to the current 2.5%.
While downward revisions of the key rate are generally good news for REITs, another cut may bring little respite given the unresolved Covid-19 situation that remains a downside risk.
As long as the threat exists, concerns remain that tenants will invoke the force majeure clause in their tenancy agreements, although that possibility remains far down the line.