This article first appeared in The Edge Financial Daily, on April 10, 2019.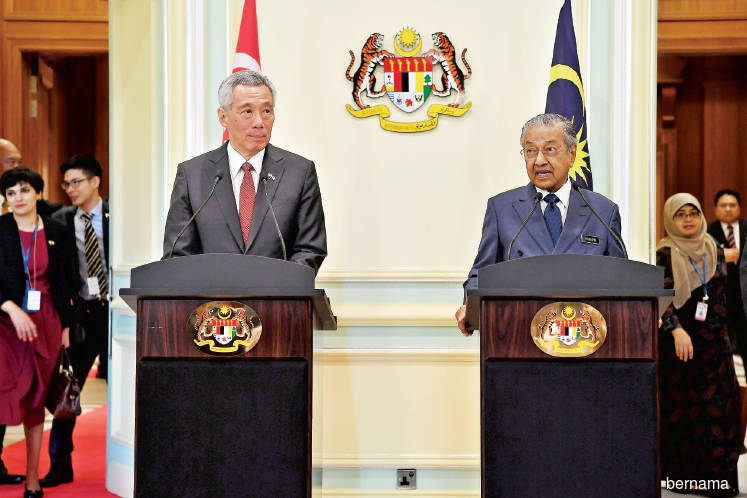 Dr Mahathir (right) with Lee during a press conference in conjunction with the 9th Malaysia-Singapore Leaders' Retreat at Perdana Putra building in Putrajaya yesterday. Photo by Bernama
PUTRAJAYA: In contrast to two previous high-profile meetings between Malaysia and Singapore's premiers, there were no happy selfies taken, and no major infrastructure contracts signed yesterday.
Rather, it was made clear that Malaysia, under Tun Dr Mahathir Mohamad, will not budge easily on key issues that the 93-year-old prime minister considers he has to put to rights, during a joint press briefing with his Singapore counterpart, Lee Hsien Loong, after their 9th Malaysia-Singapore Leaders' Retreat here.
This was notably seen when Dr Mahathir said Malaysia will not rule out the possibility of resolving the water price issue with Singapore, under the 1962 Johor River Water Agreement, through arbitration.
"For Malaysia, resolving the long-standing issue of water price review is a priority. We were engaged in active negotiations on the review in the late-1990s and early-2000s. Prime Minister Lee and I have agreed to find amicable solutions to this issue, including the possibility of (a) dispute resolution through arbitration on a mutually agreed basis," Dr Mahathir said.
However, Lee, in his remarks later, reiterated Singapore's position that Malaysia has lost its right to review the water price but has agreed that the attorney-generals (AGs) of both countries would meet to understand each other's legal positions. He also noted that the AGs have met and will continue to meet over the issue, until a resolution is achieved.
Lee also highlighted two concerns Singapore has regarding the water supplied from Johor, which are pollution and sustainability of supply.
"Just last week, the PUB (Public Utilities Board, Singapore's national water agency) waterworks at Kota Tinggi had to shut down because of high ammonia levels, and the source was traced to a palm oil mill in Sedenak in the catchment area. If the Johor River suffers an incident like that which happened in Sungai Kim Kim recently, I think it will be disastrous for both countries.
"The other concern is the long-term sustainable yield of the Johor River. Johor has built water plants on the river, upstream of PUB's waterworks at Kota Tinggi. These plants, combined with the Kota Tinggi waterworks belonging to PUB, draw from the Johor River quite possibly more water than the river can sustain," he added.
Hence, Lee said there is a need to study how to meet both Johor and Singapore's water requirements for the remainder of the water agreement. "It is in both countries' interest to work together to ensure sustainable water supply for both sides because this will reduce potential for conflict between the two countries," he said.
While Lee acknowledged Dr Mahathir's political necessity to press hard for a water price revision, he nevertheless asserted that there are legal preconditions to follow in the 1962 agreement.
"It is a fundamental founding document for us and we have to go according to this document. It is a basic term on which the two countries decided to manage our relationships. So if you look at it, from that point of view, to be able to change that, is a very high hurdle.
"So now I can understand Dr Mahathir's perspective, but I also asked him, I hope that he will be able to see Singapore's perspective, [on] why this is such a sacrosanct item. Therefore, let us try to find a way forward which enables us to talk constructively about this issue, and hopefully be able to make some progress," he added.
M'sia wants to take back southern Johor airspace by stages, starting end-2019
Malaysia is also firm on its objective to take back management of the airspace over southern Johor after delegating the task to Singapore 45 years ago, and wants to start doing so by stages, starting from the end of this year, to be completed by 2023.
Dr Mahathir said the high-level committee to review the Operational Letter of Agreement between Kuala Lumpur and Singapore Area Control Centres concerning Singapore Arrivals, Departures, and Overflights signed in 1974 (OLOA 1974) over the airspace has already commenced discussions.
"We have made significant investments in preparation to take back the said delegated airspace and hope that this can be done expeditiously," Dr Mahathir said.
On this, Lee said Singapore is ready to discuss the matter with Malaysia. He highlighted that key considerations from his side include the safety and efficiency of air traffic operations, and the need and interest of both countries.
"I told Dr Mahathir this is a complex matter that will involve many stakeholders including airlines and ICAO (International Civil Aviation Organization) and cannot easily be rushed," Lee said.
In the mean time, the two countries have reached an agreement for Singapore to withdraw the Instrument Landing System (ILS) for Seletar Airport, while Malaysia will suspend the permanent Restricted Area (RA) over the Pasir Gudang airspace, indefinitely.
"This clears the way for Malaysia's Firefly airline to start services to Seletar Airport which I understand the inaugural flight will be on April 21," Lee said.
On maritime boundaries, both Malaysia and Singapore have mutually suspended the implementation of their overlapping port limits in the waters of the Strait of Johor, specifically Johor Baru Port limits off Tanjung Piai and the Singapore Port limits off Tuas.
A new joint committee will be established for the maritime boundary delimitation in the area, and negotiations on the boundaries and limitations will commence within a month. "Ultimately, Malaysia believes it is important to delimit all outstanding maritime boundaries between Malaysia and Singapore, and not only to delimit the area surrounding the port limits," Dr Mahathir said.
'A relation between two civilised people who do not believe in violence'
When asked if the impending boundary issues will have a lasting effect on the bilateral relations of the two nations, Lee acknowledged that these will always be continuing issues between the neighbours, and that the outcome depends on how deliberations are managed.
"So if it is managed well, then it can be productive for both countries and the overall relationship can prosper. If it is not managed well, it can cause a lot of trouble and poison the overall relationship," he said.
Meanwhile, Dr Mahathir said ties between Singapore and Malaysia have always been good, evidenced by how both countries have never been at war despite their disagreements.
"At least we are always on talking terms. If we have problems, we air our problems — sometimes publicly, sometimes privately. What we have not done is we have not confronted each other or even suggested that we should resolve our problems through violent actions, like going to war with Singapore.
"This is not a minor achievement. If you look throughout the world, most countries that have problems with their neighbours try to solve their problems through violence and wars. In the end, both sides will lose. That is our relation with Singapore, which is a relation between two civilised people who do not believe in violence," Dr Mahathir added.
Both premiers also stressed that both Malaysia and Singapore are committed to resolve the issues surrounding maritime and airspace boundaries between the two countries in a peaceful manner, without causing further friction between them.
"We agreed that the fundamental principle is to resolve issues of concern in a friendly and constructive manner and work towards amicable solutions," Dr Mahathir said.