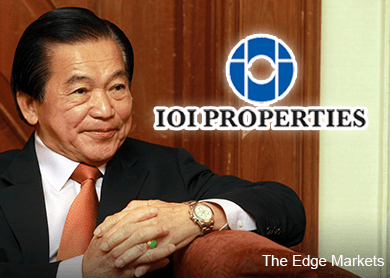 PUTRAJAYA (Dec 18): IOI Properties Group Bhd executive chairman Tan Sri Lee Shin Cheng said there are no China investors in the company, further allaying Taiwan's concern over the group's planned acquisition of a major stake in the iconic Taipei 101 tower.
IOI Properties is buying a 37.17% stake in Taipei Financial Center Corp, which owns the Taipei 101 in Taiwan, for RM2.74 billion.
IOI Properties had earlier clarified that its investment in Taipei Financial had no political agenda. IOI Properties also said it would not seek management control of the skyscraper, if the deal materialises.
The issue of China investment is seen as a taboo, when it comes to foreign investments in Taiwan. This is because mainland China considers Taiwan a renegade province, due to their historical political ties.
Today, Lee said :"I can say that there is none (no China investors in IOI Properties). I have been interviewed by the Taiwan media, answered a lot of questions, so I think the issue has probably cooled down."
Lee said this in a press conference, after IOI Properties' extraordinary general meeting today. Today's press conference is also his first meeting with local media, after IOI Properties' planned Taipei 101 investment hit the headlines.
"The relationship between Taiwan and Malaysia is very cordial, there are a lot of Taiwan investors in Malaysia, and now, probably, Malaysian should invest there.
"I think bilateral investment is good for every country," Lee said.
He also stressed that Taiwan authorities had not decided on whether to approve the Taipei 101 deal.
As such, any presumption at this juncture was irrelevant, Lee said.
"Let them (Taiwan authority) process it first, we will have another interview with the media, if they reject our proposal," Lee said.
At 3.26pm, IOI Properties shares traded flat at RM2.27, for a market capitalisation of RM7.35 billion.