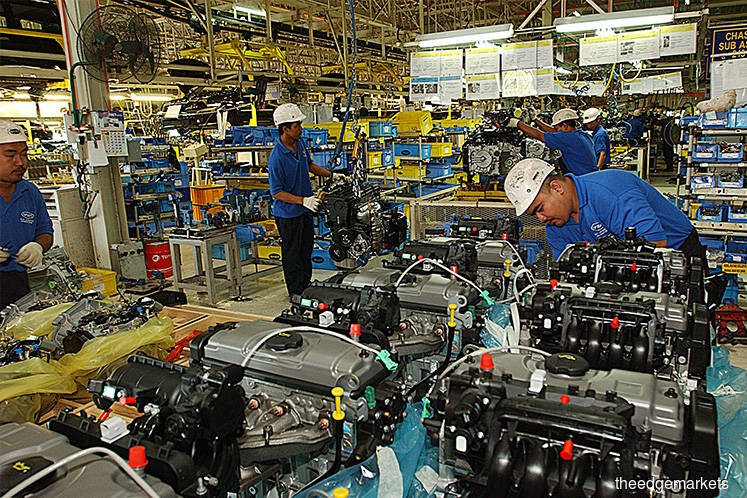 KUALA LUMPUR (Sep 4): IHS Markit's headline Nikkei Asean Manufacturing Purchasing Managers' Index (PMI) rose to 51.0 points in August, from 50.4 points in July this year, signaling a marginal improvement in the health of the sector.
In a statement today, IHS Markit said the August data showed faster rises in both new orders and output, which was accompanied by further jobs growth and firmer business confidence.
However, it said the overall improvement in manufacturing conditions across the region was not as broad-based as those seen in previous months.
For Malaysia, it noted that the country registered the first improvement for seven months, coming in at third position with a modest improvement in operating conditions.
Vietnam continued to lead the rankings in August, despite a slower improvement in its goods-producing sector, while the Philippines and Indonesia were tied in second place - both registering a quicker pace of growth.
IHS Markit said Thailand saw another broad stagnation in manufacturing conditions, whereas Singapore and Myanmar both signaled a decline in the health of their manufacturing sectors.
"Four of the seven monitored countries indicated an improvement in manufacturing conditions in August, down from five in July," it added. 
IHS Markit observed that the firmer demand conditions in August has led manufacturers to scale up their production. As a result, output growth accelerated from July, although the rate of expansion remained slightly weaker than the average seen over the first half of the year.
"With higher sales, firms were more confident to take on more workers. The rate of job creation quickened to the strongest for over two years," the firm said. 
Despite the stronger rise in overall sales, IHS Markit said that purchasing activity expanded at a softer pace in August. On top of that, strong cost pressures persisted across the region - showed by the increased rate of input price inflation to a three-month high and remained sharp overall. 
"All seven countries covered by the survey reported higher cost burdens in the middle of the third quarter," it said. 
Consequently, the increased cost burdens has led firms to raise average selling prices - causing output charge inflation to accelerate to a six-month high, but continued to lag the rise in input costs.
IHS Markit's principal economist Bernard Aw said bulk of the overall improvement in manufacturing conditions across Asean was contributed by a faster ;expansion in Indonesia, and Malaysia's return to growth.
He added that the faster gain in output and new business has failed to translate into a steeper increase in input buying.
"On the contrary, purchasing activity expanded at a marginal pace, with firms tapping into current inventories to meet demand, reflecting relatively cautious sentiment," Aw explained.
While optimism towards the year-ahead outlook improved, Aw said it remained well below the historical average, evidenced by the declining export sales during August.
"At the same time, Asean manufacturers continued to struggle with increased cost burdens, particularly countries with a weaker exchange rate against the dollar, such as Myanmar, Indonesia and the Philippines.
"All these challenges raise questions over whether the growth pickup in August is sustainable in coming months," Aw added.