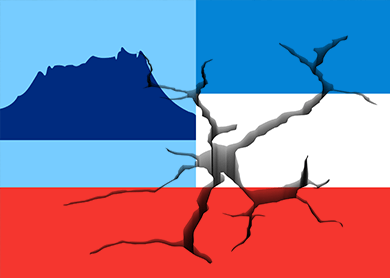 (June 5): Sabah police say 151 people are still stranded near the summit of Mount Kinabalu and 40 others remain unaccounted for, nearly ten hours after an earthquake struck the state this morning, The Star Online reported.
Thick clouds and strong winds at the summit were also hampering helicopter landings, it said. Climbers stranded near the summit now face the risk of freezing temperatures and strong winds as night descends.
The portal reported an update by Sabah Police Commissioner Datuk Jalaluddin Abdul Rahman, who said that another 29 climbers had come down from the mountain were at its base at Kundasang.
Of those who had come down, three were injured after getting caught in a rockfall when the 6.0-magnitude quake struck at 7.15am.
The Star Online said the three are: two Malaysians and one Turkish national.
Jalaluddin also confirmed earlier reports that rest house facilities on the mountain at Panar Laban, Gunting Lagadan and Laban Rata were badly damaged.
Earlier today, the Sabah Fire and Rescue Department said that 238 people – tourists and guides – were stranded on the mountain, of which 89 were unaccounted for.
The New Straits Times meanwhile reported that the quake damaged at least 10 buildings in Ranau district. These included schools, a hospital, police stations and mosques. The Ranau-Tambunan road was also damaged.
This afternoon, a Royal Malaysian Air Force helicopter was despatched to the summit area to rescue climbers and to deliver food and water to those stranded there.
Defence Minister Datuk Seri Hishammuddin Hussein tweeted the helicopter's mission in response to a request by Sabah Tourism, Culture and Environment Minister
Datuk Seri Masidi Manjun for military aircraft to be used, given the possibility of bad weather.
All climbing activities in the Mount Kinabalu national park areas have been suspended for safety reasons following the earthquake. – The Malaysian Insider