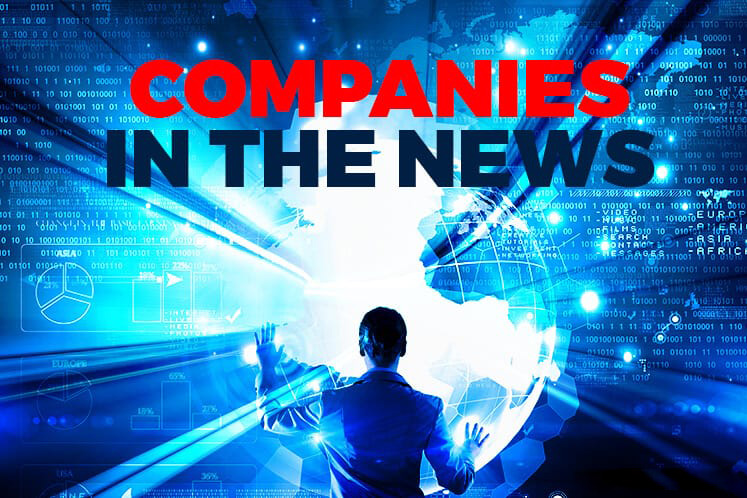 KUALA LUMPUR (July 24):  Based on corporate announcements and news flow today, companies that may be in focus on Wednesday (July 25) may include the following: Nextgreen Global Bhd, Scomi Group Bhd, Kwantas Corp Bhd, SCH Group Bhd, Dagang NeXchange Bhd, WCT Holdings Bhd, JAKS Resources Bhd, AirAsia Group Bhd, Malaysia Airports Holdings Bhd, I-Bhd and Caring Pharmacy Group Bhd.
Nextgreen Global Bhd has terminated its Memorandum of Understanding with China Nuclear Industry Huaxing Construction Co Ltd to develop and manage the second and third phases of its Green Technology Park.
Nextgreen — formerly known as BHS Industries Bhd — said it has not entered into any definitive or cooperative agreement with China Nuclear pursuant to the MoU.
"Both parties will continue to explore cooperation opportunities in the foreseeable future," the printing firm added.
Phase 2 was said to involve a factory with the capacity to produce 100,000 tonnes of box liner paper and 120,000 tonnes of corrugated paper, while Phase 3 would involve another factory with capacity to produce 65,000 tonnes of tissue paper.   
Scomi Group Bhd has appointed Sammy Tse Kwok Fai as executive director of the group effective immediately.
Scomi said Tse, 55, hails from Hong Kong and is a fellow member of The Institute of Directors, the UK and the Hong Kong Institute of Directors.
Kwantas Corp Bhd's co-founder director and executive director Kwan Ngen Wah has been redesignated as the chief executive officer of the group after former CEO Kwan Ngen Chung passed away.
Ngen Wah, 60, is Ngen Chung's elder brother. Together, the two brothers had established Kwantas in 1995.
Low-profile businessman Tan Sri Richard Koh Kin Lip, Chow Dai Ying and SCH Group Bhd's directors Koh Chen Foong and Liew Fook Meng have ceased to be substantial shareholders of the quarry-based products and machinery group following the disposal of 68 million shares or a 13.19% stake for RM11.56 million or 17 sen per share yesterday.
Chen Foong is the son of Kin Lip. Liew, meanwhile, is an executive director of Cocoaland Holdings Bhd.
SCH said the disposal of shares were made through their private investment vehicle Thianjing Holdings Sdn Bhd via off market transaction.
Dagang NeXchange Bhd (DNeX) has launched its GoHalal platform in the Philippines through its wholly-owned subsidiary Global Market eCommerce Sdn Bhd.
This is a key initiative after an agreement signed last month between the company and the Local Government of Naga City of the Philippines, and the Department of Education Division of Naga City.
Under the agreement, DNeX will be given the opportunity to implement overall initiatives for a halal hub in the Philippines, including the development of blueprint, systems and framework for the halal hub.
The highest civil appeal court in Dubai has ruled in favour of WCT Holdings Bhd in a civil suit brought against it by Dubai-based Meydan Group LLC and the court has dismissed the appeal filed by Meydan.
Meydan had filed the suit against WCT Bhd (Dubai Branch), as well as Arabtec Construction LLC, for a sum of 3.5 billion UAE dirham (RM3.89 billion).
WCT (Dubai) had initiated the arbitration proceedings against Meydan in 2009, with regards to the cancellation of the Nad Al Sheba race course project in Dubai.
JAKS Resources Bhd filed a fresh injunction in the Court of Appeal today to restrain two banks from releasing a RM50 million guarantee to Star Media Group Bhd after the High Court dismissed a similar injunction application earlier.
The RM50 million bank guarantee is in relation to an agreement between Star Media and JIC for the latter to develop a 15-storey tower within the Pacific Star development in Section 13, Petaling Jaya.
AirAsia Group Bhd has benefited about RM376 million from the various incentive programmes up until 2017, says Malaysia Airports Holdings Bhd (MAHB).
The airport operator's acting group chief executive officer Raja Azmi Raja Nazuddin said it has supported low-cost travel growth through a series of incentive programmes since 2002.
He also pointed out that the government had also given special consideration in terms of lower passenger service charge for the old LCCT and klia2 up until recently when it was fully equalised in July.  
Property developer I-Bhd's net profit rose 5.6% to RM22.31 million in the second quarter ended June 30, 2018, from RM21.12 million a year ago, thanks to a hike in profit margin for the current quarter under review, arising from the cost adjustment as a result of changes in the national tax regime.
This resulted in a higher earnings per share of 2.1 sen for 2QFY18, from 1.99 sen previously.
This was despite the group posting lower revenue for the  quarter under review, down 18.8% to RM107.16 million, from RM131.94 million.
For the cumulative six months, I-Bhd's net profit rose 11.1% to RM 46.8 million, from RM42.12 million a year ago, while revenue grew 10.9% to RM266.51 million from RM240.39 million.
Caring Pharmacy Group Bhd's net profit rose 35% to RM5.87 million for the fourth quarter ended May 31, 2018, from RM4.36 million a year earlier, on higher sales due to aggressive promotional campaigns.
Revenue for the quarter rose 8% to RM129.35 million, from RM119.5 million previously.
The group has proposed a first and final dividend of 5 sen per share for FY18.
Net profit for FY18 rose 41% to RM18.56 million from RM13.13 million in FY17, while revenue increased 11% to RM508.27 million from RM459.96 million.