This article first appeared in The Edge Malaysia Weekly, on December 28, 2020 - January 10, 2021.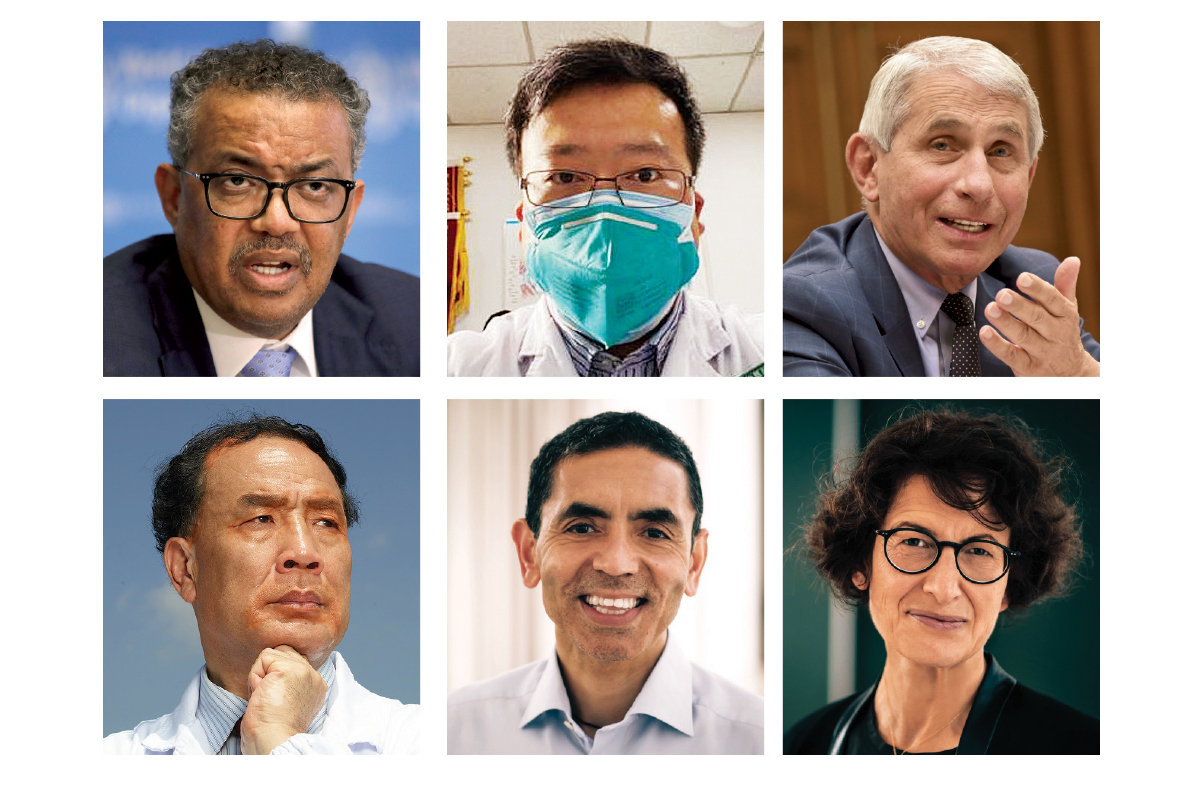 IN the year of the pandemic, the scientific community, comprising researchers as well as doctors, made the headlines for simply doing their jobs while a few garnered praise for their acts of bravery
Tedros Adhanom Ghebreyesus
Director-general
World Health Organization
As chief of the entity that oversees the management of the Covid-19 pandemic in the world, all eyes were on Tedros Adhanom Ghebreyesus, particularly in the early months of the outbreak when little was known about the coronavirus.
In late January, when the spread of the virus seemed mainly a problem in China — recall that the world's first reported cases of Covid-19 were in Wuhan, a city in Hubei province — Tedros met with top Chinese officials to learn more about the disease.
Despite tracking the virus' evolution closely, Tedros — the first chief of the WHO who is not a medical doctor — did not anticipate it becoming a global health crisis till later. On Jan 31, the WHO characterised Covid-19 as a "public health emergency of international concern", and it was only on March 11 that it was declared a pandemic.
Calling it "the defining global health crisis of our time", Tedros then urged countries to scale up testing for the virus and warned of the damage it could do in poor countries. All the while, he praised China for its handling of the crisis, describing it as "a new standard for outbreak control". He drew flak from some quarters, given concern at the time that Beijing was understating the actual number of Covid-19 cases and deaths — allegations that it denies. He was also criticised for not calling for tighter travel restrictions globally.
The most vocal of his critics has been US President Donald Trump, who blames China for the crisis. In May, Trump said he would halt US funding to the WHO.  The US had been its biggest donor, reportedly contributing more than US$400 million last year, roughly 15% of the agency's budget.
Going forward, the 55-year-old Ethiopian, who was a biologist and public health researcher, will be watched for the WHO's handling of Covid-19 vaccine distributions. It will soon make a decision on whether to give emergency use approval to vaccines from Pfizer, Moderna and AstraZeneca. — By Adeline Paul Raj
Dr Li Wenliang
Whistleblower
Wuhan central hospital
Before Dr Anthony Fauci became a globally known figure in the fight against the pandemic, there was Dr Li Wenliang in the early days before the novel coronavirus, SARS-CoV-2, as it is known now, spread to the rest of the world.
The late Li was an ophthalmologist in a hospital in Wuhan, the epicentre of a mysterious outbreak in late 2019. In a private group chat with his medical school classmates, he had voiced concerns and warned about a disease that bore a close resemblance to Severe Acute Respiratory Syndrome (SARS). He also shared a report on a patient suspected of having SARS with the group. Li's messages went viral even though he had told the group to keep them private.
He and a few others were censured by the hospital and police.
Then, in early January, Li fell sick and tested positive for the coronavirus after treating an infected patient who showed no signs of the disease at first. While sick in the hospital, he posted a message, vowing to return to the front line when he recovered.
On Feb 7, Wuhan Central Hospital announced his death, although social media chatter said he had died the night before. His death triggered an outpouring of public grief and anger.
Before dying, Li had also posted about his experience at the police station, along with an image of the letter of reprimand. Even in illness, he spoke out, telling Chinese magazine Caixin: "I think a healthy society should not have just one voice."
Li was seen as a hero for his warning on the coronavirus in late December, and netizens in China followed his illness closely, with a reported 17 million awaiting updates on his condition on Weibo amid the confusion over his death.
Following Li's death, Chinese authorities paid tribute to him and offered condolences to his family. In March, a central government investigation revealed that the police had acted "inappropriately" against Li and the letter of admonition was revoked. — By Jenny Ng
Professor Zhang Yongzhen
Shanghai Public Health Clinical Center and School of Public Health, Fudan University
Like Dr Li Wenliang, Prof Zhang Yongzhen encountered problems with the authorities after releasing important information to the public. In Zhang's case, he authorised the publication of the genome sequence of SARS-CoV-2 on a public platform on Jan 10, 10 days before Chinese President Xi Jinping would publicly acknowledge that the virus was dangerous.
Zhang had received the virus from Wuhan on Jan 3, and he and his team went to work to sequence it. The sequencing was completed on Jan 5.
"It took us less than 40 hours, so very, very fast," Zhang reportedly told Time. "Then I realised that this virus is closely related to SARS, probably 80%. So certainly, it was very dangerous."
On Jan 10, the sequence was posted on an open-access site by Edward Holmes, a virologist and evolutionary biologist at the University of Sydney. Holmes is a member of a consortium led by Zhang.
Within days, its link to SARS was established and researchers went to work designing a vaccine. Moderna's Covid-19 vaccine mRNA-1273 had been designed by Jan 13.
However, Zhang had his lab shut down for "rectification" — a term to indicate some wrongdoing — on Jan 12 but the professor denies any long-term closure by the authorities.
Meanwhile, when questioned why he didn't disclose the sequence earlier amid accusations of cover-ups, Zhang said he had uploaded the genome on the US National Center for Biotechnology Information on Jan 5. "When we posted the genome on Jan 5, the United States certainly knew about this virus," he said in the Time story, but added that it could take days or weeks for the submission to be looked at, hence prompting its public release. — By Jenny Ng
Dr Anthony Fauci
Director
US National Institute of Allergy and Infectious Diseases
Dr Anthony Fauci, a lead member of the Trump administration's White House Coronavirus Task Force since January, will continue to serve the Biden administration come January 2021. As director of the country's National Institute of Allergy and Infectious Diseases, Fauci, who turned 80 on Christmas eve, has advised six presidents over 36 years.
As the Covid-19 outbreak began accelerating in the US in February, hospitals and health facilities experienced severe shortages of personal protective equipment (PPE) for healthcare workers. In response, experts like Fauci and US Surgeon General Jerome Adams advised Americans against wearing masks, a decision the former now claims was only due to the lack of PPE for health providers then.
Nevertheless, Fauci became the voice of reason within the Trump administration, which had bungled its response to the pandemic as the US plunged into a healthcare crisis, with 17 million positive cases and 311,000 deaths up to Dec 18.
The US' top infectious disease expert has had to battle a White House that refused to listen to his advice and the science on the coronavirus.
In fact, there had been reports of the White House attempting to discredit Fauci. In an interview with the Financial Times published on July 10, he said he had not seen Trump since early June and hadn't briefed the president in two months. The problem, as he conceded in the interview, may be because he has "a reputation of speaking the truth at all times and not sugar-coating things". Whether in media interviews or testifying in Congress, Fauci has been consistent in dispensing science-based views on the pandemic.
With the Pfizer vaccine being administered to Americans starting this month, Fauci sees the US achieving herd immunity against Covid-19 by the end of the second quarter of next year. On the vaccines, he credits the Trump administration for the success of Operation Warp Speed, a public-private partnership initiated by the US government to facilitate and accelerate the development, manufacturing and distribution of Covid-19 vaccines. — By Cheryl Poo
Uur ahin
CEO, BioNTech
Özlem Türeci
Chief medical officer, BioNTech
Uur ahin and Özlem Türeci, who are married to each other, have become the faces of BioNTech/Pfizer's vaccine against Covid-19.
BioNTech is a German biotech company founded in 2008 by the couple and Austrian oncologist Christoph Huber. Other co-founders are Andreas and Thomas Strüngmann, Michael Motschmann and Helmut Jeggle.
Listed on Nasdaq, the firm, which focuses on the development and production of technologies and drugs for individualised cancer immunotherapy, developed its vaccine against Covid-19 with a method that uses messenger RNA.
BioNTech's efforts to come up with a Covid-19 vaccine — dubbed Project Lightspeed — started in mid-January when the SARS-CoV-2 genome was made public.
Its vaccine consists of a short segment of genetic material or mRNA that provides instructions for a human cell to make a harmless version of a target protein, or immunogen, which activates the body's immune response against the SARS-CoV-2 virus.
"We expect that our vaccination approach will stimulate the immune system to generate protective antibodies. This means the immune system learns how to recognise the SARS-CoV-2 virus upon exposure and prevent subsequent infection. Unlike other vaccines, mRNA vaccines do not contain the virus itself and therefore pose no risk of infection," BioNTech says on its website.
The timing of the vaccine announcement in early November drew criticism from US President Donald Trump, who accused companies of withholding positive news on the vaccine development until after the Nov 3 presidential election. In response, ahin told The Guardian that he was informed by Pfizer CEO Albert Bourla of the results of interim trials just the night before their Nov 9 announcement. Bourla was in turn informed by the independent monitoring body minutes before the call to ahin.
The children of Turkish immigrants, ahin and Türeci met in university and got married in 2002.
According to the report by The Guardian, when asked if they see themselves as role models for Germans with migrant backgrounds, ahin said, "I am not sure I really want that. I think we need a global vision that gives everyone an equal chance. Intelligence is equally distributed across all ethnicities — that's what all the studies show. As a society, we have to ask ourselves how we can give everyone a chance to contribute to society. I am an accidental example of someone with a migration background. I could have equally been German or Spanish." — By Jenny Ng