This article first appeared in The Edge Malaysia Weekly, on December 25, 2017 - December 31, 2017.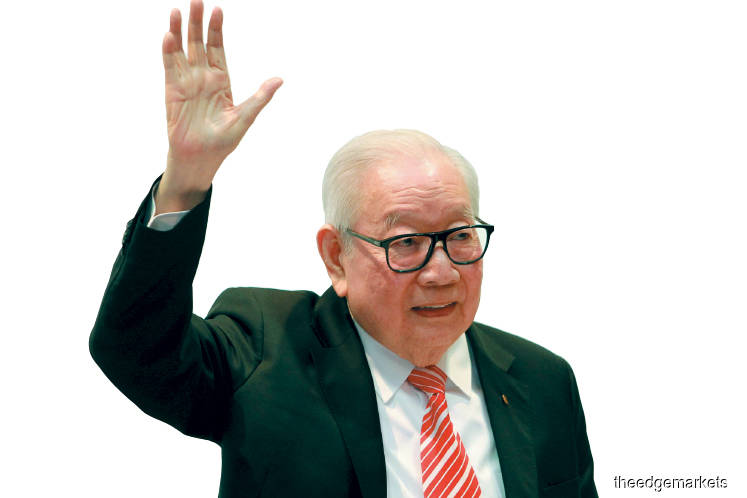 PUBLIC Bank Bhd founder and chairman Tan Sri Teh Hong Piow, 86, and AMMB Holdings Bhd chairman Tan Sri Azman Hashim, 78, hit the headlines this year when they announced that they were retiring from their respective banks in stages.
They are two of the country's most prominent veteran bankers and have been instrumental in building their banks. Azman will step down as chairman of the group's banking entities but will remain chairman of AMMB, the holding company.
The departure of these two banking stalwarts is a significant development in the industry as it means there will only be one owner-run bank left — Tan Sri Quek Leng Chan's Hong Leong Bank Bhd — among the eight banks in the country.
Apart from heralding a leadership change, Teh and Azman's exits may also invite merger and acquisition manoeuvres, which could spark another round of industry consolidation. Both men hold major equity stakes in their banks and neither has family members keen on taking over the business.
Tan Sri Teh Hong Piow
Founder and chairman
Public Bank Bhd
Public Bank announced in August that Teh plans to relinquish his chairmanship of the country's third largest banking group by assets on Jan 1, 2019. He founded the bank 51 years ago in December 1965.
What is interesting is that he will be retained as an adviser. Public Bank plans to make him chairman emeritus, a title that is understood to be a first in the industry. He will give up chairmanship in two of the group's subsidiaries — namely Public Islamic Bank Bhd and Public Investment Bank Bhd — next year but will remain their executive director.
Teh's impending exit could spell major changes for the group. Will he sell his shares? Will this spark a merger with another bank? For these reasons, he will be closely watched in 2018.
Teh has a 23.54% equity interest in Public Bank, held directly and through Consolidated Teh Holdings Sdn Bhd. The stake was valued at
RM18.8 billion as at Dec 22.
An interesting point to note is that it would not be cheap for any bank to merge with Public Bank. It is by far the most expensive local bank, trading at 2.3 times book value compared with the industry average of 1.4 times.
The stock, an investor darling, reached an all-time high of RM21.08 on Dec 14.
Long admired by its rivals, Public Bank is the benchmark setter when it comes to key financial metrics such as asset quality, return on equity and cost management. This is a testament to Teh's prudent and conservative ways. Analysts say the DNA of his work culture is deeply embedded in the bank and, as such, his departure is not expected to affect the bank's operations.
Given his age and increasing speculation about his health, it is difficult to get a sense of how hands-on he has been at the group in recent times. Sources, however, indicate that he still has a prominent say in major decisions and chairs all the important meetings.
It will be interesting to see who will be made his successor. Public Bank has a strong culture of promoting from within and, as such, analysts believe it is likely to be newly appointed deputy chairman Lai Wan, 74. The director of Public Bank was appointed Teh's deputy three months ago after the death of the incumbent, Datuk Seri Lee Kong Lam, at age 75.
Tan Sri Azman Hashim
Chairman
AMMB Holdings Bhd
Some four months after Azman announced in January that he would be exiting six entities in the AMMB group over a two-year period, the group entered into merger talks with RHB Bank Bhd. However, the merger did not pan out.
Azman, in an email interview with The Edge shortly after the merger talks were aborted, insisted that he had no plans to pare down his shareholding and that there was no regulatory pressure for him to do so either. "With regard to my retirement from the group, I only plan to step down as chairman of the banking entities but will continue to be chairman of AMMB. I remain committed to the bank that I built. Even if the merger had gone through, I would have remained as a substantial shareholder of the merged entity," he said.
Even so, all eyes will continue to be on him as he holds the key to a potential M&A at the country's sixth largest banking group.
Azman has 12.97% equity interest in AMMB, which makes him the second largest shareholder. The biggest shareholder, Australia and New Zealand Banking Group (ANZ), is widely known to be exploring options to sell its 23.78% stake. ANZ CEO Shayne Elliott said last November that the group is looking to sell its minority holdings in four Asian banks, including AMMB, over the next 12 to 18 months.
Azman has first right of refusal on the stake. "ANZ's stake is by no means small … on my own, I would not be able to buy the block," he says, adding that he shares Bank Negara Malaysia's view that it is important to have a "fit and proper" shareholder for the big stake.
It will be interesting to see if any new suitors will emerge next year.
A chartered accountant turned banker, Azman will retire as chairman of AmBank (M) Bhd and AmInvestment Bank Bhd by end-2018. He retired from AmBank Islamic Bhd in April.
Save by subscribing to us for your print and/or digital copy.
P/S: The Edge is also available on Apple's AppStore and Androids' Google Play.