This article first appeared in The Edge Malaysia Weekly, on December 25, 2017 - December 31, 2017.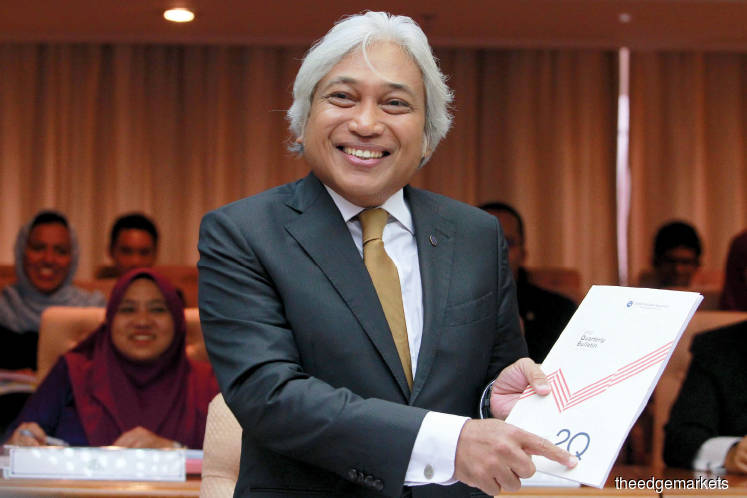 Tan Sri Muhammad Ibrahim
Governor, Bank Negara Malaysia
BANK Negara Malaysia drew much controversy late last year when it introduced radical measures to clamp down on offshore ringgit speculation.
Recall that last November, the central bank asked foreign banks to commit to stop trading the ringgit in the offshore non-deliverable forwards (NDF) market, a move aimed at easing speculative pressure on the currency.
Along with that, it introduced several measures to develop the onshore market, including offering attractive deposit rates for exporters, who were now being made to convert at least 75% of their export proceeds to ringgit.
The moves led to a strong outflow of foreign funds in the local bond market. Foreign investors dumped about RM26.2 billion worth of bonds in March alone, due in part to the drying up of liquidity in the NDF market. But some normalcy returned not long after.
For governor Tan Sri Muhammad Ibrahim, there was a sense of vindication this year as the ringgit — after plunging to an almost two-decade low of 4.4975 against the US dollar in January — seems to have turned the corner.
In fact, the ringgit — Asia's worst-performing currency last year — is poised to end this year as one of the strongest. For the year to Dec 20, it has gained about 9% to 4.074.
Last month, Muhammad declared those controversial measures a success, saying that the ringgit is now priced more efficiently and more reflective of the country's economic strength.
It has not been a smooth-sailing year for the governor. The unexpected resignation of deputy governor Dr Sukudhew (Sukhdave) Singh last month — his retirement takes effect Dec 31 — and his cryptic parting message to colleagues, which has since gone viral, suggest that there has been friction among the bank's high-ranking officials.
Sukhdave, who has served Bank Negara for 31 years, is the second deputy governor to step down after Muhammad took the helm in  May last year. Datuk Nor Shamsiah Mohd Yunus did not stay on when her term as deputy governor ended in November last year.
Bank Negara has appointed Jessica Chew Cheng Lian, currently an assistant governor, as Sukhdave's replacement.
Muhammad also grabbed headlines this year for his strong view that it is property developers, rather than banks, that are to blame for the average Malaysian's inability to own a home. He has pointed out that only 35% of new homes put on the market last year were truly affordable.
It was a Bank Negara report highlighting a substantial supply-demand imbalance in the property market that prompted the government last month to issue a directive halting approvals for all new high-rise luxury residential projects priced above RM1 million per unit. (The government has since softened its stance following complaints by developers, saying that a ministry-level committee would be set up to review appeals.)
Next year, among the things that Bank Negara will be closely watched for is ­whether it moves to raise the key interest rate. Malaysia's surprisingly robust growth this year — the economy grew 5.9% in the first three quarters — seems to be setting it on course for a possible hike. Muhammad has signalled that any adjustment in interest rates would be a "normalisation", and not a tightening.
Bank Negara is also expected to come up with more guidelines on digital currencies like bitcoin, amid their increasing popularity and surge in values, which gives rise to debate over whether they are in a bubble that is about to burst.
Bank Negara has also put banks on notice that from next year, it will start naming and shaming those it takes action against for non-compliance with rules and regulations.  
 
Save by subscribing to us for your print and/or digital copy.
P/S: The Edge is also available on Apple's AppStore and Androids' Google Play.