This article first appeared in The Edge Malaysia Weekly, on December 25, 2017 - December 31, 2017.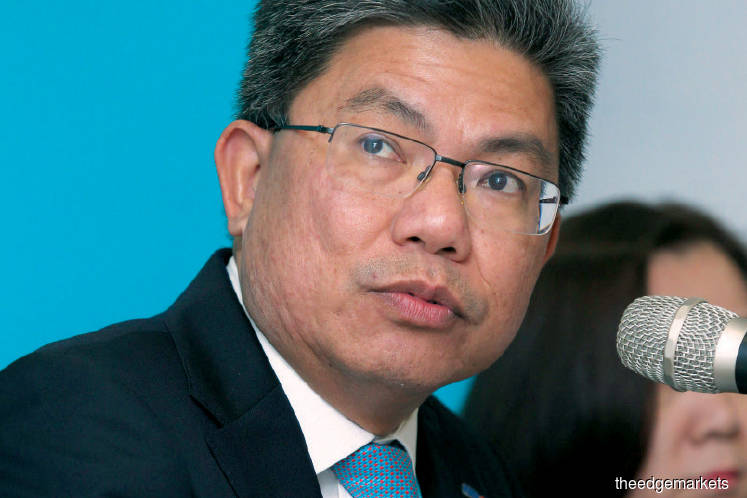 RHB Bank Bhd and AMMB Holdings Bhd took many by surprise this year when they decided to ditch plans for a merger after having spent almost three months at the negotiating table.
On Aug 22, just a week short of the three-month period Bank Negara Malaysia had permitted them to explore merger talks on an exclusive basis, the two put out a joint statement to say that they were "not able to reach an agreement on mutually acceptable terms and conditions".
The rumour mill went into overdrive as to what could have gone wrong given that, earlier, there had seemed to be a strong desire by the key shareholders of both banks to see the deal through.
In particular, there was speculation that RHB, 40.8%-owned by the Employees Provident Fund, was spooked by potential risks AMMB faced on issues relating to scandal-ridden 1Malaysia Development Bhd (1MDB). During their merger talks, there had been several news updates on the US Department of Justice's (DoJ) escalating probe into 1MDB.
In an interview with The Edge, AMMB group CEO Datuk Sulaiman Mohd Tahir insisted that this was not the case and that AMMB did not have any contingent liability exposure to 1MDB. He revealed that it was RHB that had invited it to explore a merger and that the talks eventually collapsed due to disagreements over valuations and certain terms and conditions.
"This talk about contingent liabilities that came about … if you're talking about 1MDB, the DoJ and things reported in the US press … I've got nothing on my table, as far as I'm concerned. And in our merger discussions, we never talked about this. As far I'm concerned, it had nothing to do with [the merger being called off]. I don't know what RHB's thoughts are, but as far as I know, it had nothing to do with it," he had said.
RHB's group managing director Datuk Khairussaleh Ramli did not offer any insight on the failed merger.
For RHB, the merger would have solidified its position as the country's fourth largest bank by assets, whereas for AMMB, currently the sixth largest, it would have gained access to regional markets. Combined, they would have been the market leader in asset management and No 2 in Islamic banking.
Both banks were trading at just under one times book value just prior to starting the merger talks. It was understood that the merger plan involved RHB buying all of AMMB's assets and liabilities in an all-share deal that was likely to be done at one time book value.
With the merger off, they are back to pursuing their respective growth plans. However, analysts believe that M&A will likely be back on each of the bank's agenda in the near future, albeit probably with different partners, given that each has difficulty generating solid growth on its own.
The failed merger shone a light on how difficult it is to get consolidation going in the industry. For RHB, this is its second failed attempt at a merger after a planned three-way mega merger with CIMB Group Holdings Bhd and Malaysia Building Society Bhd was aborted in 2015. The last big banking merger in Malaysia was that of Hong Leong Bank Bhd and EON Capital Bhd, which was completed in 2011.
Datuk Khairussaleh Ramli
Group Managing Director
RHB Bank Bhd
More than ever, all eyes are on Datuk Khairussaleh Ramli to see how he steers the RHB banking group forward after two failed merger attempts in three years.
It is an interesting time for the group. Its five-year IGNITE 2017 growth plan comes to an end this year, and Khairussaleh and his team are understood to be formulating a new strategic growth plan to take the group to 2020.
While it has made headway on some fronts under IGNITE 2017, it is unlikely that it will meet some key targets set under that plan. This would include one for an overseas profit contribution of 10%. As at the nine months of FY2017, the contribution stood at -7%.
It is likely that M&A will be part of its new plan. RHB is a bank that will need to either acquire or be acquired to better compete with rivals, analysts say. Staying on an organic growth path would render its growth prospects unexciting.
Some analysts do not discount the possibility of RHB taking over Malaysia Building Society Bhd (MBSB) at some point, by virtue of them having a common major shareholder — the EPF. Such a move would create the third largest Islamic banking entity in the country, with assets of RM95 billion.
It's been 2½ years now since Khairussaleh took the group's helm in May 2015, but he has been head of the commercial bank itself for longer, since December 2013. Some wonder if he will stay on at the group long enough to instil the changes it needs. There has long been market talk that there may be a role for him at one of the Permodalan Nasional Bhd group of companies. PNB chairman Tan Sri Abdul Wahid Omar and Khairussaleh are both former Maybankers who worked well together.
Datuk Sulaiman Mohd Tahir
Group CEO
AMMB Holdings Bhd
It's been two years now since Datuk Sulaiman Mohd Tahir took on the top job at AMMB and he's since had his hands full trying to take the group to its next level of growth.
It hasn't been an easy job with multiple challenges facing the group — recall that his first day on the job in November 2015 saw AMMB slapped with an unprecedented RM53.7 million penalty by Bank Negara Malaysia for breach of certain regulations in relation to 1MDB.
As soon as the proposed AMMB-RHB Bank merger got called off in August, Sulaiman wasted no time in getting back to his transformation plans for the group.
In a nutshell, the four-year strategic plan is aimed at AMMB becoming a Top 4 bank by 2020 by several financial metrics, including market capitalisation, revenue growth and return on equity, to name a few. For that, Sulaiman has over the years hired top talent to drive the group forward.
He will be watched this year on whether there is traction on his Top 4 growth plans. This, he has to do amid strong possibilities of M&A happening at the group. AMMB has two key shareholders — its chairman Tan Sri Azman Hashim with a 12.97% stake, and Australia and New Zealand Banking Group with 23.78% — that are understood to be studying exit options. As much as it may want to remain on an organic growth path, AMMB is widely seen by analysts as a takeover target.
Next year, Sulaiman may divest non-core operations in a bid to get the group leaner. It was recently reported that AMMB is mulling the sale of its general insurance business — AmGeneral Insurance Bhd — in which it has a 51% stake and Insurance Australia Group Ltd, the remainder.
Save by subscribing to us for your print and/or digital copy.
P/S: The Edge is also available on Apple's AppStore and Androids' Google Play.