This article first appeared in The Edge Malaysia Weekly, on November 19, 2018 - November 25, 2018.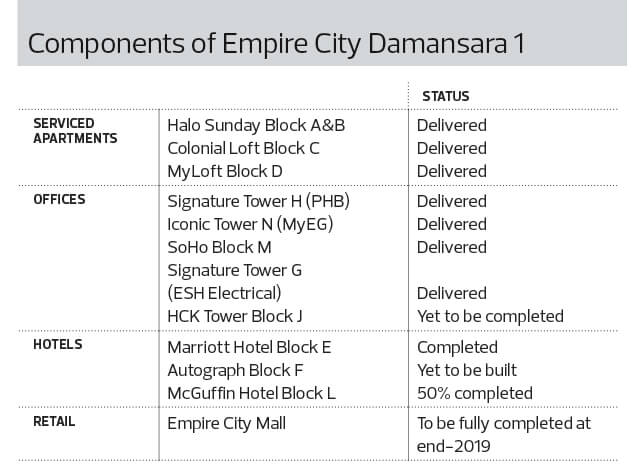 Click / Tap image to enlarge
MAMMOTH Empire Holding Sdn Bhd (MEH), the developer of the RM5 billion Empire City Damansara (ECD1) project launched in 2011, has initiated measures and schemes that will help it raise some RM800 million to pare down debts, complete its long-delayed projects and put the group on a sound financial footing by mid-2019.
At the top of the list of measures undertaken is the sale of the company's prized 65-acre tract that was meant for Empire City Damansara 2 (ECD2) in Petaling Jaya, Selangor. The land is located horizontally across from the 28-acre ECD1 project along Lebuhraya Damansara-Puchong heading towards Kepong.
Sources tell The Edge that the ECD2 land has been divided and sold to two parties — a 45-acre tract to a yet-to-be-divulged joint venture (JV) between Exsim Development Sdn Bhd and Binastra Construction Sdn Bhd and the remaining 20 acres to property developer Aset Kayamas Group.
Not much is known about the newly formed JV between Exsim and Binastra Construction, not even if the parties will hold equal shares or if one will hold the majority. According to two separate sources, the parties have a complicated collaboration. For example, the JV is also expected to be involved in a land purchase and the completion of part of ECD1.
The Edge has learnt that the JV is buying 4.55 acres of undeveloped land in ECD1 where a Ritz Carlton Hotel had been originally planned. The land already has a development order for a 53-storey tower with 288 luxury guestrooms and suites. Industry sources also say that the JV will re-purpose, develop and sell a portion of office space below My Loft and Colonial Tower as SoHos (small offices/home offices).
When contacted, MEH executive director Datuk Danny Cheah confirms that MEH has sold its ECD2 land and a plot in ECD1 to property players without revealing their names, citing confidentiality and that it is up to the purchasers to make an announcement.
"We are undertaking an exercise to have things in place so that by the middle of next year, we can start afresh and embark on a new journey," Cheah tells The Edge, adding that by capitalising on each other's strengths (MEH and the land purchasers), the collaboration will help the parties scale greater heights.
When contacted for confirmation, neither Exsim nor Binastra Construction would make any comments.
 
The new names in Empire City
Once a timber company, the Exsim group of companies ventured into property development in 2009, building residential, commercial and industrial projects in the Klang Valley. Its completed developments include Nouvelle Industrial Park @ Kota Damansara and The [email protected] Bukit Jalil while ongoing projects include Scarletz [email protected] KL City Centre and Millerz Square @ Old Klang Road. The shareholders of Exsim are Lim Aik Hoe (37.5%), Lim Aik Kiat (37.5%) and Lim Aik Fu (25%).
Binastra Construction, whose services include the provision of architectural design and civil engineering, was incorporated in 1980. Its shareholders are Datuk Tan Kak Seng (64.69%), Tan Nge (32.32%) and Liu Soh Yon (2.99%). It is worth noting that although Binastra Construction and property developer Binastra Land Sdn Bhd have common shareholders, the latter is not involved in the deal with MEH.
Aset Kayamas Group, meanwhile, was established by Tan Sri Chai Kin Kong in 2011. Its projects include ParkHill in Bukit Jalil, The Henge in Kepong and The Holmes in Bandar Tun Razak. The company will not be involved in ECD1.
 
Channelling the funds
Cheah and low-profile businessman Datuk Sean Ng Yee Teck are co-founders of the MEH group. They own 20% and 80% respectively of most of the MEH group of companies. Although MEH was incorporated in 1997, it only became recognised as a property developer in 2002 and grew in prominence in 2010 with the development and success of the Empire Shopping Gallery and the Empire Hotel in Subang. Then, the group began to expand aggressively between 2010 and 2014, venturing into Australia and launching Empire Remix in USJ, Selangor, and Empire Residence and ECD1 in Damansara Perdana.
Even before the completion of ECD1 — the group's largest ongoing integrated project — MEH had already planned the RM7 billion ECD2 nearby. The latter was to feature world-class theme parks, concert auditoriums, cultural centres, retail and office suites.
However, things did not work out as MEH had planned. The entire ECD1 project — with a gross development value of RM5 billion — was originally targeted for completion in 2015. After several delays, MEH managed to deliver some of the components, including the apartments and office space (see table), and finish the ice-skating rink in time for the 29th SEA Games held in Kuala Lumpur in August last year. Empire City was chosen as the venue for the Games' first-ever winter sport.
To date, several components, including portions of the Empire City Mall, McGuffin Hotel (formerly CGV Hotel), Autograph Boutique Hotel and HCK Tower, have yet to be completed. HCK Capital Group had purchased the 38-storey block in 2013 for an estimated RM280 million to house the group's corporate tower. Nevertheless, MEH has taken steps to complete the remaining components. It is understood that Binastra Construction may be involved in the construction works to complete the entire development. A source says Binastra Construction has already commenced work at ECD1. It remains unclear if the company's work will be used as contra payment for the land purchase.
On how much MEH will receive from the land transactions in ECD1 and ECD2, The Edge understands that Aset Kayamas paid RM236 million for the 871,200 sq ft plot, or RM270.90 per sq ft. The amount agreed upon in the Exsim-Binastra Construction JV for its portion of the land is not known but sources say the deal may be worth between RM460 million and RM530 million. MEH had purchased the land for about RM187.53 million in 2011. As for the 4.55 acres in ECD1, industry sources say with its development order, the land is worth around RM90 million.
This means that the value derived by MEH from these three land transactions alone could be RM800 million, which will be used to settle debts, complete the mall and for working capital.
When asked about the debt of ECD1's developer Cosmopolitan Avenue Sdn Bhd, Cheah says, "As at October, its total liabilities were only RM165 million."
The wholly-owned subsidiary of MEH had taken a RM300 million loan from AmBank (M) Bhd three years ago for the Empire City Mall and has now settled RM135 million of the amount.
"The sales proceeds will (also) be used to complete the mall and for working capital," Cheah says, adding that the mall, which has a net lettable area of 2.5 million sq ft, will be fully completed by the end of next year. Some 500,000 sq ft of the mall is already operational while 90% of the remaining two million sq ft has been completed.
 
What next?
MEH is also in negotiations to sell two hotels within ECD1 — the Autograph Boutique Hotel and the Marriott Hotel. "We have not finalised the terms and conditions. Negotiations are still ongoing," Cheah says, adding that MEH would also be interested in letting go of McGuffin Hotel if it receives an attractive offer.
At the same time, it is in talks to sell Wolo Bukit Bintang and has settled the issues relating to the Empire Remix project (see sidebar on previous page).
"We will have the mall, a hotel block in ECD1, some RM100 million of commercial and office space in Empire Damansara and 10 acres of development land in Empire Residence, (which) is good enough for us. All these assets will be free of encumbrances," he says. The Empire Hotel Subang will also remain within the group.
While it is not known if ECD2's new owners will change its name, MEH still plans to link ECD1 and ECD2. The link will be called Sky Parade Garden and will be for pedestrians, cyclists and even a tram, and will also feature a square for parades and events. To be built over the LDP, it is expected to cost RM40 million.
"This will be completed in two stages — stage 1 by the end of next year and stage 2 by 2020," Cheah adds.
Other recent developments at MEH
Wolo Chinatown
Mammoth Empire Holding Sdn Bhd (MEH) recently disposed of a building in Kuala Lumpur's Chinatown — where it had planned to build a hotel called Wolo Chinatown — to a Hong Kong firm for RM48 million. The building called Wisma Megah is located on the corner of Jalan Tun HS Lee and Jalan Tun Tan Cheng Lock and was purchased for RM38 million in 2012. MEH had planned to covert the office building that once housed a Hong Leong Bank branch into a 188-room boutique hotel with retail, cinema and recreational facilities. The plan was also to add another five floors to the 16-storey building.
Empire City Damansara 1
On Oct 11, Cuscapi Bhd announced that it had purchased a commercial space in Empire City for RM20 million. The 33,340 sq ft space is on the podium level below MyEG Tower and is expected to be ready in 18 months from October. At the same time, Cuscapi entered into a put option agreement with Cosmopolitan Avenue Sdn Bhd, which is a wholly-owned subsidiary of MEH and the developer of ECD1, to obtain an option at Cuscapi's sole discretion to sell the commercial space back to Cosmopolitan at a sum equal to 66.67% of the purchase consideration within six months of delivery of vacant possession.
On Sept 28, MyEG Services Bhd purchased a commercial space also on the podium level below MyEG Tower in Empire City for RM35.35 million. MyEG too entered into a put option agreement with Cosmopolitan to obtain an option at MyEG's sole discretion to sell the property back to Cosmopolitan at a sum equal to 66.67% of the purchase price within six months of delivery of vacant possession.
This purchase was in addition to an earlier acquisition in September 2016 when MyEG bought seven storeys of stratified parcels for office use within the 45-storey corporate office tower known as Iconic Office (Block N) in ECD1 for RM44.29 million. The purchase was from Cheerful Effect Sdn Bhd, Lee Hong Poh and Lim Wan Lee.
Prior to that in May 2015, MyEG purchased 22 storeys of stratified parcels in the same block for RM155.35 million from Cosmopolitan. The net lettable area was 238,932 sq ft.
Empire City Damansara 2
In November last year, MEH formed a joint venture with Key Wealth Property Sdn Bhd and China's Guanxi Construction Engineering Group Co Ltd to develop 3.6 acres. Key Wealth had planned to name the project Harbour Valley. Phase 1 of the project had a gross development value of RM1.2 billion and was targeted for completion in the first quarter of 2021. This deal has been called off.
Empire Remix
Dergahayu Sdn Bhd and HCK Capital Group Bhd may join forces to take over the Empire Remix development in USJ1, Subang Jaya, that was launched in 2012. The project, which occupies a 14-acre site owned by Dergahayu, comprises Empire Remix 1 and Empire Remix 2. These projects have a combined gross development value of RM1 billion. New investors are expected to assume all liabilities, including the rights of the end purchasers and the banks that have an interest in the development.
Empire Shopping Gallery
Early last year, MEH sold the Empire Shopping Gallery in Subang Jaya, Selangor, to Pelaburan Hartanah Bhd for RM570 million based on a sale-and-leaseback arrangement with PHB's Amanah Hartanah Bumiputera Investment Bhd. MEH was granted a call option to buy back the shopping mall on the fifth anniversary of the sale. It also holds the right of first refusal to buy the mall should PHB decide to dispose of it within the five years. The mall has a gross built-up area of 600,000 sq ft and a net lettable area of 350,000 sq ft spread over five levels. MEH continues to manage the mall.
Meanwhile, MEH has moved its headquarters to Block H — an 18-storey office block with 319 parking bays — in ECD1 that was purchased by PHB for RM120 million.
MEH properties available for sale
The group is in talks on the disposal of three of its hotels — Autograph Boutique Hotel and Marriott Hotel in Empire City Damansara 1 and Wolo Bukit Bintang in Kuala Lumpur.
The new owner(s) would have an option to either continue with the Marriott International or sign on their own operator. The Marriott is a five-star, 300-room hotel while the Autograph, which is also a five-star hotel, has 269 rooms. The Wolo in Bukit Bintang, meanwhile, is a 140-room hotel. Located at the junction of Jalan Bukit Bintang and Jalan Sultan Ismail, the building was formerly Wisma KLIH, which MEH had bought from Equine Capital Bhd for RM58 million in 2010.
Save by subscribing to us for your print and/or digital copy.
P/S: The Edge is also available on Apple's AppStore and Androids' Google Play.