This article first appeared in The Edge Malaysia Weekly, on April 6, 2020 - April 12, 2020.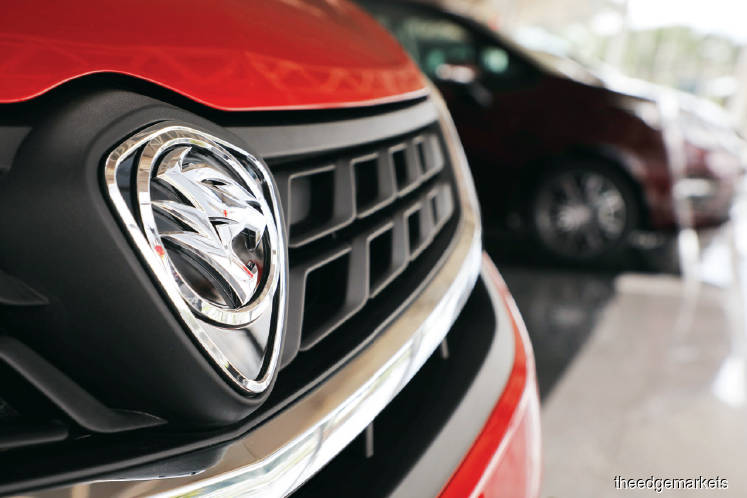 The Proton X70 had strong sales of more than 14,000 units from its launch till end-March 2019, according to DRB-Hicom's annual report
Photo by Reuters
NATIONAL carmaker Proton Holdings Bhd could undergo a restructuring exercise, which could see it split its sales and assembly parts segments, sources familiar with the matter tell The Edge.
It is understood that plans are afoot to sell dealerships under Proton Edar Sdn Bhd, which is a wholly-owned unit of Proton, to Edaran Otomobil Nasional Bhd (EON) and hive off en bloc the dealerships that EON may not want to interested parties.
"For instance, if EON is not keen to handle the Sabah and Sarawak sales, then Proton may seek parties interested in taking over that business. But EON has sort of a right of first refusal," a source explains.
He says this can easily be manoeuvred as EON is wholly owned by DRB-Hicom Bhd, which is a conglomerate with a 50.1% stake in Proton. Proton, meanwhile, wholly owns Proton Edar.
The remaining 49.9% shareholding in Proton is held by China's Zhejiang Geely Holding Group Ltd, which acquired the stake from DRB-Hicom for RM460.3 million in 2017.
DRB-Hicom did not reply to a question from The Edge on the possible sale of Proton's dealerships.
It is also understood that some groups that may be keen to take over the dealerships that EON may not be interested in, have already been identified.
It is not clear how many Proton Edar outlets there are, but reports have it that Proton has as many as 120 3S and 4S service centres all over the country.
A check on CTOS' website reveals that in its financial year ended March 2019, Proton Edar suffered an after-tax loss of RM159.24 million on the back of RM3.85 billion in revenue. In the financial year ended March 2018, the company incurred losses to the tune RM271.52 million from RM3.3 billion in sales.
To put things in perspective, Proton Edar had RM289.92 million in accumulated losses as at end-March last year. During the same period, it had RM1.02 billion in total assets and RM1.29 billion in total liabilities.
However, it is worth noting that the Proton X70, which resembles the Geely Boyue and is slated to mark Proton's revival, was previewed at the 2018 Kuala Lumpur International Motor Show and launched on Dec 12, 2018.
Since its launch, Proton's sales numbers have shot up. Proton's sales in February 2020 jumped more than 80% compared with the previous corresponding period, with a total of 9,974 units registered. This is also a 17.3% increase over January 2020 and gives the national carmaker a market share of 23.8%, the highest it has achieved since August 2013 and an increase of 10.3% over February 2019.
According to DRB-Hicom's annual report, the X70 had strong sales of more than 14,000 units from its launch till end-March 2019, which means that the full impact of the X70 and other models on Proton's financials can only be seen at end-March this year.
Last year, the total industry volume was 604,287 units, with Perusahaan Otomobil Kedua Sdn Bhd — which has been the market leader since 2006 — coming out tops, selling 240,341 cars, giving it a 40% market share. Proton came in second with 100,183 units sold, increasing sales number by a whopping 54.7% from 2018.
Earlier this year, Proton was said to be aiming for a sales target of 32% higher than the 100,183 units sold in 2019, or 132,000 units. However, with the Movement Control Order and ensuing nationwide shutdown from mid-March, sales figures are likely to be tweaked.
For perspective, EON was set up in 1984 to distribute Proton cars. However, after a fallout with the Proton management, Proton set up Proton Edar and EON was made a super dealer of Proton. EON also had to sell other vehicles such as Audi, Volkswagen and Mitsubishi.
In 2009, Proton and EON signed a master dealership agreement, which resulted in a consolidation and rationalisation of Proton's distribution network. In a nutshell, EON's sales and service dealers migrated to Proton Edar, and EON ceased to be a dealer for Proton.
For DRB-Hicom, taking the dealerships from 50.1%-owned Proton Edar and placing them under wholly-owned EON makes sense, especially when Proton's sales numbers are on the rise.
For its nine months ended December 2019 (DRB-Hicom changed its financial year end from March 31 to Dec 31), DRB-Hicom registered a net profit of
RM358.97 million on revenue of RM10.54 billion. For the similar period in 2018, DRB-Hicom suffered a net loss of RM5 million from RM9.01 billion in sales.
According to DRB-Hicom's notes accompanying its financials, the 16.9% increase in revenue was a result of "higher sales of vehicles by Proton during the current period and also improved sales revenue by the manufacturing and engineering and aerospace companies".
Diversified DRB-Hicom is one of the flagship companies of Tan Sri Syed Mokhtar Albukhary, who controls 55.92% of the company via his vehicle, Etika Strategi Sdn Bhd.
DRB-Hicom ended trading last Friday at RM1.31, giving it a market value of RM2.53 billion.