This article first appeared in The Edge Malaysia Weekly, on April 8, 2019 - April 14, 2019.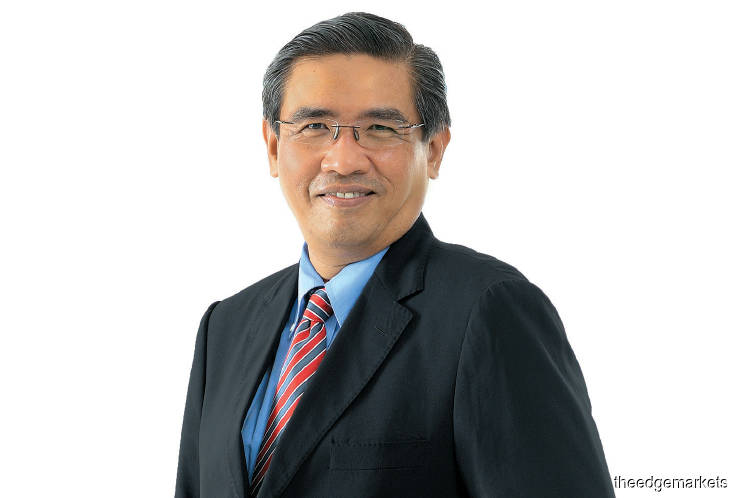 THE former Agrobank CEO, Datuk Wan Mohd Fadzmi Wan Othman, is said to be the top contender for the post of president and managing director at Bank Kerjasama Rakyat Malaysia Bhd (Bank Rakyat). Sources say he is the likeliest candidate to succeed Datuk Zulkiflee Abbas Abdul Hamid, who officially left the group on April 2 at the end of his two-year contract.
"He is the Ministry of Finance's (MoF) preferred candidate," a source tells The Edge.
Bank Rakyat is the country's largest development financial institution (DFI) with total assets of RM106.5 billion as at June 30 last year. It is also the second largest Islamic lender after Maybank Islamic Bhd.
An Islamic cooperative bank, Bank Rakyat falls under the control of the Ministry of Entrepreneur Development (MED). However, because it is also governed by the Bank Rakyat (Special Provisions) Act 1978, which allows it to provide financing to non-members, the MoF also has a say in major matters.
According to sources, it has taken longer than expected to appoint a new CEO due to differences in opinion between the two ministries over who should be in the driving seat.
Bank Rakyat had announced as early as Jan 23 that Zulkiflee planned to step down when his contract ended. This came as no surprise as Zulkiflee, a veteran banker who came out of retirement to take on the top job in April 2017, had indicated from the start that he did not intend to stay for the long term. He is understood to have started his leave in March.
According to sources, a headhunter was hired to look for candidates. One who had the favour of MED was shortlisted, but it is understood that the MoF is backing Wan Fadzmi.
"The bank has shortlisted several external and internal candidates who will undergo a strict internal and Bank Negara Malaysia evaluation process. The thorough process is essential to ensure the right candidate is chosen.  The final appointment  is expected to be made by end April," a spokesperson from MED tells The Edge.  
Wan Fadzmi, who left Agrobank on Aug 31, 2017, after a six-year stint, has extensive experience in banking at home and abroad. He was with Malayan Banking Bhd for 22 years, during which time he held various senior management positions, including as CEO and country head for the bank's operations in London, New York and Hong Kong. After Maybank, he became director of global financial banking for the strategic business group at RHB Bank Bhd, before joining Agrobank — then known as Bank Pertanian (M) Bhd — as CEO in July 2011.
He currently sits on the boards of Sumitomo Mitsui Banking Corp Malaysia Bhd, Chemical Co of  Malay­sia Bhd and Hap Seng Consolidated Bhd as an independent non-executive director.
In late June last year, the government had named Wan Fadzmi as part of the new executive committee to manage troubled 1Malaysia Development Bhd (1MDB).
The choice of CEO at Bank Rakyat is important as it comes at a time when Bank Negara is undertaking a holistic review of the existing regulatory framework for DFIs. In its recently released Financial Stability and Payment Systems Report 2018, Bank Negara said the move was "to reflect the roles and specific mandates of DFIs, and ensure that prudential standards remain appropriate to the risk profiles of individual DFIs.
"This envisages greater differentiation at an individual institution level, while ensuring that market distortions are minimised. As part of the review, [Bank Negara] plans to consult on proposed revisions to 10 core prudential standards applicable to DFIs over the coming year," the central bank said.
Bank Rakyat reported a profit after tax and zakat of RM664.6 million for the six months to June 30, 2018, a decrease of 24.8% from a year earlier. This was due mainly to a 12% rise in allowance for impairment losses on financial assets to RM305.4 million in the period.
Bank Rakyat is unlike ordinary commercial banks. Set up under the Co-operative Societies Act 1993, it is a cooperative bank that does mainly retail banking — almost 90% of its assets are retail assets — and the bulk of its customers are civil servants.
The bank's business has long been skewed towards personal financing (PF). This is something it has tried to address in the last two years as it looks to grow more sustainably over the long term.
Last year, the bank embarked on a five-year strategic plan (2018-2022) aimed at growing PF at a more controlled pace of under 1% a year, while expanding its focus on home, auto and SME financing. It also accelerated growth in its Islamic pawnbroking business known as Ar-Rahnu.
On Dec 6 last year, MED announced the appointment of Datuk Noripah Kamso as the new chairman of Bank Rakyat, as well as two new board members — Wan Suraya Wan Mohd Radzi (secretary-general of the MED) and Edham Reza Shah Abdul Rahman (an advocate and solicitor).
Noripah was formerly the chief executive of CIMB-Principal Islamic Asset Management Sdn Bhd. She replaced Tan Sri Shukry Mohd Salleh, who was dismissed from the post in November last year following his alleged involvement in tampering with the original audit report on 1MDB when he was the chief private secretary of former prime minister Datuk Seri Najib Razak.