This article first appeared in The Edge Malaysia Weekly, on January 27, 2020 - February 02, 2020.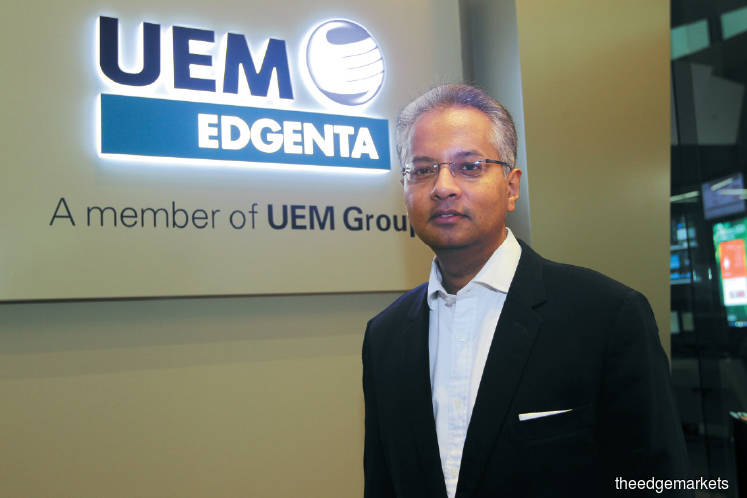 Azmir is expected to accept an offer from Sime Darby Property after Chinese New Year
Photo by Haris Hassan/The Edge
UEM Edgenta Bhd managing director and CEO Datuk Azmir Merican is understood to be in talks to take the top job at Sime Darby Property Bhd, sources familiar with the matter tell The Edge. While Azmir could not be contacted to verify the speculation, a source says the businessman is close to accepting an offer from Sime Darby Property.
"It is more or less concluded. I hear Azmir is going to accept the offer in a couple of days … probably after Chinese New Year," the source adds.
Another source in the know also confirms Azmir's selection to helm Sime Darby Property. "He is going to accept the offer, I hear, if he hasn't already accepted it."
The Edge understands that some of the top brass at UEM Edgenta are already aware of Azmir's impending move but there has not been any official announcement.
UEM Edgenta is a 68.15% unit of Khazanah Nasional Bhd, while Sime Darby Property is a 49.09% unit of Permodalan Nasional Bhd.
It is worth noting that Sime Darby Property has been without a CEO since Datuk Amrin Awaluddin left in May 2018 to helm Boustead Holdings Bhd a year later.
Azmir, meanwhile, has been the managing director and CEO of UEM Edgenta since August 2014, prior to which he was an executive director at the company for a two-month period. He had been on the board as a non-independent non-executive director from December 2012. He joined UEM Group Bhd, UEM Edgenta's parent, as the group chief operating officer, business units, in October 2012.
UEM Edgenta is involved in the maintenance of highways, healthcare support services and engineering and asset management consultancy, among others.
Prior to his stints at Khazanah companies, Azmir was CEO at AWC Bhd, a facilities management outfit, and CIMB Group Holdings Bhd, among others.
In its nine months ended September last year, UEM Edgenta registered a net profit of RM84.29 million on revenue of RM1.7 billion. Its cash and bank balances stood at RM429.37 million while it had long-term debt commitments of RM403.57 million and short-term borrowings of RM129.74 million. Its retained earnings amounted to RM889.26 million at the end of the period in review.
It is difficult to gauge Azmir's performance at UEM Edgenta because its revenue fell from RM3.09 billion in 2014 to RM2.18 billion in 2018. Similarly, its profit before tax was down from RM324.5 million in 2014 to RM198.5 million in 2018. Total assets, however, increased from RM2.65 billion in 2014 to RM2.88 billion in 2018 while shareholders' funds rose from RM1.16 billion in 2014 to RM1.5 billion in 2018.
In 2014, UEM Edgenta's share price averaged RM2.11 but last year, it hovered at RM2.89.
According to a market watcher, UEM Edgenta was still known as Faber Group Bhd in 2014 and it was a different animal at the time.
It is not clear whether Azmir has any experience in property development but Sime Darby Property seems to be on a sound financial  footing despite the soft property market.
In its nine months ended September last year, Sime Darby Property saw its net profit rise 354.5% year on year to RM495.58 million while revenue increased 37.9% to RM2.29 billion. The improvement in the results was due to a higher contribution from the property development segment and one-off gains.
At the end of the period in review, the company's bank balances, deposits and cash stood at RM203.83 million. It had long-term debt commitments of RM2.11 billion and short-term borrowings of RM1.09 billion.
In its notes accompanying its financials, Sime Darby Property says, "During the period in review, the group launched a total of 2,320 units with a combined gross development value of RM1.4 billion. A series of successful marketing campaigns have yielded positive sales of new launches, ongoing projects and completed inventory amounting to RM2.3 billion. As at Sept 30, total unbilled sales stood at RM1.6 billion."
It went on to say that its financial year ended December was likely to be "satisfactory, barring unforeseen circumstances".