This article first appeared in The Edge Malaysia Weekly, on June 10, 2019 - June 16, 2019.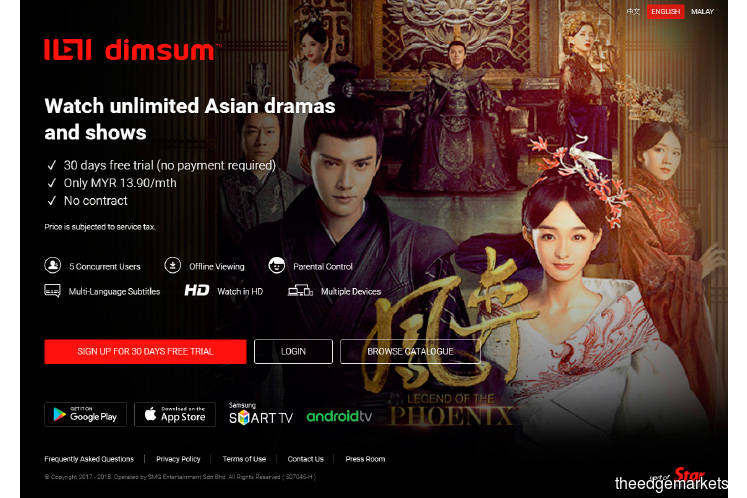 STAR Media Group Bhd is looking to raise funds to expand dimsum — its OTT (over the top) content business — and has hired advisers to help source for potential investors, according to several sources.
"The group has hired two regional advisors that have offices in Malaysia and the region to help them do investor matching for the potential fund-raising to drive expansion in dimsum. There has been interest from foreign investors but it is still in talks for now. Nothing has been inked yet," says a source familiar with the talks.
"There is equity available for sale and it depends on the amount of investments potential investors want to put in. The funds raised for future expansion could result in the issuance of new shares and might thus dilute Star Media's 100% equity interest," the source adds.
The media group would like to continue to have a substantial stake in dimsum if possible, according to two sources. It did not respond to questions from The Edge on this matter.
The media group launched dimsum — the country's first homegrown OTT service providing exclusively Asian content — on Nov 8, 2016, in a move to diversify and sustain growth.
It has been 2½ years now and it is understood the OTT player has yet to turn in a profit.
"It's about building the base first — that is what OTTs need to do. Perhaps Star Media is looking for new investments to help dimsum expand as it has plans to go beyond the markets it is currently in now — Malaysia, Singapore and Brunei," says an industry source. It has grown its base to nearly one million currently, the source adds.
According to a media analyst, for OTT services, "players need good content and strong data analytics — those are the two key things. When it comes to content, some people may not realise it, but local content is important".
"Building a wide base is important to OTTs but eventually, they will need to look at sustainability because if the business isn't sustainable, how long can it continue to bleed?"
dimsum started off charging a fee of RM15  (including GST) a month per account in 2016 but it is now RM13.90 before service tax. It is a very competitive market, with consumers having several OTT platforms to choose from. However, content from global standalone players such as Netflix and iflix is mainly in English.
Netflix's fees start at RM33 for a basic package for one screen, RM42 for two screens and RM51 for its premium package that covers four screens. The fees have remained unchanged since end-2016. iflix charges a flat RM10 monthly rate.
Media Prima Bhd operates a subscription-free OTT service provider — tonton — that boasts a large library of local Malay and Chinese content. The media company also broadcasts local live channels, including 8TV, TV3, ntv7 and TV9.
Astro Holdings Bhd, meanwhile, offers Astro Go and NJOI Now, similar to OTT, which allows users to watch programmes on devices.
Astro provides a range of packages, starting at RM55 a month for its vernacular entertainment packs. NJOI is a subscription-free satellite service where customers pay a one-off fee of RM405 that includes installation of the satellite dish and decoder to enjoy 29 TV channels and 20 radio channels.
Like most media companies, Star Media's earnings have taken a beating of late.
For FY2018, the group's net profit fell 93% year on year to RM5.2 million due to the poor performance of its digital and print segments.
The group notes in its FY2018 annual report that the digital and print segments were also impacted by losses from dimsum and mutual separation scheme (MSS) expenses. In spite of the fall in revenue, profit before tax for the print and digital segments rose from RM26.54 million in FY2017 to RM27.49 million when exceptional expenses incurred for MSS and early retirement option (ERO) schemes are excluded.
While dimsum is said to be "showing positive progress", the group admits in its annual report that the venture was loss-making in FY2018.
The results for Star Media's first quarter ended March 31 shows net profit falling 68% to RM3.6 million from RM11.4 million a year ago on lower revenue.