This article first appeared in The Edge Malaysia Weekly, on June 11, 2018 - June 17, 2018.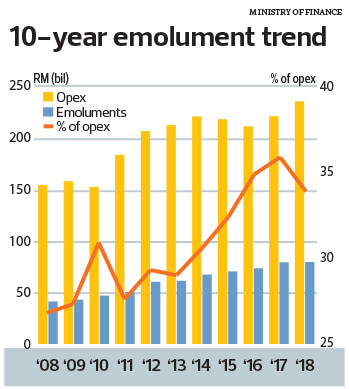 THE government is understood to be mulling over making drastic changes in the appointment and remuneration of directors at government-linked companies (GLCs) and agencies, sources familiar with the matter tell The Edge.
For starters, the remuneration package of directors, especially non-executive board members of GLCs and government agencies, could be cut. This is in line with the measures to reduce government expenditure.
It is understood that the Council of Eminent Persons has requested details of the salaries of some top executives in GLCs.
"There are so many government agencies, many duplications of functions … There are so many political appointments, so the government has to step in … It is a sensitive issue, but the country comes first, the country is the priority," a source says.
A director of a GLC says he has heard of the plan but he is not aware of the details.
Over the last decade, emoluments allocated for civil servants have increased significantly. Emoluments make up the largest portion of the government's operating expenditure (opex) bill, indicating that any cut in exorbitantly high salaries will help the government to save a lot.
In absolute terms, emoluments have grown from RM41.01 billion in 2008 to an estimated RM79.15 billion this year. Meanwhile, emoluments as a percentage of opex have also increased significantly, from 26.7% in 2008 to an estimated 33.8% this year. This chunk of expenditure peaked in 2017 at 35.8% of total opex, equivalent to RM78.8 billion.
The possible pay cuts for GLCs come on the back of the 10% pay cut for all ministers to reduce government expenditure, and the disbandment of the Malaysian Professors Council, the Land Public Transport Commission, the Special Affairs Department, as well as the Federal Village Development and Security Committee.
While many of the employees were absorbed into other government entities, 
political appointees were not given new appointments. It is understood that political appointments may be a thing of the past, unless a specific expertise is needed.
 
Countless government agencies
Without a doubt, there is much duplication of government agencies and many of the top jobs are political appointments.
For instance, there are several government outfits centred on innovation. Under the Ministry of Science, Technology and Innovation, there is the National Innovation Centre. Meanwhile, there is Agensi Inovasi Malaysia, a statutory body set up via Agensi Inovasi Malaysia Act 2010 to be the driving force in the push to establishing an "innovation economy".
On top of that, there is Genovasi, which comes under Unit Inovasi Khas, which in turn is under the Prime Minister's Department.
Then there is Yayasan Inovasi Malaysia, or Malaysian Foundation for Innovation. More recently set up was Malaysian Global Innovation and Creativity Centre (MaGIC).
To improve the lot of bumiputera entrepreneurs, the government in 1991 established Perbadanan Usahawan Nasional Bhd (PUNB) to provide them with financial support and advice.
PUNB's chairman is Tan Sri Mohd Ali Mohd Rustam, a member of the Umno Supreme Council since 1997 and chief minister of Melaka from 1999 to 2013. Also on PUNB's board are Datuk Hasbullah Wa Daud, former treasurer of the Umno division in Baling, Kedah, and Datuk Jamelah A Bakar, a director of politically linked KUB Malaysia Bhd.
Then there is SME Corp Malaysia, a central coordinating agency under the Ministry of International Trade and Industry, which formulates overall policies and strategies for small and medium enterprises. Its chairman, Tan Sri Mohamed Al Amin Abdul Majid, is said to be a close associate of former prime minister Datuk Seri Najib Razak.
People often wonder about the actual functions of some of these organisations. Talent Corporation Malaysia Bhd is one example. It was established in January 2011 under the Prime Minister's Department to drive the country's talent strategy. Its directors are 
Datuk Abdul Rahman Dahlan, former minister in the Prime Minister's Department, Datuk Seri Idris Jala, a former Cabinet minister and minister in the Prime Minister's Department, Tan Sri Ali Hamsa, the current chief secretary to the government, and Najib.
As for political appointments, a check with Bloomberg reveals that Tan Sri Mohd Irwan Serigar Abdullah, whose tenure as the Treasury secretary-general has been cut short and who has been transferred to the Public Service Department, was also the chairman of seven government entities and a board member of at least eight other public outfits.
He was said to be chairman of Malaysia Development Holdings Sdn Bhd, which news reports say is wholly owned by Minister of Finance Inc. However, a check with RAM Credit Information reveals that Irwan is not the chairman and the company (formerly known as Radio Televisyen Malaysia Bhd), has a paid-up capital of RM2 and is equally owned by the Minister of Finance Inc and the Federal Lands Commissioner. Its directors are Mohd Nizam Mohd Khir, Datuk Ahmad Badri Mohd Zahir, deputy secretary of the Strategic Investment Division at the Ministry of Finance, and Datuk Mohd Nizam Zainordin, chief financial officer of state-owned Permodalan Nasional Bhd.
Its nature of business is stated as "Carrying on the business of a special purpose vehicle to source financing through financial loans and to establish and operate schemes for the underprivileged".
For the financial year ended Dec 31, 2015, Malaysia Development Holdings incurred losses of RM85.9 million from zero revenue.
The company basically had no operations but was burning as much as RM85.9 million a year. The company's balance sheet as at end-2015 shows that it had RM700 million in share premiums and other reserves, but had accumulated losses of RM238.68 million. It also had current liabilities of RM24.33 million.
In January 2012, national news agency Bernama reported that the company was the special purpose vehicle for the newly-launched Skim Amanah Rakyat 1Malaysia and had signed an agreement with four local banks — Maybank, CIMB, RHB and Bank Simpanan Nasional — to arrange for investment loans for the scheme.
What has transpired at the company is anyone's guess.
 
The listed companies
Some of the publicly traded GLCs have also come under the spotlight. Sime Darby Bhd, for instance, paid almost RM6.22 million to its 12 non-executive directors in FY2017. Four or five of the independent directors are ex-civil servants and at least one is said to be close to Najib.
Sime Darby is a 47.07%-owned unit of Permodalan Nasional Bhd.
There are also other job perks such as a BMW for a company car and trips abroad, which is why many political players consider an appointment to the board of Sime Darby as a reward. In comparison, CIMB Group Holdings Bhd paid its 11 independent directors nearly RM7 million, while utility giant Tenaga Nasional Bhd paid RM3.25 million, during the same period.
CIMB chairman Datuk Seri Nazir Razak is Najib's brother. CIMB is a 27.27% unit of state-controlled investment arm, Khazanah Nasional Bhd.
RHB Bank Bhd, which is 40.70%-controlled by the Employees Provident Fund, paid its 10 non-executive directors RM6.34 million for the year ended Dec 31, 2017.
As a comparison, S P Setia paid its nine non-executive directors a tad above RM2 million for the same period. PNB has a 60.44% stake in S P Setia.
At a conservative estimate, there are at least 100 GLCs and agencies and a reduction in salaries could result in a large amount of savings for the government.
However, there could be issues with the listed companies as the remuneration packages are approved by the shareholders, who could indicate that government intervention is not necessary.
"Why should the government get involved?" says a director of a GLC. "When I started work in the 1980s, my starting pay was just below RM2,000 … now a fresh graduate gets RM4,000. Considering that it's only gone up 100% in almost 40 years, the government should be increasing salaries and not reducing them … Being a low-cost country is not always good."
As the saying goes, if you pay peanuts you get monkeys, so to some extent, the government has to give reasonably decent salaries to attract talent. 
It might have been the previous government's initial motive to be more generous in terms of rewards when hiring professional managers but it seems that some entities have abused it along the way. 
 
Save by subscribing to us for your print and/or digital copy.
P/S: The Edge is also available on Apple's AppStore and Androids' Google Play.