This article first appeared in The Edge Malaysia Weekly, on September 14, 2020 - September 20, 2020.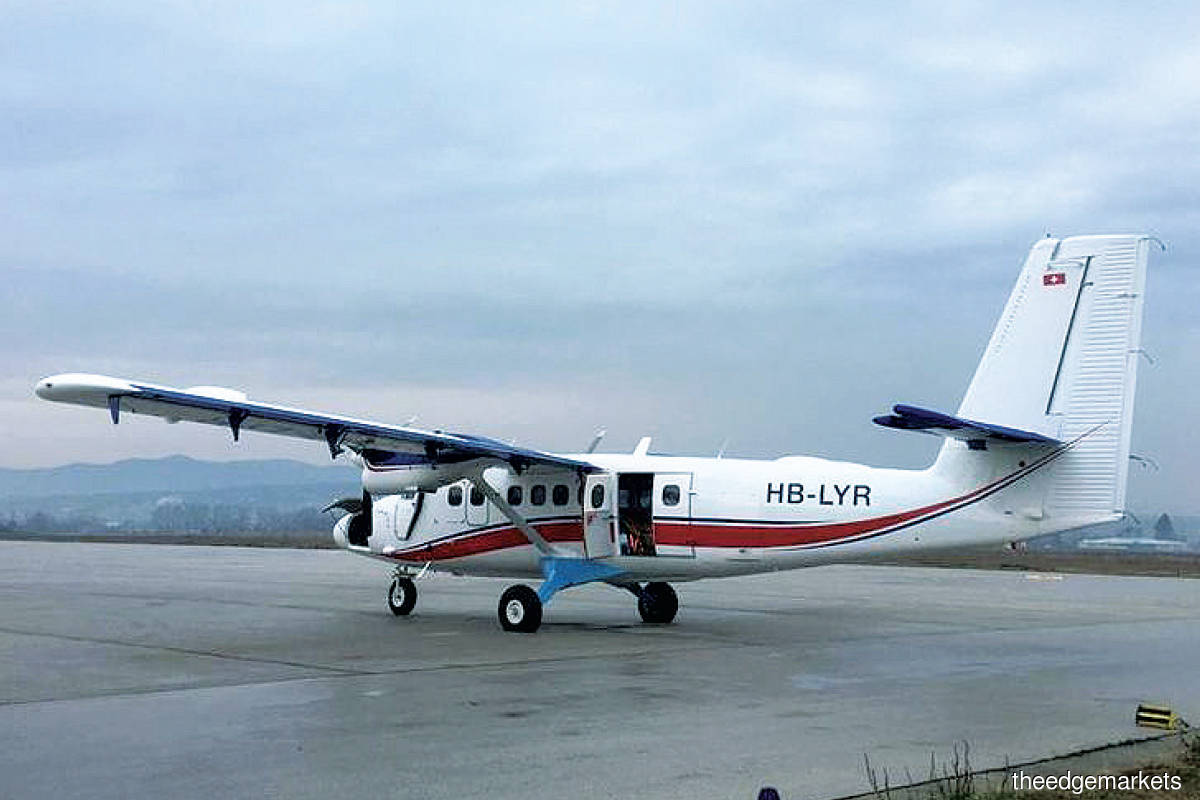 THE launch of a new local airline has been delayed again. The soft launch of SKS Airways Sdn Bhd was originally set to take place at Pangkor Airport this Tuesday (Sept 15), with several senior government officials expected to attend. The soft launch was also to coincide with the reopening of the airstrip, which ceased operations in February 2014, as well as to capitalise on Pangkor's new duty-free island status.
However, a Malaysia Airports Holdings Bhd spokesman says the event has been postponed to October.
Johor-based SKS Group wholly owns SKS Airways and has been working at starting a new airline since April last year, sources tell The Edge. After more than a year of delays and testing setbacks, SKS Airways may finally make its debut in the air soon, offering flights between major cities in Peninsular Malaysia and popular island destinations such as Tioman and Pangkor.
Sources say SKS Airways intends to use the Senai International Airport in Johor as its hub, using propeller aircraft. Its senior management team consists of individuals who were former employees of Malaysia Airlines Bhd, AirAsia Group Bhd and Malindo Airways Sdn Bhd.
SKS Airways' website shows that it is aiming to launch its inaugural flight sometime in the fourth quarter of 2020.
The new airline describes itself as "a new commercial airline providing domestic short-range leisure, commuter and charter services". "Our operation is mainly focused on popular island-based resorts and coastal resorts with connections to major cities within Peninsular Malaysia," it says.
According to the website, it has identified three routes, namely Johor Baru-Tioman, Subang-Tioman and Subang-Pangkor to begin with. In December last year, SKS Airways had taken delivery of its first aircraft, a 41-year-old DHC-6-300 Twin Otter, to start its operations.
It is understood that the airline has already conducted several test flights with the Civil Aviation Authority of Malaysia as it seeks to gain an air operator's certificate (AOC) from the aviation regulator. SKS Airways already holds a conditional air service licence (ASL) issued by the Malaysian Aviation Commission, which is valid until February next year. The airline is required to hold both an ASL and an AOC to operate scheduled passenger services.
The airline was incorporated in November 2017 and forms part of SKS Group, whose businesses span property development, investment holding, hospitality and credit finance in Malaysia and Australia. The group was founded by low-profile businessman Alan Sim See Kiong, who is chairman of SKS Group.
A check with the Companies Commission of Malaysia shows that Sim owns 77% of SKS Group, while his daughter Cindi Sim holds the remaining 23% stake. SKS Group reported a 26% year-on-year increase in revenue to RM618 million for the financial year ended Dec 31, 2018 (FY2018). However, its net profit fell 64% y-o-y to RM20 million.
Still, some point out that it would be challenging to launch a new airline at a time when the industry is struggling to survive due to the impact of the Covid-19 pandemic. Last Thursday, Singapore Airlines (SIA) Group, one of the region's largest airlines, became the latest carrier to announce massive layoffs. The city state's flag carrier is reportedly cutting around 20% of its staff across SIA, SilkAir and Scoot to reduce costs.
In May, Brendan Sobie, an aviation consultant at Sobie Aviation, pointed out that Malaysia's aviation market was already at a critical juncture even before the Covid-19 crisis struck and was in need of a reset. All six Malaysia-based airlines (Malaysia Airlines, AirAsia,  AirAsia X Bhd, Malindo Air, FlyFirefly Sdn Bhd and MASwings Sdn Bhd) were unprofitable in 2019 and the market was suffering from overcapacity and irrational competition.
But some quarters note that SKS Airways is unlikely to provide direct competition to the existing airlines given that it will operate on a small scale and its flights are mainly targeted at island holiday destinations.
Malaysia would not be alone to launch a new airline during the global pandemic. In June, China Eastern Airlines said it was teaming up with Chinese travel agency Trip.com and several others to form Sanya International Airlines in Hainan. It was reported in July that a new Canadian leisure airline called OWG is set to begin operations in Quebec in November.
More recently, Chinese mogul Bill Wong Cho-bau was reportedly looking to launch Greater Bay Airlines. From its Hong Kong base, it will fly to China and nearby Asian destinations, including Vietnam, South Korea and possibly Japan.