This article first appeared in The Edge Malaysia Weekly, on September 30, 2019 - October 06, 2019.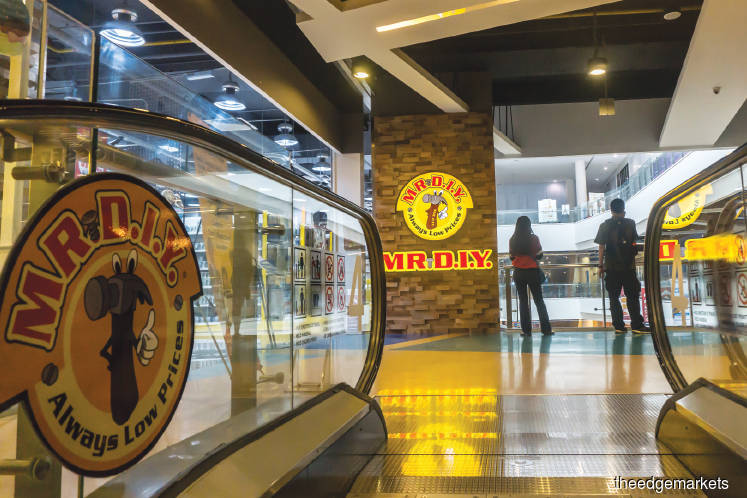 Mr DIY serves more than seven million customers monthly through its network of stores here and online
ONE of the more anticipated listings this year — the initial public offering (IPO) of Mr DIY — has been deferred, and is now targeted for the first half of 2020 at the earliest, several industry sources say.
"A listing is still on the cards ... The listing process is in motion and bankers are preparing the documents to obtain the necessary approvals. The process is just taking longer than expected," says a source familiar with the plans.
It was reported earlier this year that a year-end listing was in the pipeline, with Mr DIY valued potentially at about RM10 billion.
The existing shareholders of the company were understood to be considering an employee share option scheme and mulling a dividend plan post-listing. It is unclear if details of the listing have changed.
Looking at publicly available information, Mr DIY registered a net profit of RM303 million on the back of a RM1.8 billion revenue in the financial year ended December 2018. In 2017, it made RM208 million net profit and RM1.22 billion revenue, according to CTOS data.
The home-grown home improvement retailer has more than 540 stores in Malaysia. Mr DIY serves more than seven million customers monthly through its network of stores here and online.
In the Philippines, home furnishing retailer AllHome Corp recently announced that its IPO would be priced at 11.50 per share, equivalent to about 20 to 25 times projected 2020 earnings. Its flotation exercise is estimated to raise up to US$285.35 million and is touted to be the largest IPO in the country in three years.
"When it comes to a listing, it boils down to valuation … Pricing the IPO correctly is crucial," says a finance executive.
A banker observes: "The listing environment hasn't been very encouraging for certain markets and some regional countries are looking to boost their IPO pipeline with incentives for listing companies as well as make the listing process more efficient and robust to encourage listings. There is rising competition among regional bourses for IPOs."
The Philippines is looking to lower stock transaction tax by 0.1% annually from 0.6% in 2020 to 0.1% in 2025 to stimulate trading activity. It targets to remove an IPO tax to encourage companies to list on its stock exchange.
On its part, Indonesia has recently proposed a tax cut for IPOs whereby listed firms would enjoy a lower-than-normal 17% corporate tax rate in the first five years following their IPOs. The country's corporate rate is 25%.
According to Bloomberg, Indonesian IPOs have raised $671 million thus far this year, a third less over the same period in 2018.
EY's global IPO trends 2Q2019 notes that geopolitical uncertainties, trade tensions and macroeconomic conditions in the region continued to dampen investor enthusiasm for IPOs and weaken Southeast Asia IPO activity in 1H2019.
"As a result, Asean deals volume declined 8% while funds raised dropped 55% as compared with 1H2018. Small and mid-cap entrepreneurial companies accounted for the majority of the IPO activity," it adds.
At home, Mr DIY's later listing date appears in line with the recent trend of big anticipated listings on Bursa Malaysia this year.
In May, QSR Brands (M) Holdings Bhd, which operates 820 KFC restaurants in Malaysia, Singapore, Brunei and Cambodia, announced a deferment of its IPO that was initially slated for the first half of the year. QSR Brands also runs the Pizza Hut franchise in Malaysia and Singapore.
Only three companies undertook an IPO on the Main Market this year. Tellingly, only one is trading above its offer price post-listing — UWC Bhd, which share price has increased by a stellar 87% to RM1.53 as at end-Sept 25, against its July IPO price of 82 sen.
Leong Hup International Bhd — the first to list on the Main Market in May — has lost a fourth of its value, closing at 82.5 sen on Sept 25 against its offer price of RM1.10.
HPMT Holdings Bhd has performed even more dismally, its share price is 37.5% lower than its IPO price of 56 sen.
In terms of the number of company listing, the current three listings in the Main Market of Bursa pales in comparison with the 23 listings in 2010.
In the latest listing on Bursa last Wednesday (Sept 25), ACE Market-listed MTAG Group Bhd ended its maiden listing day at 44 sen versus its IPO price of 53 sen. The IPO of the Johor based printing and materials converting specialist was oversubscribed by 3.84 times.