This article first appeared in The Edge Malaysia Weekly, on January 20, 2020 - January 26, 2020.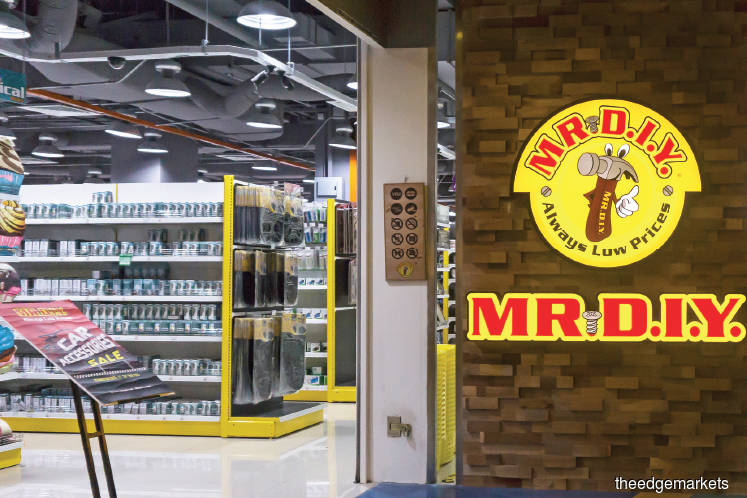 Mr DIY's Main Market listing is expected to take place in the second quarter of the year, depending on regulatory approvals
EYEBROWS were raised when it was learnt that Mr DIY Group (M) Bhd, expected to be one of the year's biggest initial public offerings (IPO), has been exempted by the stock market regulator from the minimum required public shareholding spread of 25% upon listing. It was an unprecedented move by the regulator, say investment bankers.
In its draft prospectus that was released on Jan 10, Mr DIY disclosed that Bursa Malaysia Securities Bhd (Bursa Securities) had, through a letter dated June 28 last year, "resolved to accept" the company's expected level of a 15% public shareholding spread upon its listing.
The move comes amid rising competition among regional bourses for big IPOs.
Bursa Securities, in response to questions from The Edge about the exemption, makes it clear that it has no plan at the moment to review the 25% public spread requirement for companies going for a listing.
"While it is not Bursa Securities' policy to comment on specific cases, Bursa Securities regulates the admission and initial listing of a company on [the stock exchange] together with the prescribed public shareholding spread, whereby a listed issuer must ensure that at least 25% of its total listed shares (excluding treasury shares) are in the hands of public shareholders. As stipulated in the Listing Requirements, a listed issuer may make: (i) an application to the exchange for acceptance of a lower percentage of public shareholding; or (ii) an application to the exchange for an extension of time to rectify the public shareholding spread," a spokesman says in an email response.
"Bursa Securities may, on the application by a listed issuer, accept a percentage lower than 25% of the total number of listed shares (excluding treasury shares) if it is satisfied that the listed issuer has a large market capitalisation and such lower percentage is sufficient for a liquid market in such shares," the spokesman explains.
Bursa Securities' response validates the expectation that Mr DIY will be a large listing. At this stage of the IPO process, there is no mention yet of the company's valuation or how much it plans to raise. A report by The Edge in June last year, however, indicated that its promoters were seeking a valuation of RM10 billion to RM11 billion — which market observers deem to be high — with price-earnings multiples based on forward FY2020 earnings of 24 to 26 times.
A source familiar with Mr DIY's IPO says it is too soon to speculate about valuation. "Now that [IPO] submissions have been done, the investment banks will start engaging investors, the banks' analysts and so on … there's a whole price discovery process to go through. But if you look at Mr DIY's historical profit numbers, they're growing at a very strong rate of over 40% — what other companies on the stock exchange do you see growing earnings at that rate?" the source says, suggesting that Mr DIY's strong earnings growth was also a factor in Bursa Securities' decision to allow for a lower public float.
The group's revenue and net profit in the years between Dec 31, 2016 (FY2016) and FY2018 grew at a compound annual growth rate of 46.3% and 45% respectively. It is targeting to have a dividend payout ratio of at least 40% of its net profit.
According to the source, Mr DIY's Main Market listing will likely take place in the second quarter of the year, depending on regulatory approvals. The Edge reported last October that the listing initially planned for end-2019 had been deferred to the first half of this year, at the earliest.
Investment bankers that The Edge has spoken to say most stock exchanges in Asean have provisions for IPOs to have a public float that is lower than 25%.
In Singapore, for example, the public float for companies with a market capitalisation of S$300 million (RM902.8 million) or less is at least 25% with a minimum of 500 shareholders, while that for companies with a market capitalisation of S$400 million or more is at least 15% with a minimum of 500 shareholders. For a listing on the Catalist market, companies must have at least 15% in public hands at the time of listing, with a minimum of 200 public shareholders.
In the Philippines, the minimum offering to the public for an initial listing on the Main Board is between 10% and 33%, depending on the market capitalisation of the company. Once listed, the companies must maintain a minimum of 20% in the hands of the public.
In Hong Kong, companies looking to list on the Main Board are required to observe a 25% free float minimum, but this can be reduced to 15% if the market capitalisation is more than HK$10 billion (RM5.2 billion).
Based on its draft prospectus, Mr DIY's IPO involves 941.49 million shares, comprising an offer for sale of up to 564.89 million existing shares and a public issue of 376.60 million new shares.
Mr DIY made a net profit of RM308.33 million on the back of revenue of RM1.77 billion in FY2018. It claims to be the largest home improvement retailer in Malaysia with an estimated market share of 25.4% in 2018, based on its revenue that year. As at end-August, more than 90% of its stores were profitable.
It operates 566 stores in the country and has plans to open at least 100 new stores this year.