This article first appeared in The Edge Malaysia Weekly, on July 8, 2019 - July 14, 2019.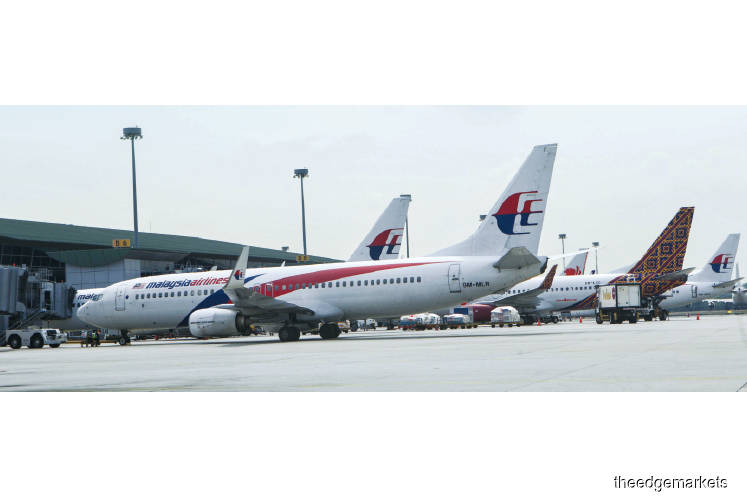 Various private groups have sought a meeting with Mahathir, who is chairman of Khazanah, to present their turnaround plans. Photo by Patrick Goh/The Edge
GIVEN the pervasive doom and gloom surrounding Malaysia Airlines Bhd, many would presume it would be difficult to find suitors or white knights for the floundering carrier.
But the national airline has attracted several investor groups, even as it awaits a decision from the board of directors of Khazanah Nasional Bhd — its sole shareholder — on the direction of its next turnaround plan.
It is understood that Tan Sri Syed Azman Syed Ibrahim of The Weststar Group has been added to the growing list of possible suitors for Malaysia Airlines.
The group has an aviation arm, Weststar Aviation Services Sdn Bhd, which offers offshore helicopter transport services in Malaysia, Thailand, Indonesia, Morocco and Mauritania. It also has a general aviation arm, Weststar General Aviation Sdn Bhd, which provides executive VIP charters and aerial work services.
When contacted, Syed Azman says he has no further comments regarding the matter.
A group of investors — said to be keen to take up a stake in Malaysia Airlines — are also believed to have approached QuantePhi Sdn Bhd, a boutique advisory firm founded by Mohammed Rashdan Yusof, to advise on a takeover proposal for the carrier. From 2010 to 2012, Rashdan was the deputy group CEO of the now defunct Malaysian Airline System Bhd (MAS).
It is worth noting that QuantePhi was the financial adviser for DRB-Hicom Bhd in the corporate restructuring of the then ailing Proton Holdings Bhd.
Under the 2017 deal, the government agreed to allow China's Zhejiang Geely Holding Group Co Ltd to acquire a 49.99% stake in the national carmaker, whose operations and financials have since seen a vast improvement under the Chinese automotive company.
Jentayu Danaraksa Sdn Bhd, helmed by managing director Feriz Omar, is also said to be launching a second takeover attempt for Malaysia Airlines. In 2014, Jentayu had proposed to buy MAS' parent, Penerbangan Malaysia Bhd, for up to RM8.75 billion and to turn the company into a global aircraft leasing firm. Its plans included the setting up of a new commercial airline, Fly JD, with premium economy offerings to ply Asean routes.
However, Khazanah preferred to persist with a five-year MAS Recovery Plan, under which MAS was delisted, a new company (Malaysia Airlines) established and a third of its workforce cut. Some RM6 billion was allocated for the exercise.
Suitors have been lining up since Prime Minister Tun Dr Mahathir Mohamad remarked in March that the government is mulling whether to shut down, sell or refinance the loss-making airline.
Various private groups have sought a meeting with Mahathir, who is chairman of Khazanah, to present their turnaround plans.
One of the first groups to meet him was led by AirAsia Group Bhd co-founder and former chairman Datuk Pahamin Ab Rajab, who last Wednesday sought approval to conduct due diligence on Malaysia Airlines before the group comes up with a detailed plan to help turn around the carrier.
The group, known as Najah Air Sdn Bhd, is proposing that Malaysia Airlines remain a premium full-service carrier while FlyFirefly Sdn Bhd would be transformed into Asean's first ultra-low-cost carrier focusing on millennials. It gave an assurance that its plan will not result in job cuts.
In March, a group comprising former MAS employees and several private individuals were the first to express interest in helping the government turn around Malaysia Airlines. The group, led by corporate lawyer Shahril Lamin, with Tan Sri Abdul Aziz Abdul Rahman — former CEO and managing director of MAS — as adviser, maintain that they can return the carrier to profitability within 2½ to 3 years.
Meanwhile, a spokesperson for Khazanah tells The Edge that Malaysia Aviation Group Bhd (MAG), the holding company of Malaysia Airlines, is reassessing its strategy and is working with Khazanah to steer the airline towards financial sustainability.
"Ultimately, the airline's future is a policy decision and a matter impacting various stakeholders, including MAG, Khazanah as shareholder and the government as decision-maker," the spokesperson says in an email.
"In the meantime, MAG will continue to operate on a business-as-usual basis while making concerted efforts to enhance customer experience and driving greater revenue improvements and cost rationalisation initiatives."
Last month, Malaysia Airlines CEO Izham Ismail said it had received the nod from the board of MAG on its long-term business plan in February and that the board of Khazanah is expected to make a decision by this month on whether Malaysia Airlines should go ahead with its next turnaround plan.
Meanwhile, Malaysia Airlines has struck a number of partnerships with carriers such as Japan Airlines Co Ltd and Singapore Airlines Ltd.
CAPA – Centre for Aviation chief analyst and chief representative for Southeast Asia Brendan Sobie says partnerships generally are just one component of a possible new strategy and it does not necessarily mean the airline will not need a strategic investor.
"I think the issue is more about finding an airline willing to invest in Malaysia Airlines, given its current state. Otherwise, there is nothing preventing an airline from forging new partnerships and selling a stake — even if some of the new partners are the airline's competitors. In fact, this is pretty common in the airline industry. So, it won't really be a concern," he tells The Edge.
"Clearly, there are some major decisions pending, given the current situation at Malaysia Airlines and the fact that its prior turnaround plan has proved to be unrealistic and cannot be completed.
"But I would say selling the airline would be difficult at this juncture, although it may be possible to sell a small stake to a strategic partner at what would be a relatively low price."
Endau Analytics founder and aviation consultant Shukor Yusof says joint ventures (JVs) are not the answer to Malaysia Airlines' woes. "It helps ameliorate the airline's weak position in the marketplace, but is not a panacea."
Transport infrastructure consultancy Modalis Infrastructure Partners associate director Khair Mirza says it is not uncommon to have airlines forging agreements akin to JVs with their peers on specific routes and activities.
"[Forging such JVs or unincorporated partnerships] will not prevent them ... if tomorrow they decide to sell a stake in the airline. [There should be] no issue," he says, noting that "the devil is in the details" of the JVs.
"Looking at the wider macroeconomic conditions, it is modest in most countries and there is not much discretionary spending right now. So, the government should just take its time to allow the new board to operate and grow strategic markets such as China, India and Vietnam."