This article first appeared in The Edge Malaysia Weekly, on August 12, 2019 - August 18, 2019.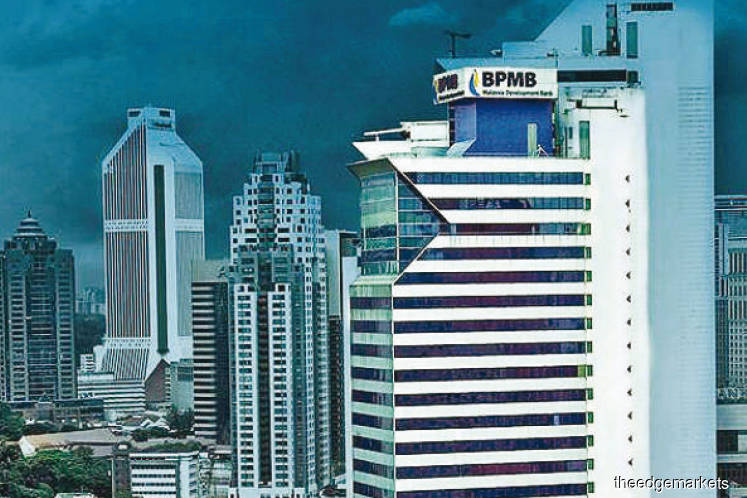 Report reveals internal control and corporate governance issues at BPMB and GMV. Photo by The Edge
ALTHOUGH much has been written about the corporate governance issues at Bank Pembangunan Malaysia Bhd (BPMB) by The Edge, it is not clear whether any action has been taken to address them.
One of the issues raised in the past is the investment of BPMB and its wholly-owned subsidiary Global Maritime Ventures Bhd (GMV) in Syarikat Borcos Shipping Sdn Bhd.
It is understood that in 2015, BPMB commissioned a review of the internal controls and corporate governance of the group and GMV as well as a forensic investigation into the latter's investment in Borcos.
BPMB engaged Deloitte Enterprise Risk Services Sdn Bhd to conduct the review.
A report based on the review, sighted by The Edge, revealed several serious internal control and corporate governance issues at both BPMB and GMV. The lax corporate governance processes allowed the acquisition of Borcos between 2011 and 2013, which later proved to be a financial liability for GMV.
In 2015, GMV had to recognise an impairment of RM195.86 million on the vessels of Borcos, which was liquidated at the end of 2016. This was on top of the more than RM380 million paid by GMV to acquire the whole of Borcos.
GMV's 2015 annual report was the last to be released on its website for public reference.
Questions sent to Bank Negara Malaysia as to whether any action had been taken on GMV's investment in Borcos went unanswered as at press time. A BPMB spokesman says, "Being a regulated entity BPMB is not in a position to provide responses as requested."
According to Deloitte's report, investment decisions at BPMB were made without prior knowledge of its board, and breached the company's group authority for credit approvals (GACA).
BPMB authorises its group of companies to make investment decisions involving amounts not exceeding 35% of their respective paid-up capital. In GMV's case, the amount should not be more than RM105 million.
GMV acquired a 35% stake in Borcos for RM146.55 million from AWH Equity Holdings Sdn Bhd on April 19, 2011. AWH is an investment holding company owned by Datuk Wan Ariff Wan Hamzah and his family members.
On Jan 15, 2013, GMV acquired the remaining 65% of Borcos for RM190.45 million from AWH. Then on Jan 29, 2013, it acquired a 15.77% stake for RM50 million from Restu Kuala Sdn Bhd via the redemption of preference shares held by Lembaga Tabung Haji.
Restu Kuala is owned by Wan Ariff's daughter Wan Hamimie and her husband Sidqi Ahmad Said Ahmad.
In other words, GMV spent a total of RM387 million on acquiring 100% of Borcos.
According to Deloitte, it was informed that all of the proposed investments were presented to GMV's board by Datuk Zafer Hashim, who was BPMB's managing director until he resigned on July 25, 2014. However, the truth of the information could not be ascertained by Deloitte as the relevant supporting documents to substantiate it were unobtainable.
The audit firm also noted that the acquisition of the 65% stake from AWH and 15.77% stake from Restu Kuala was not reviewed by BPMB's credit committee as required by its GACA. GMV's board also approved the investment before BPMB's risk management department could review the proposal.
The risk of the 65%-stake investment was, however, assessed by GMV's assistant manager and senior manager of corporate investment before the proposal was submitted to the board for approval. GMV's board approved the proposal on Nov 27, 2012.
"The investment proposal was subsequently submitted to the group's risk management department for assessment on Dec 5, 2012. The department provided an investment risk analysis report to the GMV board on Dec 27, 2012, highlighting the key risks of the investment.
"However, the risk analysis report was never brought up for discussion with the GMV board, which resulted in a decision made without considering the investment risk factors," the audit firm noted in its report.
The key risks highlighted by BPMB's risk management department included the potential of GMV being exposed to concentration risk as the total investment exposure was RM336.99 million while Borcos' negative debt service coverage ratio could potentially expose GMV to return-on-investment risk.
In FY2011, Borcos' debt service coverage ratio was -0.267 times, indicating that the company had enough net operating income to cover only 26.7% of annual debt payments.
The report also highlighted that the investments were made without adequate information.
Deloitte stated that BPMB's chief risk officer (CRO) had, on March 29, 2011, highlighted the difficult market situation for the shipping sector when considering GMV's acquisition of the 35% stake in Borcos.
In order to gauge the projected revenue and profitability of Borcos, the CRO suggested that a detailed cash flow projection of the shipping company needed to be prepared, backed by realistic projections. However, no such projections were prepared.
PwC was also appointed to conduct a financial and taxation due diligence as well as determine Borcos' fair market valuation. A draft due diligence report was provided to GMV on March 9, 2011, detailing Borcos' projected financial information and cash flow.
However, Deloitte stated in its report that different projected financial information was presented in the investment proposal without the relevant assumptions and projected cash flow justifying the figures presented.
"The total market valuation of Borcos decided by the former MD of BPMB (Zafer), which amounted to RM418.7 million based on price-to-earnings (PE) of 7.9 times, was higher than the valuation amount suggested by PwC, ranging between RM230.7 million and RM258.4 million.
"We further noted that PwC highlighted to the former CEO of GMV (Norulhadi Md Shariff) on March 16, 2011, that the possibility of Borcos achieving a profit after tax of RM53 million for FY2011 was challenging," Deloitte said in the report.
The matter was escalated by Norulhadi to Zafer on March 21, 2011. However, based on email correspondence between the two, Deloitte stated that Zafer reiterated that the total market valuation of Borcos should be RM418.7 million.
The reason for such valuation was based on a profit guarantee of RM53 million provided by AWH for FY2011.
"The report by Deloitte provides clear insights into the workings of BPMB and its group of companies. Have these revelations been investigated by the relevant authorities?" asks a market observer.
"The pre-acquisition process of Borcos is severely lacking in terms of internal control and corporate governance. Will any action be taken on this? I don't know," remarks a fund manager.