This article first appeared in The Edge Malaysia Weekly, on April 22, 2019 - April 28, 2019.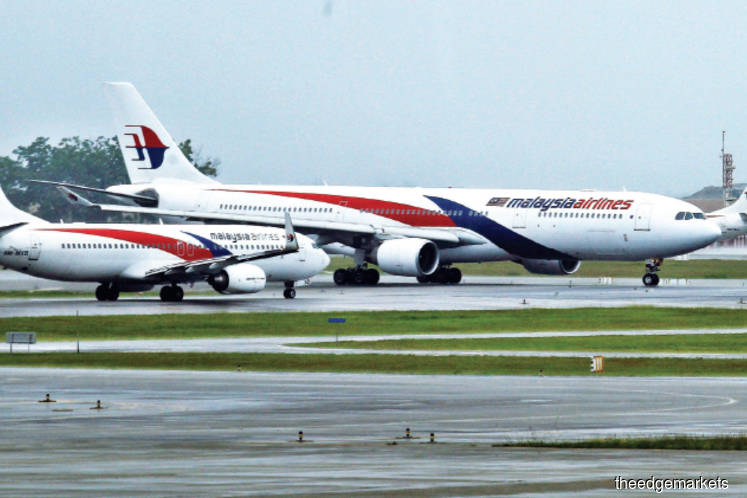 On March 12, Mahathir said the government was studying whether to shut, sell or refinance the loss-making Malaysia Airlines after four failed restructuring attempts, and that a decision would be made soon. Photo by Suhaimi Yusuf/The Edge
MALAYSIA's sovereign wealth fund Khazanah Nasional Bhd has pumped RM500 million into Malaysia Airlines Bhd even as more parties are showing interest in acquiring a stake in the ailing national carrier.
A spokesperson for Khazanah tells The Edge that the capital injection into Malaysia Aviation Group Bhd, the holding company of Malaysia Airlines, is part of the RM6 billion funding approved under the 12-point MAS Recovery Plan in 2014.
However, the spokesperson declines to disclose the amount that has been disbursed so far. In January last year, Khazanah reportedly disbursed RM4.4 billion or 70% of the RM6 billion to the carrier.
This latest disbursement comes at a time when a group, led by a local business tycoon, has emerged as the latest suitor for Malaysia Airlines.
The group, which also comprises investors from an aviation background, is considering buying a minority stake in the carrier but it wants control of the board and management, a person familiar with the matter tells The Edge.
Likening the proposal to the current ownership structure of national carmaker Proton Holdings Bhd, where Chinese carmaker Zhejiang Geely Holding Group holds a 49.9% stake but is in the driver's seat, the person says the group is confident that Malaysia Airlines will have a greater chance of succeeding as it will be led by entrepreneurs.
Under the group's plan, Malaysia Airlines will remain a premium full-service carrier while FlyFirefly Sdn Bhd will be transformed into "Asean's first ultra low-cost carrier focusing on millennials", the person says, requesting anonymity.
"The group is proposing a turnaround plan for Malaysia Airlines involving new capital infusion, doubling cargo revenue and maximising aircraft utilisation rather than adding more planes."
"The current structure of Malaysia Airlines shows that almost 90% of total operating revenue comes from passengers and less than 7% from cargo. The group plans to double cargo revenue by bringing in one of the world's largest e-commerce giants as a partner. The latter can use Malaysia Airlines' freighter fleet for distribution as well as tap the carrier's customers," he adds, but declines to reveal further details until the group meets Prime Minister Tun Dr Mahathir Mohamad, who is also chairman of Khazanah.
Last month, a group of former Malaysian Airline System Bhd employees and several private individuals expressed interest in helping the government turn around Malaysia Airlines. The group, led by corporate lawyer Shahril Lamin, has proposed to build the carrier back to what it was during the profitable years and to turn it profitable within 2½ to 3 years.
When contacted, Shahril says he is not ready to disclose more details about Golden Skies Ventures Sdn Bhd's plan for Malaysia Airlines yet. It is understood that the group has approached the government with its proposal.
On March 12, Mahathir said the government was studying whether to shut, sell or refinance the loss-making Malaysia Airlines after four failed restructuring attempts, and that a decision would be made soon. The carrier's accumulated loss amounted to RM2.35 billion between 2015 and 2017.
On March 25, Council of Eminent Persons chairman Tun Daim Zainuddin was quoted as saying that several foreign companies, including those from Europe, Asia and the Middle East, were keen to acquire a stake in Malaysia Airlines.
It is still premature to talk about a takeover of Malaysia Airlines given that the carrier's management has yet to reveal its next phase of the turnaround plan, says Shukor Yusof, founder of aviation consulting firm Endau Analytics.
"Malaysia Airlines is working on a turnaround plan to be submitted to Khazanah. Until that happens, I think it is a bit premature to speculate that it is going to be sold or people are going to buy it. I think it is incumbent upon the government to also listen to what [Malaysia Airlines'] management has come up with. Khazanah, which is the main stakeholder, has also officially said it is waiting for the new turnaround plan to be submitted. Until it has received that, it will probably not evaluate any proposals from outsiders," he says.
In February, Khazanah managing director Datuk Shahril Ridza Ridzuan said the company was still waiting for the strategic proposal from Malaysia Airlines to determine if it was worthwhile to inject more funds to support its restructuring plan.
"From the government's point of view, if it makes sense, I think it will evaluate it. But then again, we don't know what the government is thinking — whether it still wants to have a national airline. If it is talking about selling [the carrier], why would Khazanah inject RM500 million into it last month? And why has Malaysia Airlines been aggressive in sponsorships and developing and hiring people over the last few weeks? It doesn't look like this airline is ready to be sold," Shukor point outs.
He is of the view that Malaysia Airlines' recent moves — such as agreeing to a RM40 million sponsorship to national athletes and a two-year partnership deal with the Football Association of Malaysia as well as its ongoing recruitment drive for pilots and cabin crew — could complicate potential buyers' effort to acquire Malaysia Airlines due to its commitments.
"Whoever comes in will have to assume the liabilities and commit to whatever contracts that have been made by the airline. Also, there is still the firm order for 25 Boeing 737 MAX aircraft that Malaysia Airlines has to sort out," he adds.
On March 11, Minister of Economic Affairs Datuk Seri Azmin Ali urged Khazanah to revisit the purchase of the aircraft following the fatal 737 MAX 8 crashes in October last year and March this year.