This article first appeared in The Edge Malaysia Weekly, on June 24, 2019 - June 30, 2019.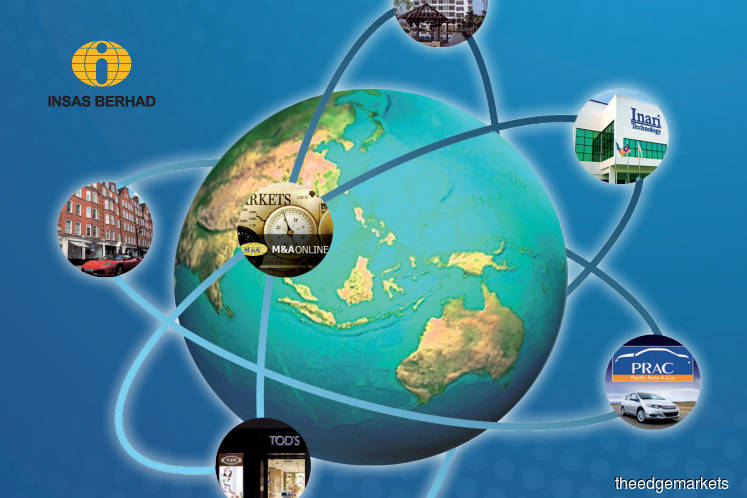 THE controlling shareholders of Insas Bhd, Datuk Seri Thong Kok Khee and his brother Datuk Thong Kok Yun, are said to be mulling seeking a waiver from making a general offer for the company if they decide to convert the company's warrants in February next year.
The "if" comes about as the warrants issued in end-February 2015 are out of the money, trading at 3.5 sen, while the strike price to convert the warrant to a share when it expires on Feb 25 next year is RM1.
Insas' mother share, however, closed last Friday at 72 sen, a 28% discount from the warrant's strike price, which makes it more meaningful to buy direct into the mother share as opposed to buying the warrant and converting it.
"I do not think any of the warrant holders will convert," one warrant holder says.
Insas' October 2014 circular to shareholders says that should Kok Khee and any of his related parties, "exercise their warrants such that their shareholdings in Insas increase to more than 33%, whether on an individual basis, Datuk Thong Kok Khee and/or any of his related parties is obliged … to undertake a mandatory offer for all the remaining Insas shares not already held by them after the exercise of the warrants".
Kok Khee has a 25.05% stake in Insas and his brother Kok Yun controls 11.19%. Another 18.77% is held by M&A Investments International Ltd, which, according to Insas' 2018 annual report, is linked to Kok Khee. This would mean that the brothers have about 55% equity interest in Insas at present. Meanwhile, Kok Khee has 31.45%, or 83.41 million, of the warrants while Kok Yun has 31.74 million, or 11.97%.
If Kok Khee and Kok Yun pay RM115.15 million to convert their warrants and, assuming that none of the warrant holders convert, they would control 61.66% of Insas.
To put things in perspective, over the last 10 years, Insas has traded above RM1 for only a few months in 2014 and a brief period in 2017.
Insas' warrants came about in July 2014, when it issued 138.7 million preference shares at an issue price of RM1 a preference share, on a basis of one preference share and two warrants for five shares held. In a nutshell, Insas was looking to raise RM138.7 million, largely for M&A Securities.
Checks on Bloomberg reveal that there are 265.2 million warrants still trading and 132.6 million preference shares have yet to be redeemed. But it is not that Insas needs the warrants to be converted to raise funds to redeem the preference shares.
For its nine months ended March this year, Insas registered a net profit of RM63.91 million on RM133.96 million in revenue.
While its share price is languishing at 72 sen, the company's net asset per share as at end-March was RM2.59.
A few months ago, Kok Khee is said to have told a group of friends, "Insas is the most undervalued company on Bursa Malaysia".
As at end-March this year, Insas was in a net cash position and had deposits with licensed banks and financial institutions amounting to RM553.68 million and cash and bank balances of RM114.63 million. On the other side of the balance sheet, Insas had short-term debt commitments of RM309.83 million and long-term borrowings of RM20.48 million.
Considering Insas' share base is 663.01 million shares, this means that Insas has net cash of 54 sen per share.
It is also interesting to note that Insas is diversified, having stakes in stockbroking company M&A Securities Sdn Bhd, property development held under Insas Properties Sdn Bhd, car rentals under Insas Pacific Rent-A-Car Sdn Bhd, 43% in the fashion retailer Melium group and Dome Café in its stable of companies. Also under Insas is moneylending and project financing outfit Insas Credit & Leasing Sdn Bhd, just to name a few of its businesses.
Its shareholdings in listed companies include 19.1% in semiconductor manufacturer Inari Amertron Bhd. Inari at its close of RM1.59 last Friday had a market capitalisation of RM5.05 billion. Thus, Insas' stake in Inari is worth RM964.55 million, which is more than double Insas' market capitalisation of RM477.4 million as at last Friday's close.
Other companies Insas has stakes in include 10.18% in software outfit Omesti Bhd, which closed at 40.5 sen last Friday for a market capitalisation of RM193.7 million, 7.98% in furniture company SYF Resources Bhd — which ended trading last Friday at 20 sen, translating into a market value of RM119.1 million — and 25.48% in computer software and hardware consulting company Diversified Gateway Solutions Bhd, which finished Friday at eight sen, valuing it at RM59.7 million.
Omesti, meanwhile, has a 5.65% stake, or 42.14 million shares, in Diversified Gateway Solutions, 61.53% in software company Microlink Solutions Bhd and 13.29% in construction player Ho Hup Construction Co Bhd.