This article first appeared in The Edge Malaysia Weekly, on July 29, 2019 - August 04, 2019.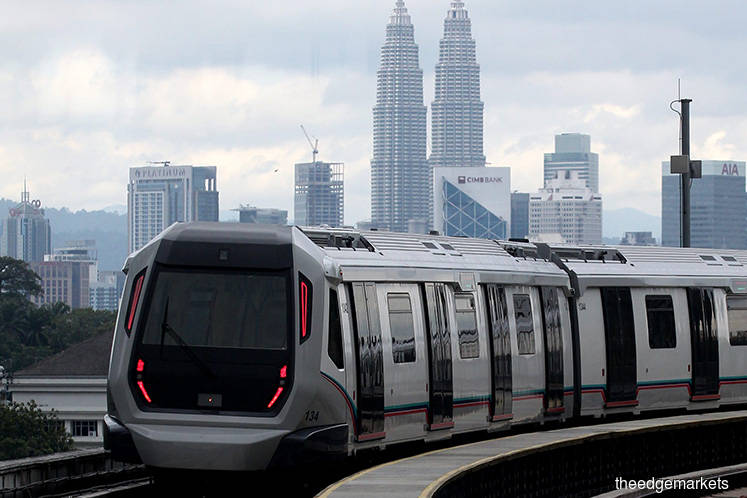 PRASARANA Malaysia Bhd is understood to be looking at impairments in excess of RM30 billion in its accounts for the financial year 2018, sources familiar with the matter tell The Edge.
While details are scarce, it is understood that as a result of the impairments, Prasrana could incur after-tax losses of RM3 billion to RM5 billion for FY2018.
Prasarana, which is a unit of the Ministry of Finance, manages the intra city rail lines, namely the mass rapid transit or MRT, light rail transit or LRT, the monorail and feeder bus systems.
To The Edge's emailed questions, Prasarana replied that it had "no comments on this subject".
"It's a staggering amount … in excess of RM30 billion," one source who is involved in the rail business says of the impairments.
While he is uncertain of the reason, other sources attribute it to the requirements of the Malaysian Financial Reporting Standards (MFRS), which requires that impairments of assets be carried out.
Nevertheless, it is learnt that the Prasarana board has yet to approve the financials. While the bulk of the impairments have been attributed to MFRS, The Edge understands that questions are being brought up by certain quarters on the timing.
Another source familiar with Prasarana says he is not surprised at the high impairments. Note that after-tax losses at the entity have ballooned considerably from RM619.32 million in December 2013 to possibly above RM3 billion currently.
For its financial year ended December 2017, Prasarana suffered an after-tax loss of RM2.47 billion (also as a result of impairments) on the back of RM846.35 million in revenue. Accumulated losses stood at RM10.79 billion for the year ended 2017.
Meanwhile, it had total assets of RM27.17 billion and total liabilities of RM30.66 billion.
In the past, there have been overtures by certain businessmen offering to operate the assets of Prasarana, leaving the company as the asset owner, but these proposals have yet to gain traction.
One proposal by Scomi Group Bhd last year sought to maintain the rolling stock and lease it back to Prasarana, but the talks fell through.
"If they (Prasarana) do call for a tender, I'm sure many people will be interested. Maybe it will take an entrepreneur to stop the bleeding at Prasarana, but it should be done in a proper manner," the source involved in the rail business says.
What seems clear is that the current model is not a sustainable one, and one source sums it up, saying there are only two models, "Either the tax payer pays, as is happening now, or the user or fare payer pays."
He is quick to add, "But which politician wants to do that?", meaning a hike in ticket prices would not go down well with the public, and could turn into a political catastrophe.
The Pakatan Harapan government has introduced unlimited monthly passes known as My50 and My100, which boosted ridership, but its impact on Prasarana's bottom line cannot be gauged as it was only introduced late last year.
In terms of ridership, it has been reported that people taking rail services — the LRT, MRT and monorail — average about 35 million a month, while bus ridership is about 400,000 daily.
But much of what goes on at Prasarana is not publicised.
For instance, in September 2015, Prasarana was awarded the contract to operate and maintain the Al Mashaaer Al Mugaddassah Makkah Metro Southern Line between the Arafat 1 station and Jamarat in north Mecca, taking over from China Railway Construction Consortium. The news received lukewarm response, but what was not disclosed were the losses incurred on the project and its termination.
Politician Rafizi Ramli had highlighted that Prasarana lost RM100 million on the management project in Saudi Arabia, but apart from that, there was little news of it.
Prasarana has also issued billions in debt paper, including to help pay staff salaries last year, and it could issue more debt paper for LRT3.
Two separate sources say there is a rift in the management at Prasarana, but this was shot down by others.
"To me, it is normal to have such rifts … even the word rift is too strong. I would say disagreements is a better word, and it is bound to happen. It happens in all companies, and it is not bad to have differences of opinion," the source familiar with Prasarana says.
There is also some confusion as Prasarana is a unit under the Ministry of Finance but operates under the ambit of the Ministry of Transport.
"While Prasarana is undertaking asset impairments, the finance cost is still high, so what should be addressed are the high debts," says the source.
Perhaps there will be some clarity after Prasarana's financials are released.