This article first appeared in The Edge Malaysia Weekly, on November 18, 2019 - November 24, 2019.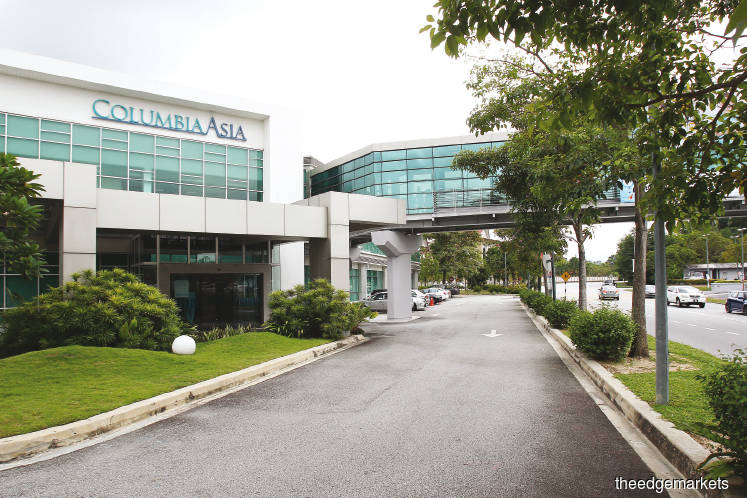 Columbia Asia's hospitals are located in Malaysia, Indonesia and Vietnam
Photo by Mohd Izwan Mohd Nazam/The Edge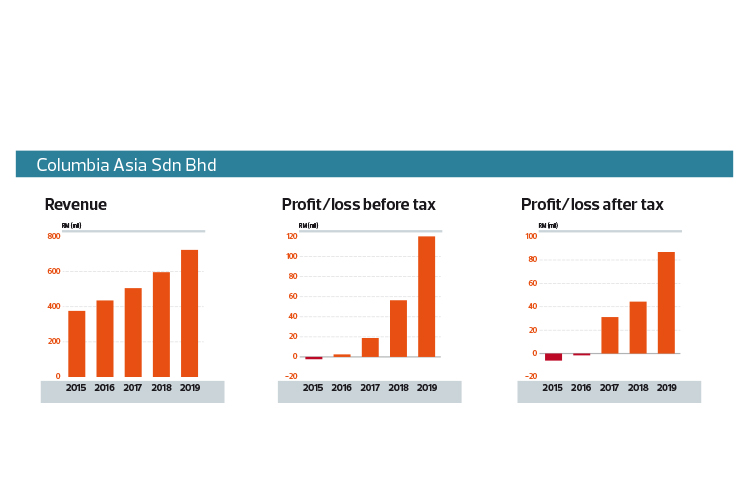 HONG Leong group is understood to be scouting around and meeting financial institutions for a loan of US$385 million (RM1.6 billion) to help finance the acquisition of Columbia Asia Hospitals in Southeast Asia, sources familiar with the matter tell The Edge.
The diversified group is reportedly seeking only a five-year loan, says one source.
To recap, in September, Hong Leong group and US private equity firm TPG Capital acquired Columbia Asia Hospitals in Southeast Asia for US$1.2 billion (RM5.01 billion then), taking control of 17 hospitals and a clinic that are located in Malaysia, Indonesia and Vietnam. Hong Leong group will use the US$385 million to pay for its share of the price tag.
The acquisition was done on a 50% each, joint-venture partner basis between Hong Leong group and TPG, which would indicate that each partner needs to pay US$600 million (RM2.49 billion). Considering that the quantum of payment per year would be about RM500 million for a five-year loan, excluding interest, Hong Leong group seems confident that the new business arm will perform.
"All the larger banks have been approached, and I believe it will be a club deal, as US$385 million will be too big for any one bank to absorb … as far as I know, it (Hong Leong group) has approached the usual suspects, the larger international banking groups, some of the Japanese banks as well," says a banking source.
Meanwhile, it is understood that Hong Leong group has set up a vehicle for the new business arm — Hong Leong Healthcare Group Sdn Bhd. Checks on CTOS reveal that the company was established with a paid-up capital of RM2 on Aug 20, with Quek Kon Sean — the youngest son of billionaire tycoon Tan Sri Quek Leng Chan, who helms the Hong Leong group — as one of its directors.
The company's other director is Chin Min Yann, who doubles as its company secretary.
Hong Leong Healthcare is wholly owned by Hong Leong Co (M) Bhd, Leng Chan's vehicle that controls 77.41% of Hong Leong Financial Group Bhd, which, in turn, has a 64.23% stake in Hong Leong Bank Bhd, 81.33% in Hong Leong Capital Bhd, 75.17% in Hong Leong Industries Bhd and 65.04% in GuocoLand (M) Bhd, among others.
A check on CTOS indicates that Hong Leong Co's shareholders are Assets Nominees Sdn Bhd with a 28.8% stake, HL Holdings Sdn Bhd (17.88%) and Hong Leong Investment Holdings Pte Ltd (17.66%), with the remaining shareholding fragmented and held by the Queks and their cousins from across the Causeway — the Kweks, who hold a large number of the shares as well.
While Leng Chan is the patriarch of the Malaysian side of the family, Kwek Leng Beng helms the clan in Singapore and is chairman of Hong Leong Group Singapore.
Raising the funds should not be too difficult for the group, considering Hong Leong Healthcare's parent, Hong Leong Co, has a strong balance sheet. For its financial year ended June 2018, Hong Leong Co registered an after tax profit of RM6.71 billion on revenue of RM35.99 billion. It had total assets of RM313.03 billion and total liabilities of RM232.82 billion.
To put things in perspective, as at end-June last year, Hong Leong Co had retained earnings of RM46.58 billion.
The Edge understands that shares could be pledged to support the loan syndication as well, but details are scarce.
Most of Columbia Asia's hospitals, which Hong Leong Healthcare and TPG are buying, are located in Malaysia (12). Indonesia has three hospitals and Vietnam, two hospitals and one clinic.
In April last year, US-based Columbia Asia group increased its holding in the Malaysian arm of its business, Columbia Asia Sdn Bhd (CASB), from 69.4% to 99.12% when it acquired a 29.72% stake from the Employees Provident Fund (EPF).
The price tag for the acquisition from the EPF was not disclosed.
Checks on CTOS reveal that CASB is a 99.59% subsidiary of Columbia Asia Healthcare Sdn Bhd, which focuses on the Southeast Asian market, with its main operations in Malaysia. CASB, in its report to CTOS, says it is involved in the running of hospitals, retirement facilities and nursing homes as well as the provision of other related medical services, management services and investment holding, among others, but does not say where its businesses are located.
For its financial year ended March 2019, CASB registered an after tax profit of RM86.85 million on revenue of RM724.24 million. It had total assets of RM1.48 billion and total liabilities of RM747.4 million. The results marked CASB's third straight year of profit. Nevertheless, the company had accumulated losses of RM75.42 million as at end-March this year.