This article first appeared in The Edge Malaysia Weekly, on October 21, 2019 - October 27, 2019.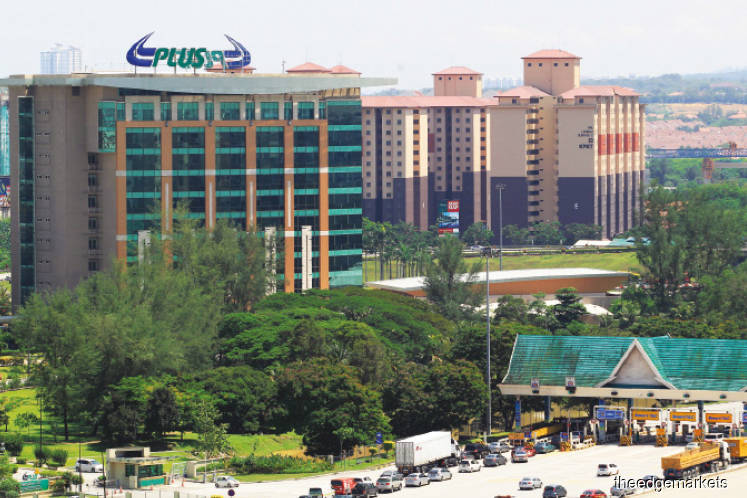 THE government is considering paying not more than  RM7.5 billion for PLUS Malaysia Bhd as it weighs up whether to acquire the asset, sources say.
"A plan is being considered that could involve self-financing where the government will not have to come up with cash. Potential savings from this can come up to more than RM25 billion as the government will not have to pay any compensation because it will own the toll roads," says a source. "The plan being considered involves Khazanah (Nasional Bhd) taking up the government paper issued to acquire PLUS."
Another source says there is a high-level discussion that is exploring the idea of asking private entities keen to acquire PLUS to put down a deposit. "PLUS is worth more than RM30 billion if you add its debt. Potential buyers could put down a cash deposit worth, say, a percentage of the asset, which could come up to a couple hundred million. The cash deposit could be put into an escrow account owned by the government for a certain period of time. This is the normal practice when it comes to some government bidding processes."
On the table now are proposals for PLUS from four private entities, namely Maju Holdings Sdn Bhd, which is controlled by Tan Sri Abu Sahid Mohamed; private equity fund RRJ Capital, which is led by Malaysian brothers Richard and Charles Ong; Widad Business Group (WBG); and a joint offer from businessmen Tan Sri Halim Saad and Datuk Wong Gian Kui.
A Kadir Jasin, special adviser to Prime Minister Dr Mahathir Mohamad on media and communication, said in an Oct 18 Facebook post that those keen on buying PLUS should prove their seriousness and financial standing by depositing half a billion ringgit with the government.
In response, RRJ's Richard Ong says: "Yes, we are ready to put up a RM500 million cash deposit as part of our bid. This amount is reasonable since it is only 2% of the total asset base of PLUS. We would welcome such a request from the government so long as it is a fair and transparent process for all bidders. We remain serious about PLUS and hope to deliver an immediate toll rate cut of 30% to B40 users."
WBG executive chairman Tan Sri Muhammad Ikmal Opat Abdullah says, "We have not received any feedback from the government on our offer. However, we are ready to fulfil any additional terms that are required for the proposed acquisition."
Maju and Halim Saad were unavailable for comment.
To recap, RRJ is offering RM3.5 billion cash to buy out PLUS with liabilities. It is looking to offer toll discounts of up to 30% and demolish toll booths to ease traffic congestion. The international firm has also said it is willing to form a 50:50 partnership with government institutional funds or private companies, such as Permodalan Nasional Bhd, Kumpulan Wang Persaraan (Diperbadankan) or the Employees Provident Fund, to own and manage PLUS.
WBG has offered two options: to take over the 51% stake owned by Khazanah for RM1.5 billion cash but leaving the remaining 49% with EPF or to fully take over the concessionaire from Khazanah and EPF for RM3 billion cash. It is also offering to reduce toll charges by 25% to 36%.
Maju revised an earlier offer this month and is suggesting a 25% to 36% reduction in tolls under an amended proposal to the government. It has offered to buy PLUS at an enterprise value of RM34.9 billion, which includes the highway operator's debts to bondholders.
All three private entities are waiving or absorbing government compensation of RM2.7 billion. But they want an extension of the concession period plus a government guarantee on PLUS' debt paper.
Meanwhile, Halim and Wong are offering RM5.2 billion for PLUS with a 25% discount on toll rates and no change in the concession period (ending in December 2038). It is not known if they want a government guarantee on the debt paper or if they are waiving or absorbing the government compensation.
It is worth noting that Khazanah managing director Datuk Shahril Ridza Ridzuan has publicly commented that it would be a "huge moral hazard" to put PLUS in the hands of the private sector. From Khazanah's point of view, PLUS is essentially a strategic national asset.
In an exclusive post-budget interview with The Edge Financial Daily on Oct 13, Finance Minister Lim Guan Eng revealed that the government was weighing the possibility of taking over PLUS as Khazanah had submitted a proposal to sell the company to it.
"We have the magic bullet; we are able to borrow at very low rates — that is what we want to take advantage of," Guan Eng said, adding that the government was also studying private proposals to acquire PLUS, whose debts total RM30 billion.
In his Budget 2020 address on Oct 11, the finance minister had announced that Putrajaya would be granting an 18% discount on toll rates on all PLUS highways. He noted that this would result in savings of RM1.13 billion for highway users in 2020, and up to RM43 billion over the concession period until 2038.
In August, the New Straits Times, quoting sources, reported that the government was contemplating taking over 15 highway concessions through a highway trust set up by Khazanah.
As the government mulls over the various proposals for PLUS, what is clear is that it intends to sell assets that it does not consider significant.
On Sept 20, Prime Minister Tun Dr Mahathir Mohamad stated that Khazanah would sell assets that are "not useful to us" to raise funds to pay off the country's debts but that it had not made any decisions yet.
He also said then that it is better for business to be done by business people.