This article first appeared in The Edge Malaysia Weekly, on April 8, 2019 - April 14, 2019.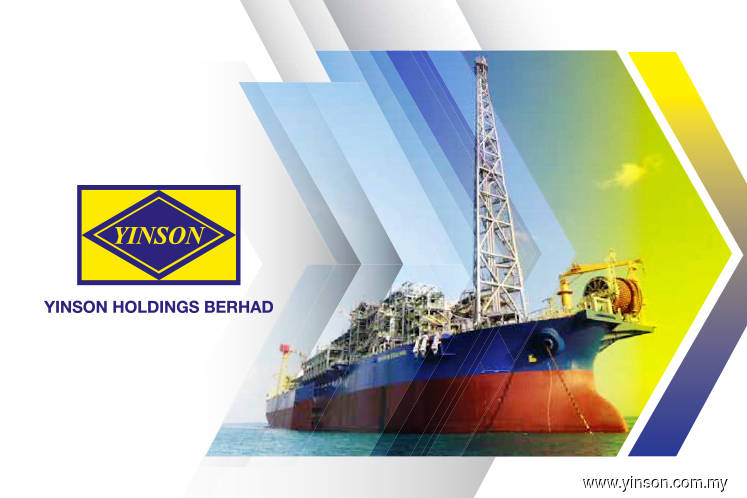 YINSON Holdings Bhd's proposed acquisition of US$916 million (RM3,736.45 million) of Ezion Holdings Ltd's debt will allow the Malaysian offshore marine services provider to participate in the renewable energy (RE) plant installation sector, especially in China.
As China rushes to increase the non-fossil energy share of total primary energy consumption to 15% and 20% by 2020 and 2030 respectively, some estimate that it will require about US$360 billion over the next decade. Ezion's joint venture with several Chinese companies may enable Yinson to participate in the burgeoning sector, especially in the wind farm market.
According to BIMB Securities analyst Azim Faris, who covers Yinson, the wind farm market is more mature in the EU and the US but there is higher interest among Asian and other developing countries in adopting wind parks on a larger scale.
"Last year, an estimated 20GW to 21GW of wind power capacity was installed in China and Taiwan to generate energy. As such, this bodes well for Ezion, which already has a strong market presence in Asia," Azim tells The Edge.
In 2016, Ezion set up a joint venture with Sinotrans & CSC Holdings Co Ltd to secure opportunities in China's offshore wind farm market. The agreement also includes a partnership with China Huadian Corporation Ltd to support offshore wind power installation projects in the country.
However, it may be challenging for Ezion to benefit from the Chinese wind farm market, depending on how the company chooses to solve its working capital issues. This is why Yinson's proposed acquisition of Ezion will have to go through the debt route rather than equity, analysts say.
To recap, Yinson proposed to acquire the US$916 million of debt for a cash outlay of US$200 million from Ezion's secured lenders. Subsequently, the debts will be capitalised and converted into Ezion's shares via share issuance at a price of 5.5 Singapore cents apiece.
This will result in Yinson eventually holding a stake of not less than 70% in the Singaporean tug boat and lift boat operator.
Apart from the proposed acquisition, Yinson may also choose to inject some S$203 million over the next five years in return for 3.4 billion shares, or a 11% stake.
The deal to buy up to US$916 million worth of secured bank borrowings from the lenders has not yet been signed as discussions, which are at an advanced stage, are still ongoing. If Yinson and the banks fail to reach an agreement by April 14, the proposal will be terminated.
The lift boat business is Ezion's largest revenue contributor, generating about 60% of its total revenue of US$118.7 million in the financial year ended Dec 31, 2018 (FY18).
According to UOB KayHian senior analyst Kong Ho Meng, both the group and Ezion sees the limited working capital to execute their contracts as the biggest near-term hurdle to the lift boat business earnings.
However, he says the issue is expected to be resolved quickly once Yinson steps in as a shareholder of Ezion and eases the debt.
"In this sense and if you look at Ezion's past historical statements, the lift boat segmental Ebitda of US$77 million in 2016 is the best representation of how the segment should perform without major loan constraint," says Kong in an emailed response to The Edge.
Despite that, BIMB Securities' Azim says there is still the risk that the lift boat redeployment process will be slower than expected. Yinson plans to increase Ezion's Ebitda to US$120 million in 18 months, from US$49 million in FY2018, by increasing its utilisation of the lift boats.
"Should this happen, it would translate into a longer payback period than Yinson's management had initially expected," says Azim. Ezion has 12 lift boats in its fleet, all of which are contracted. However, only about 50% of the contracts were executed due to the working capital issue.
The company has been hit by the drop in oil prices since 2014, which led to plummeting charter rates.
Meanwhile, the need to integrate the same culture, work and business direction of the two companies is definitely a challenge for the acquisition's success, according to Maybank Kim Eng analyst Liaw Thong Jung.
"Yinson will drive Ezion with a new direction and purpose. That will mean further strengthening of its balance sheet and operations. With a cleaner balance sheet and new owner, Ezion will have better access to the capital market.
"Lifting its operating assets utilisation (lift boats, rigs, offshore support vessels, tugs, barges and so on) is also a priority. Yinson will also need to look at the assets on hand, which are considered core and which are not," says Liaw, adding that the research firm does not rule out asset rationalisation.
Post-restructuring, Ezion's gross debt will be reduced by 60% to US$597 million, giving it a net asset balance of US$555 million compared with a net liability balance of US$352 million as at Dec 31, 2018.
Analysts covering Yinson are largely positive on the acquisition. This is because the cash outlay of US$200 million, which effectively values Ezion at only 0.35 times its post-restructuring book value, gives Yinson a relatively attractive entry point to diversify its business into lift boats and wind farm installation.
Raymond Yap, a CIMB Research analyst who covers Yinson, says the entry price was at a 48.5% discount to Ezion's post-restructuring net asset of 2.9 Singapore cents per share, or a pro forma FY18 price-to-book value of 0.52 times.
Nevertheless, Yap foresees that Ezion will slightly drag down Yinson's profitability for the financial year ending Jan 31, 2020 (FY2020). This is based on Ezion's estimated core pretax loss of US$49 million, of which 70%, or US$34 million, is consolidated by Yinson.
However, since the acquisition is expected to be completed by the third quarter of this year, and assuming there is a three-month consolidation of Ezion into Yinson's financials, the negative drag is 18% of Yinson's estimated core pretax profit, says Yap in the research note.
"We expect Yinson to deliver strong core pretax profits of US$132 million in its FY21F, almost tripling year on year, due to the commissioning of the FPSO Helang and FPSO Abigail-Joseph projects from November 2019 onwards.
"At the same time, we estimate Ezion to report lower core pretax losses of US$9 million in CY20F, of which US$6 million is attributable to Yinson's potential 70% stake. As a result, the negative impact on Yinson from Ezion's losses, if any, in CY20F, will be much less at only 5% of our current forecast for Yinson," he says.