This article first appeared in The Edge Malaysia Weekly, on June 3, 2019 - June 09, 2019.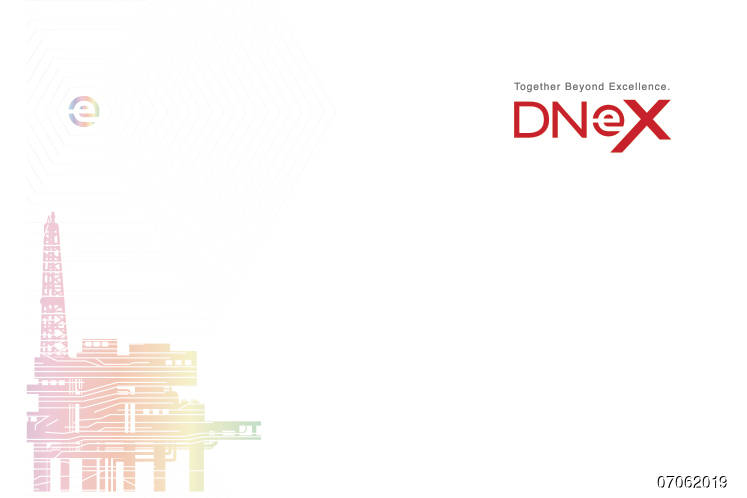 PING Petroleum Ltd, an oil and gas outfit that focuses on shallow water offshore production and development, has been put up for sale by its shareholders.
The Edge understands that financial services company Jefferies International Ltd has been given the mandate to sell Ping but details were scarce at press time.
"They (Jefferies) have started looking for a buyer but the feeling is that it shouldn't be difficult with the oil and gas sector gaining momentum," a source familiar with the sale says.
Ping's largest shareholder with 30% equity interest is Dagang NeXchange Bhd (DNeX), which in turn is 16.22%-controlled by Censof Holdings Bhd.
DNeX's management could not be reached for comment on the matter. As Ping is a private company, little is known about its other shareholders or how it is doing financially.
However, DNeX had hinted in the past that a divestment of Ping could be on the cards. In a March 15 note, CIMB Research, possibly after a meeting with the management, says DNeX is exploring the potential to "monetise and unlock the value of its energy asset", which includes "potentially divesting its stake in Ping".
As at Dec 31 last year, Ping had a carrying value of RM200.9 million on DNeX's balance sheet. However, oil prices have since gained more than 20% with Brent crude hitting a high of almost US$75 per barrel in April.
Nevertheless, DNeX may make a killing as it had acquired the 30% stake in Ping from its shareholders in September 2015 for US$10 million cash (RM42.05 million at the exchange rate at the time).
In its financial year ended Dec 31, 2018, DNeX reported a net profit of RM35.35 million, which was down 38% year on year due to lower crude oil prices and a one-off impairment of goodwill in its energy division. Revenue, however, grew 43.9% year on year to RM293.45 million.
Ping contributed RM22 million to DNeX's net profit in FY2018, down slightly from RM22.2 million in the previous year.
DNeX's information technology division, which consists of trade facilitation and business-to-business services, contributed 82.3% to revenue in FY2018 while its energy division contributed 17.7%.
DNeX's share price has been on a downward trend since October last year, falling 54% from 43.5 sen on Oct 4 to 20 sen on Dec 20. The stock closed at 24.5 sen last Friday, giving the company a market capitalisation of RM431 million.
Incorporated in Bermuda in 2012, Ping is an independent upstream oil and gas company looking for shallow water offshore production and development opportunities in Southeast Asia and the UK sector of the North Sea.
Ping's founders include its chairman David Roy Phillips, CEO Ning Zhang and chief operating officer Paul Baltensperger, all of whom are former technical and management executives of Newfield Exploration Company. It has offices in the UK and Malaysia.
DNeX executive deputy chairman Datuk Samsul Husin and executive director Zainal Abidin Jalil both sit on Ping's board as non-executive directors.
Ping's wholly-owned subsidiary Ping Petroleum UK Ltd (PPUK) has a 50% stake in the Anasuria Cluster of oil and gas fields located about 175km east of Aberdeen in the UK Central North Sea.
PPUK and Anasuria Hibiscus UK Ltd (a wholly-owned subsidiary of Hibiscus Petroleum Bhd) jointly set up Anasuria Operating Company Ltd as the operator of the Anasuria Cluster assets.
The Anasuria Cluster consists of the Teal, Teal South, Guillemot and Cook fields, which produce for the Anasuria floating production storage and offloading facility.
In March this year, Ping signed a rig contract with Stena Spey Services Ltd to drill two firm wells. The first well is the Guillemot A GUA P1 sidetrack, which can unlock about 1.7 million barrels of oil from its current net proved and provable oil reserves, while the second is a development well in the Avalon field and will be executed by PPUK as its operator.
When DNeX acquired the Ping stake in 2015, Brent crude was trading at a low of US$47 per barrel, which represented an ideal opportunity for the former to buy producing assets with development potential.
DNeX's two main businesses are IT services and energy. Apart from Ping, it is also invested in oil and gas company OGPC Group, which provides equipment and services for the oil and gas, petrochemical and power industries.
In 2016, DNeX acquired OGPC Group by buying up the whole of OGPC Sdn Bhd and 52% of OGPC O&G Sdn Bhd for RM170 million.
It is not known what DNeX's plans for OGPC Group are.