This article first appeared in The Edge Malaysia Weekly, on December 9, 2019 - December 15, 2019.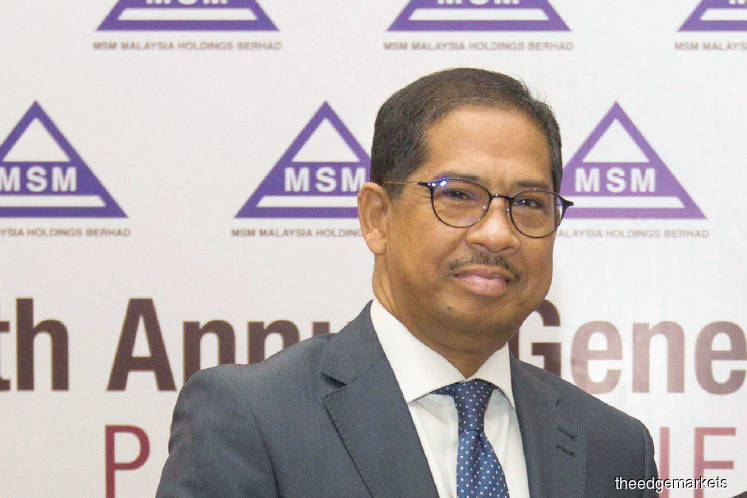 Khairil: We have initiated plans to optimise raw sugar stock holding to release cash being tied up. Photo by Patrick Goh/The Edge
AFTER its worst quarterly performance on record, sugar refiner MSM Malaysia Holdings Bhd is making cash-flow management its priority as it juggles heavy debts and refining overcapacity.
Amid signs that a cash squeeze is looming, group CEO Datuk Khairil Anuar Aziz tells The Edge via email that MSM has sufficient funds to meet its short-term debt obligations. "With the current average cash collection of between RM170 million and RM190 million per month, the group has sufficient cash to cover its short-term debt commitments.
"MSM has scheduled repayments of bank loans in 2020 that will reduce finance costs for the group. We have also initiated plans to optimise raw sugar stock holding in order to release cash being tied up and reduce borrowings and interest costs further."
As at Sept 30, MSM had RM459.6 million in short-term borrowings due in the next 12 months. In comparison, it had RM51.98 million in cash and RM109.3 million in deposits.
In the nine-month period up to Sept 30 (9MFY2019), MSM generated RM299.1 million in net cash from operations. However, it drew down RM1.19 billion in borrowings and repaid RM1.37 billion. MSM said it repaid a net RM240,000 of debt over that period.
The figures do not include other short-term liabilities — RM89.02 million owing to an unspecified related company, RM12.83 million owing to its ultimate holding company, and RM169.12 million in payables.
Meanwhile, long-term borrowings amounted to RM612.65 million as at Sept 30.
FGV Holdings Bhd is the majority shareholder of MSM with a 51% stake while Koperasi Permodalan Felda owns 15.3% and Amanah Raya Trustee Bhd, 7.5%.
Apart from the debt repayments, MSM also paid interest amounting to RM65.5 million in 9MFY2019. Khairil says MSM has scheduled loan repayments in 2020, which are expected to reduce finance costs moving forward.
He clarifies that over 70% of the RM459.6 million in short-term debt comprises working capital commitments with the balance being term loans due.
For the term loans, repayments totalling RM80 million have been rescheduled to match MSM's expected receipt of proceeds from selling plantation land, he adds.
On Nov 20, MSM released its worst quarterly results since it listed in June 2011. For the third quarter ended Sept 30, 2019, it posted RM185.1 million in net losses (3QFY2018: RM15.88 million net profit) as revenue slipped 5.42% y-o-y to RM531.42 million.
It is worth noting that what dragged down MSM's earnings in 3QFY2019 was a one-off impairment of plant and machinery amounting to RM137.35 million. This coincided with the commercialisation of its new Johor refinery, which is only 20% utilised at present.
It is a stark contrast to the performance of the other half of the domestic sugar duopoly, namely its primary competitor Central Sugars Refinery Sdn Bhd (CSR), which is understood to be profitable.
The record losses may hurt FGV's openly stated intention to divest its stake in MSM.
"We are concerned that the persistent losses will deter potential suitors from pursuing a potential stake in MSM and could lead to potential cash-flow issues for the group given its high net gearing position of 0.6 times as at Sept 3, 2019," CGS-CIMB Research said in a Nov 20 report. The research house has a "sell" call on the company.
Last Thursday, MSM closed at 88 sen per share, valuing the company at RM615.11 million. The stock has fallen by a huge 69.1% over the preceding 12 months.
At its peak of RM5 at end-2016, MSM had a market capitalisation of RM3.5 billion. Since then, almost RM3 billion in value has been wiped out.
Of the four analysts tracking the counter, two have "sell" ratings and two have "hold" calls. The target prices (TP) for the hold calls range from 98 sen to RM1.02, and for sell calls, between 70 sen and 76 sen.
MSM is projected to end FY2019 with revenue of RM2.1 billion (-5.32% y-o-y) but a net loss of RM225.2 million, based on consensus estimates tracked by Bloomberg. Hitting those numbers would mean MSM would see its worst full-year performance since listing in 2011.
'Selling below cost'
Interestingly, in 3QFY2019, cost of sales exceeded revenue for the first time in 10 consecutive quarters — only the second time since listing — which indicates that MSM is selling its products below production cost.
A global low raw sugar price environment saw sugar futures in the US end 2018 at its lowest level since 2008, Reuters reported. By late November 2019, however, prices had surged to their highest in over a year.
MSM confirms that raw sugar prices comprise 76% to 80% of its cost of goods sold (COGS). COGS is the sum of raw material costs, labour costs and amortisation expenses.
"This was due to the commercialisation of MSM's Johor refinery in April 2019, hence the current utilisation rate is still low, resulting in its cost of sales exceeding revenue," said Khairil.
The Johor refinery, which cost RM1.1 billion to build, added one million metric tons (MT) to MSM's annual refining capacity. Its other two refineries are in Penang (960,000 MT) and Perlis (180,000 MT).
From a wider perspective, the new Johor refinery in Tanjung Langsat has exacerbated a national refining overcapacity. Domestic consumption is stable at about 1.6 million tonnes of sugar per annum but refining capacity has grown to three million tonnes per annum with the Tanjung Langsat refinery.
That has put pressure on average selling prices (ASP), which MSM cited as a factor in its declining revenue. The company declined to reveal its monthly ASP to date.
"We are in the midst of balancing our production capacity with the existing two refineries currently running at about 80% of their production capacity," Khairil says.
Note that the government had also issued  approved permits to some food and beverage players that allowed them to import cheaper raw sugar and undercut the business of local refiners.
In tandem with new product development to diversify its revenue stream, MSM is also "looking forward to consolidating production capacity within the group's operations", he adds.
The company's primary focuses this year, apart from optimising its cash flow by reducing stock holding, included selling non-core assets, improving efficiency and working on energy cost savings to lower refining costs, says the CEO.
At a 20% utilisation rate, the Tanjung Langsat facility produces an annualised 200,000 tonnes, of which about 25% has been allocated for the export market.
The company says it is targeting full utilisation at the plant by 2021 and has earmarked up to 70% (700,000 MT) of output for the export market, eyeing mainly Asia as well as the Middle East and North Africa.
However, the export market may give rise to further headwinds for the company. A key issue for Malaysian refiners when exporting is the cost disadvantage compared with their overseas competitors, which have larger economies of scale, among other factors.
"Another issue is that ASP for exports in 9M2019 of RM1,633 per tonne was 29% lower than its domestic ASP achieved of RM2,307 per tonne, which suggests that the export trades, which the new Johor refinery is targeting, are not profitable," notes CGS-CIMB.
Asked why foreign markets would choose its products given its cost disadvantage, MSM points to an expected supply crunch growth next year that would support higher prices, based on a previous International Sugar Organisation report. "There will be a sugar deficit in 2019-2020, which is expected to grow about 3.5 million tonnes and increase to nearly six million tonnes in the period between 2020 and 2021, mainly due to lower production in major producing countries, including Brazil, Thailand and Europe."
Hence, MSM expects refined sugar prices to increase and boost its exports, says Khairil.