This article first appeared in The Edge Malaysia Weekly, on September 9, 2019 - September 15, 2019.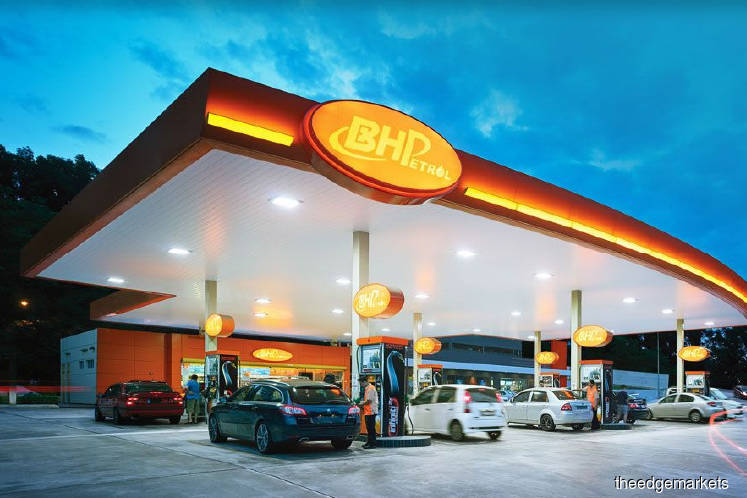 BOUSTEAD Holdings Bhd is in talks to sell its stake in Boustead Petroleum Marketing Sdn Bhd (BPM), which operates petrol stations under the BHPetrol banner, sources familiar with the matter tell The Edge.
In an email response to questions from The Edge, Boustead Holdings says, "As an investment holding company, Boustead Holdings holds multiple investments in various sectors of the Malaysian economy. The group is always on the lookout for ways to strengthen our diversified investment portfolio and extract the best value from our investments.
"BPM is today a key contributor to the group and at this juncture, it continues to remain a key performing asset for us. Boustead Holdings is governed by exacting disclosure requirements. Should there be any pertinent announcements to be made, we will do so according to [the] disclosure requirements."
It is understood that talks with at least one individual buyer are ongoing, with several other parties interested in the assets or waiting on the sidelines.
A source with knowledge of the matter says, "This (waiting on the sidelines) is because the price tag being bandied about is more than RM1 billion … maybe even RM1.5 billion, or more.
"There are quite a few parties that are looking at it [even though the price tag is high], and there are others still on the sidelines, waiting to see what sort of valuations are being sought by Boustead Holdings."
BPM sells petrol and similar products such as diesel and liquefied petroleum gas (LPG) as well as related products such as lubricants. According to Boustead Holdings' annual report for FY2018, BPM operates as many as 386 petrol stations and marts selling a variety of things.
BPM is 70% controlled by Boustead Petroleum Sdn Bhd and 30% by Lembaga Tabung Angkatan Tentera (LTAT) or the Armed Forces Fund Board.
It is noteworthy that LTAT has a 59.45% stake in Boustead Holdings. While it is still unclear at press time, considering the shareholding structure of LTAT and Boustead Holdings, it is unlikely that LTAT will remain in BPM if Boustead Holdings exits.
Meanwhile, shareholders of Boustead Petroleum are Boustead Holdings with a 59.82% stake, PE Petroleum Sdn Bhd (21.11%), Vitol Malaysia Sdn Bhd (14.07%) and Tan Sri Che Lodin Wok Kamaruddin (5%). Lodin had helmed both Boustead Holdings and LTAT for many years but stepped down late last year, possibly as a result of the change in government from Barisan Nasional to Pakatan Harapan.
In a nutshell, Boustead Holdings has an effective stake of 41.87% in BPM. With LTAT likely to exit as well, the effective stake that is being disposed of would presumably be 71.87%, unless the minority shareholders of Boustead Petroleum are also looking to exit.
Checks on CTOS reveal that PE Petroleum is wholly owned by little known Hesselink Investments, while Vitol Malaysia is wholly owned by Vitol Malaysia BV, a unit of the Dutch oil giant Vitol.
Another source says there could even be interest from Petroliam Nasional Bhd's 69.88%-owned unit Petronas Dagangan Bhd, which has more than 1,000 petrol stations and 725 marts located at the petrol stations.
Other sources highlight that Vitol, which is already in Boustead Petroleum, could be interested, but this remains unsubstantiated. Another name that has popped up is Petron Malaysia Refining & Marketing Bhd, which already operates more than 640 petrol stations, but this remains a conjecture at press time.
For its financial year ended December 2018, BPM registered an after-tax profit of RM78.39 million on revenue of RM4.97 billion. It paid out RM80.49 million in dividends for the year.
As at end-December last year, BPM had total assets of RM1.35 billion and total liabilities of RM877.71 million. Retained earnings stood at RM162.25 million.
Boustead Holdings is diversified and has interests in defence, pharmaceuticals, heavy engineering, plantations and property development, to name but a few. It registered a net profit of RM1.9 million on revenue of RM5.05 billion for the six months ended June this year.
As at end-June, Boustead Holdings had deposits, cash and bank balances of RM781 million, while on the other side of its balance sheet, it had short-term debt commitments of RM4.48 billion and long-term borrowings of RM3.16 billion.
The counter ended trading last Friday at RM1.05, giving the company a market value of RM2.13 billion.