This article first appeared in The Edge Malaysia Weekly, on July 2, 2018 - July 08, 2018.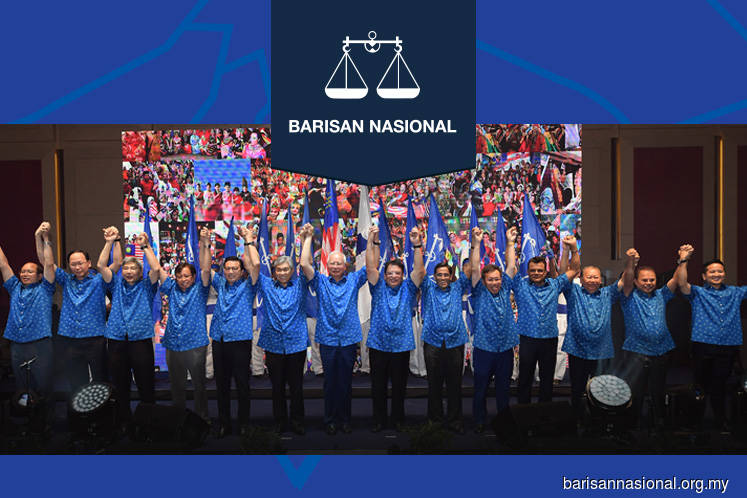 BARISAN Nasional (BN) parties received some RM300 million that originated from 1MDB for the 2013 general election, investigators have discovered.
Sources say Umno's head office was the biggest recipient — getting close to RM145 million — from a bank account of Datuk Seri Najib Razak at AmBank.
The RM145 million was part of around RM800 million in that account, which investigators believe originated from the proceeds of 1MDB's bond issues in 2012 and 2013. Najib had a few accounts at AmBank. Another one had, in March 2013, received RM2.6 billion, also from 1MDB proceeds.
Investigators believe Najib had in total around RM3.5 billion in all his accounts at AmBank that was used for political funding as well as personal expenses.
Umno deputy president Datuk Seri Zahid Hamidi on June 28 revealed that the bank accounts of Umno's head office and Umno Selangor had been frozen by the Malaysian Anti-Corruption Commission (MACC). He expects the bank account of Umno Johor to be frozen as well.
Sources say Umno Selangor received RM19 million while Umno Johor received RM25 million from Najib — all through cheques.
Najib also made payments to other Umno state committees and divisions as well as to Barisan Nasional component parties such as the MCA, MIC, SUPP and Liberal Democratic Party in Sabah. Sources say MIC was given RM15 million and MCA, RM11 million.
Last week, a special officer to Najib when he was prime minister was detained by MACC. Datuk Amhari Effendi Nazaruddin was head of the economic policy division in the Prime Minister's Office (PMO).
Sources say a company in which Amhari was a director and joint shareholder, Orb Solutions Sdn Bhd, received around RM62 million from his boss from 2011 to 2014. The money allegedly originated from 1MDB.
According to company records, Orb Solutions was formed in 2010 to provide "web management and communication strategies solutions".
Sources say the special officer was tasked with implementing a social media strategy to promote Najib and the BN government. The 42-year-old joined the PMO in 2009 from Bank Negara Malaysia where he was with the economics and markets department. He was brought into the PMO by the late Datuk Azlin Alias, who was head of Najib's economic policy team. After Azlin died in a helicopter crash in 2015, the special officer was promoted to head the team.
Sources say anyone who had received money from Najib's bank accounts would be called in by investigators and it is likely their bank accounts will be frozen. They say that although the recipients may not have been aware that the funds were illegally diverted from 1MDB, investigators will demand that they be returned. If the recipients have spent the money, they will still be asked to return it.
Apart from political parties, close to 70 individuals, 60 business entities and 10 foundations received a total of RM500 million from one bank account of Najib between 2011 and 2014, according to sources. The business entities included well-known law firms, media and political consultants, events management companies and advertising agencies.
Save by subscribing to us for your print and/or digital copy.
P/S: The Edge is also available on Apple's AppStore and Androids' Google Play.