This article first appeared in The Edge Malaysia Weekly, on November 4, 2019 - November 10, 2019.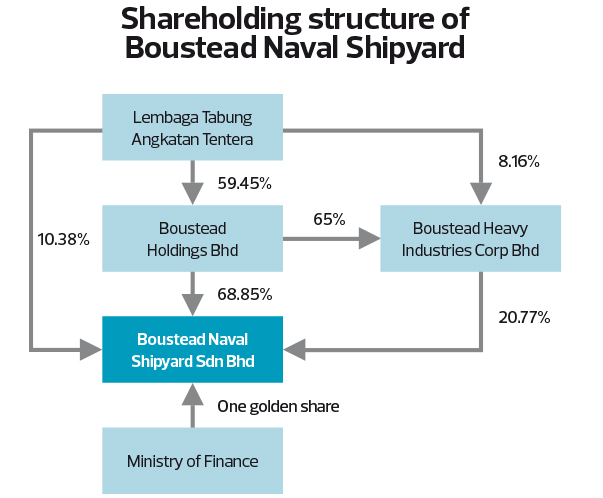 BOUSTEAD Heavy Industries Corp Bhd (BHIC) has finally clinched its long-pursued recovery of cost overruns in the littoral combat ship (LCS) programme that sank it to record losses last year.
Sources tell The Edge that the company received a letter from the Ministry of Defence late last month affirming that the variation order (VO) will be honoured. That said, the actual payment will go through the Ministry of Finance.
It remains to be seen whether the cost recovery will be recognised for BHIC's third quarter ended Sept 30 (3QFY2019). The results are due for release in end-November.
The exact quantum due to BHIC could not be confirmed at the time of writing and the company has declined to comment.
However, it is worth noting that Defence Minister Mohamad Sabu told reporters last week that the government would fork out an additional RM1.4 billion for the LCSs after having paid RM6 billion.
The cost recovery could lift BHIC's earnings significantly after impairments and provisions sank it to its biggest net loss in six financial years. A bumper dividend would also be a boon to its controlling shareholders — Boustead Holdings Bhd and Lembaga Tabung Angkatan Tentera (LTAT).
In the financial year ended Dec 31, 2018 (FY2018), BHIC reported a net loss of RM108 million on revenue of RM169 million. A big drag was the RM53 million loss suffered by its associates in the defence and security segment, the company said.
"The loss was mainly attributed to the revision of costs of the LCS programme arising from variation orders and a higher project finance cost," BHIC told shareholders in its 2018 annual report.
Nevertheless, BHIC paid a dividend of 1.5 sen per share, or RM3.73 million in total, in FY2018, compared with five sen per share, or a total of RM12.42 million, a year ago.
The LCS contract, awarded in December 2011 and worth RM9 billion, involves the construction of six warships. The first LCS — KD Maharaja Lela — was originally due for delivery in 2017, but has since been delayed.
At least four LCSs are currently under construction at the 120-acre Boustead Naval Shipyard Sdn Bhd (BNS) facility in Lumut, Perak. A fifth is scheduled to have its keel-laying ceremony this year.
It is noteworthy that while BHIC's management led the VO pursuit, BNS is in fact its sister company in terms of the shareholding structure.
Boustead Holdings, which has a 65% stake in BHIC, controls 68.85% of BNS. BHIC has 20.77% equity interest in BNS. The Ministry of Finance has a golden share while the remaining 10.38% stake is held by LTAT, which is the majority shareholder in Boustead Holdings and also has a direct stake in BHIC (see chart).
Therefore, a major income recognition from the VO at the BNS level will likely flow through to LTAT, Boustead Holdings and BHIC directly and indirectly. Any resulting dividend declaration from the latter two will also benefit LTAT.
In 1HFY2019, BHIC registered a net loss of RM1.36 million on revenue of RM90.23 million. A year ago, it reported a profit of RM11.72 million on revenue of RM88.88 million.
It is interesting to note that BHIC was profitable for the first nine months of FY2018 before heavy impairments and provisions in 4QFY2018 caused it to suffer record losses.
While BHIC is seeking to turn around its fortunes, the respective situations of its key shareholders may add further motivation to declare special dividends from the VO.
Recall that Boustead Holdings is grappling with a cash squeeze, which has sparked talk that it may divest some of its assets (see "High debt, shrinking cash flow hurting Boustead Holdings" in Issue 1287, Oct 7).
In a nutshell, Boustead Holdings is navigating an audited debt of RM7.53 billion (as at Dec 31, 2018) after slipping into the red for the first time in 17 years last year. It reported a net loss of RM469 million on revenue of RM10.19 billion. More than half of its debt is short-term.
Boustead Holdings paid a dividend of five sen per share, or RM101 million in total, in FY2018, compared with 11 sen per share, or a total of RM223 million, a year ago.
Based on its financial performance in the first six months of FY2019, Boustead Holdings may only see an annualised cash flow from its operations of RM200 million (after debt payments). In contrast, its committed capital expenditure this year is RM1 billion, of which RM491 million has been authorised and contracted.
Over at LTAT, it recently declared a dividend of 2% for its members in FY2018 — the lowest return in its 46-year history as income from companies, particularly the Boustead group of companies, dwindled. It is worth noting that LTAT is undergoing a massive organisational and portfolio restructuring, led by CEO Nik Amlizan Mohamed, who was appointed on Oct 1 last year.
The 2% return equates to a cash payout of RM161.2 million. This means that any bumper dividend and income from the VO will also significantly lift LTAT's return prospects, particularly if the income could be recognised before the end of 2019.
As for BHIC, its share base of 248.46 million may mean that a bumper dividend will give shareholders a sizeable yield. Last Thursday, the stock closed at RM1.27. A 10-sen dividend per share could provide a 7.8% yield with the payout totalling just below RM25 million.