This article first appeared in The Edge Malaysia Weekly, on July 8, 2019 - July 14, 2019.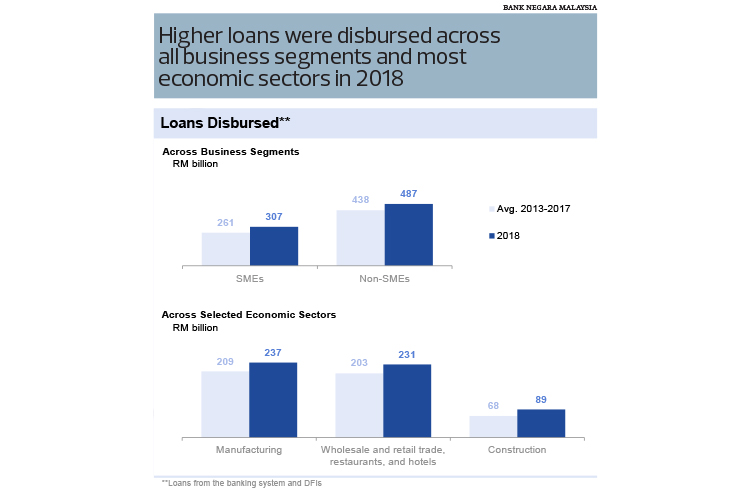 THE Edge understands that Bank Negara Malaysia has relaxed the guidelines for small and medium enterprises (SMEs) whereby, subject to certain conditions, a rescheduling and restructuring of loans within a two-year time frame starting this month will give lenders some breathing space in a challenging operating environment, and prevent the loans from being classified as impaired in the Central Credit Reference Information System (CCRIS).
When contacted, Bank Negara says in a written reply: "SMEs represent the backbone of the economy, making up 98% of business establishments and contributing to 66% of employment. The measure aims to assist SMEs that are viable but are facing temporary constraints in the current environment.
"In particular, the time-bound flexibility is expected to facilitate SMEs and financial institutions in proactively undertaking restructuring and rescheduling so that SMEs can weather the difficulties and continue to service repayments in a sustainable manner.
"In addition, the moratorium facilitates SMEs in continuing their business operations, including continued access to finance. To ensure the risks are appropriately managed, financial institutions are required to separately monitor the performance of these exposures, and maintain adequate provisions to absorb potential credit losses."
According to a recent Bank Negara circular to banks that was sighted by The Edge, when a modification is made to the original terms and conditions of a loan/financing to assist viable SMEs, the loan/financing need not be reported as "rescheduled and restructured" in the CCRIS or classified as impaired.
The circular also says that the latest flexibility is subject to certain conditions, among which is that the SME should not be in default and the application is a one-off and received between July 1, 2019, and June 30, 2021.
"We refer to the request from the Association of Banks in Malaysia dated May 15, 2019, for the bank to reinstate the flexibility accorded to rescheduled and restructured SME loans/financing in 2016," the document says.
"To ensure that risks from these SME loans/financing are appropriately managed, banking institutions must separately monitor the performance of these exposures and assess that the banking institution's total impairment provision remains adequate to absorb the potential credit losses from these SME loans/financing."
Banking institutions are also required to submit to the central bank a quarterly report on the SME loans using a template provided by it in the circular.
Before this change in rules, SMEs that restructured or rescheduled their loans would immediately see the loans classified as impaired on the CCRIS, making it difficult for them to get further funding.
"There have been concerns that banking institutions are excessively tightening credit underwriting standards and that pro-cyclicality in lending activities may exacerbate the economic cycle. The central bank has received complaints that banks have been less forthcoming in extending assistance to viable businesses and households that may be facing temporary financial constraints," says a banker.
This is not the first time the treatment of rescheduled and restructured SME loans has been relaxed. There was a similar "relaxation" three years ago.
In 2016, The Edge sighted a Bank Negara letter, dated Feb 4, that informed banks of the change for SMEs that applied to restructure and reschedule loans between Jan 1, 2016, and Dec 31, 2017.
The letter addressed the treatment of rescheduled and restructured SME loans/financing to support efforts by financial institutions to proactively assist such companies that faced challenging business conditions.
Rising SME impairment
According to Bank Negara's latest statistics on the banking sector for up to March, impaired loans in the SME segment of the financial institution system had been increasing month on month since the beginning of the year.
From RM10.13 billion as at Dec 31, 2018, total impaired loans rose progressively to RM10.38 billion in January, RM10.65 billion in February and RM11.24 billion in March. In other words, there was a 5.5% month-on-month change in total impaired loans from February to March.
Apart from the manufacturing sector, there was an uptick in impaired loans in finance, insurance, real estate and business activities.
The manufacturing sector saw a 4% month-on-month increase in impaired loans to RM1.45 billion in March while in finance, insurance, real estate and business activities, which accounted for the bulk of the total amount, impaired loans rose 5% month on month to RM2.9 billion.
The two largest contributors to impaired loans in the SME segment were wholesale and retail trade, and restaurants and hotels, making up 23% of the total amount, while finance, insurance, real estate and business activities accounted for 26%.
"Depending on the industry and timing, an increase in total impaired loans could be cyclical. With the latest changes to the treatment of rescheduling and restructuring, perhaps cash flow will improve for some SMEs. Sometimes, these companies may not be financially distressed but it's just a matter of cash-flow timing," a banker points out.
In 2015, Bank Negara issued guidelines that required newly restructured and rescheduled loans in the CCRIS to be classified as impaired after April 1 that year.
Rescheduled and restructured loans will be reclassified as non-impaired from impaired when repayments based on the revised and restructured terms have been observed continuously for at least six months or later as determined by the banking institution's policy on rescheduled and restructured facilities.
The guidelines were issued in 2015 to discourage the "evergreening" of loans as banks had to make provisions once the loans were classified as impaired, which in turn affected their bottom lines, explains a banker.
While banking institutions remain the main source of financing for SMEs, alternative financing companies, such as peer-to-peer (P2P) platforms and fintech players, are tapping the sector.
Recently, P2P financing platform, Funding Societies Malaysia, teamed up with Lazada Malaysia to offer short-term and e-commerce financing, specifically to traders on the latter's e-commerce platform.
The platform provides an alternative source of funding for local micro SMEs to finance their business expansion as well as to meet other financial needs.
Apart from financial institutions and alternative financing, SMEs can also borrow from government funding agencies and development financial institutions through schemes and programmes.