This article first appeared in The Edge Malaysia Weekly, on December 2, 2019 - December 08, 2019.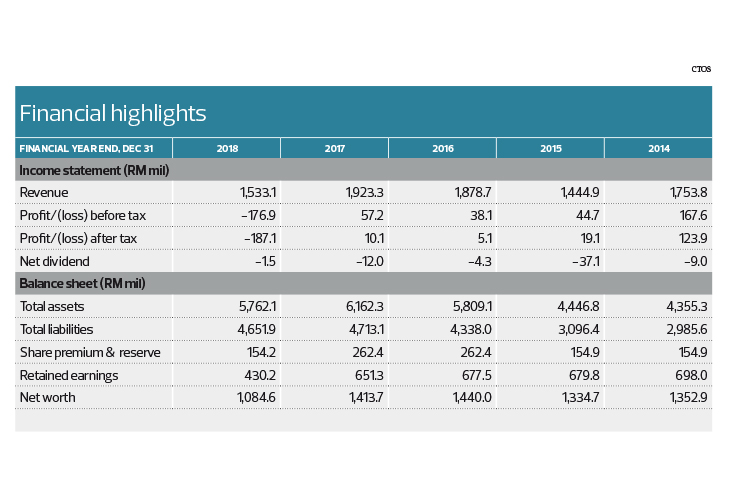 THE only thing worse than having one statutory body in a pickle is to have two in a quandary at the same time. And that is what seems to be happening at the Federal Land Development Authority (FELDA) and the Federal Land Consolidation and Rehabilitation Authority (Felcra). Both are under the purview of the Ministry of Economic Affairs but have the Ministry of Finance as the sole shareholder.
One market watcher says, "The Ministry [of Economic Affairs] has its hands full with these two [FELDA and Felcra]. It will be a wonder if they can resolve these issues knowing the sensitivities."
While FELDA's woes have been well documented in the media, the issues at Felcra have managed to stay off the radar, overshadowed by the multibillion ringgit problems and lawsuits at FELDA.
FELDA settlers make up 54 parliamentary constituencies, which gives it political clout. Felcra's objective is to develop rural areas, helping rural communities to join economic activities to improve their living standards. According to news reports, Felcra has some 112,000 settlers, with 250,275ha of land and 997 plantations.
It suffered an after-tax loss of RM187.12 million on RM1.53 billion in revenue for its financial year ended Dec 31, 2018 (FY2018). Nevertheless, it paid out RM1.5 million in dividends to its shareholder, Minister of Finance Inc. In contrast, in FY2017, Felcra raked in RM10.11 million in profit after tax (PAT) on RM1.92 billion in revenue, and paid out RM12.01 million in dividends.
According to credit agency CTOS, the loss in FY2018 was the first in at least five years and Felcra has paid out RM64 million in dividends over the last five years. In a nutshell, Felcra has paid out more than it has earned in profits (see table).
As at end-December last year, Felcra had total assets amounting to RM5.76 billion and total liabilities were pegged at RM4.65 billion. It is worth noting that Felcra had retained earnings of RM430.24 million as at end-2018.
Felcra was worth more than RM1.08 billion as at end-2018, but the key question is how long it can sustain itself.
Many of Felcra's woes stem from a stalled RM1 billion mixed-use development on a 1.63ha site in Jalan Sultan Yahya Petra (formerly Jalan Semarak), Kuala Lumpur. The project was slated to include Menara Felcra office tower, a 43-storey luxury residential building, a mall and an international convention centre.
The RM1 billion development is being undertaken by Felcra Properties Sdn Bhd, which is a wholly-owned unit of Felcra with a paid-up capital of RM30 million.
The project is only 42% completed and the state-owned statutory body is seeking ways to revive it. In January, there were news reports that the project was being revived with several parties interested in it, but nothing seems to have come of it.
Otherwise, the signals have been mixed. In October last year, Minister of Economic Affairs Datuk Mohamed Azmin Ali was quoted as saying that Felcra plans to sell some parts of the Menara Felcra project to raise dividends and living standards for its 96,137 members.
He said Felcra was unable to foot the bill for the project and that the government had no plans to postpone or cancel it.
"As Felcra is facing cash flow problems, efforts are being made to continue with the project. If we receive good offers to monetise the assets, we will consider them," Azmin was reported to have said in parliament.
But a year down the road, nothing has happened and Felcra Properties seems to have issues. For its financial year ended Dec 31, 2018 (FY2018), Felcra Properties suffered an after-tax loss of RM123.93 million without generating any revenue. As at end-December last year, Felcra Properties had accumulated losses of RM130.68 million.
It would seem that the development in Jalan Sultan Yahya Petra is its only development.
In FY2017, Felcra Properties' only profitable year, it generated PAT of RM3.46 million on RM46.47 million in sales.
It is also worth noting that Felcra Properties is likely to have received some form of capital injection — in FY2018, its share capital increased from RM2 million to RM30 million.
Felcra Properties' total liabilities were higher than its total assets by RM100.68 million.
A check on CTOS on Felcra's four largest companies based on paid-up capital does not paint a rosy picture either.
Permodalan Felcra Sdn Bhd, which according to CTOS has a business in investments and fund management, has a paid-up capital of RM130 million. For its financial year ended Dec 31, 2018, it posted PAT of RM11.22 million on RM23.26 million in revenue. Over the past five years, although it has been profitable its PAT has never surpassed RM11.6 million each year.
Felcra Jayaputra Sdn Bhd, whose mainstay is in the processing of palm oil and palm kernel, has a paid-up capital of RM35 million. Felcra controls 36% of the company while the remaining 64% is held by private company One World Palm Oil Mill Sdn Bhd. It is not clear who owns One World Palm Oil Mill or why Felcra has partnered the company.
For its financial year ended Dec 31, 2018 Felcra Jayaputra registered PAT of RM3.3 million on RM305.71 million in revenue. The FY2018 PAT is the highest in the last five years.
Sinergi Perdana Sdn Bhd, whose mainstay is "agriculture-related business", has a paid-up capital of RM31.96 million. Felcra holds a third of the company's shares with the remainder being held equally by FELDA and the Rubber Industry Smallholders Development Authority.
For its financial year ended Dec 31, 2018, the company suffered an after-tax loss of RM8.05 million on a turnover of RM146.21 million. This was the third consecutive after-tax loss in as many years.
So, what will be done at Felcra?
In April, the federal government agreed to inject RM6.23 billion in financial aid into FELDA via grants, loans and government guarantees in stages. Will the same be done for Felcra?