This article first appeared in Personal Wealth, The Edge Malaysia Weekly, on September 10, 2018 - September 16, 2018.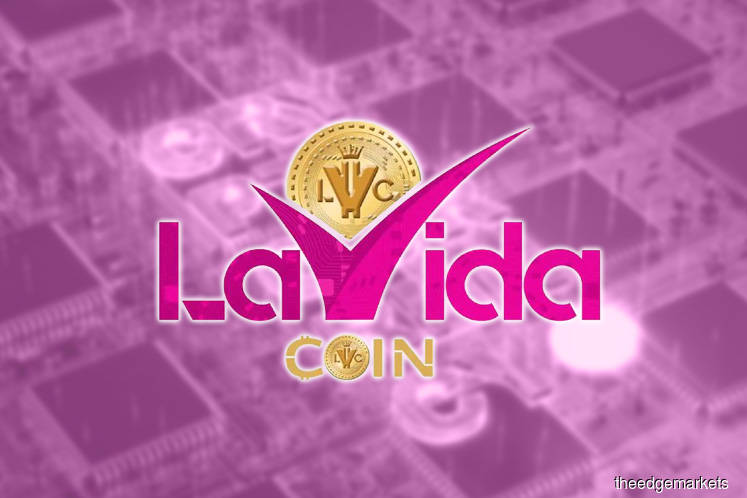 The local market has been abuzz since local entrepreneur Datuk Seri Dr Hasmida Othman, better known as DS Vida, introduced her own cryptocurrency called LaVida Coin (LVC). The initial coin offering (ICO) was launched on Aug 8 in Singapore, but the digital coin is available to investors around the world.
Each coin is priced at 66 US cents and sold in packages of at least 30LVC (costing US$19.80). The company behind the digital coin — DSV Galaxier Ltd — is registered in the UK.
According to the ICO's white paper, the funds raised will be used for the development of three projects. The targeted US$1.5 billion will be used to develop an entertainment platform and a payment gateway called LaVidaPay. A portion of the proceeds will go towards the construction of a mosque complex, to be named DSV Galaxy Mosque.
"My intention is to give access to lower-income investors, who do not have the opportunity to own [cryptocurrencies such as] LVC," Hasmida tells Personal Wealth.
According to an Aug 23 report by Utusan Malaysia, she decided to introduce LVC after making a healthy profit from her own investments in cryptocurrencies, which she started two years ago.
However, the ICO has run into some challenges. For instance, market observers are questioning the lack of key information in the white paper. A quick check on Sept 5 found that the white paper was no longer available on its website.
ICO projects are considered high-risk investments as they are not regulated. On Aug 27, the Securities Commission Malaysia (SC) released a statement advising investors to exercise due diligence and to be cautious of the risks of participating in schemes involving cryptocurrencies and digital tokens. It also said it was in the midst of reviewing all available information on the digital coin to determine whether there has been any breach of securities laws.
Subsequently, on Aug 29, Bank Negara Malaysia listed LVC's operator — VI Profit Galaxy (DSV Cryptoclub and LUX Galaxies) — on its financial consumer alert list. The list consists of companies and websites that are neither authorised nor approved under the relevant laws and regulations administered by the central bank.
"Bank Negara has the right to issue such a statement. We will determine the parts where we need to pay more attention to. We will also ask the central bank to guide us in the areas that require improvements," says Hasmida.
On Sept 5, the SC issued a notice directing the promoter of LVC to cease all promotional activities in relation to the digital coin with immediate effect. The regulator also announced that DSV Crypto Club, LUX Galaxies and VI Profit Galaxy, which were found to be promoting LVC, were added to its Investor Alert list.
According to a May 20 research paper by Boston College, the majority of ICOs fail within four months of their token sales. By analysing a dataset of 4,003 planned and executed ICOs, which raised a total of US$12 billion since January last year, it was found that only 44.2% of the projects were active into their fifth month or beyond.
On the other hand, a lot of ICOs do perform well and have given good returns to investors. For example, ethereum's pre-sale price was about 30 US cents in 2014. Today, it is worth about US$297 — 98,900% higher than the pre-sale price.
There have been a lot of successful ICOs issued this year. One example is that of video-gaming platform company Play2Live's LevelUpCoin (LUC), which managed to raise US$30 million in March. The funds will be used to build a blockchain-based streaming platform for gamers and eSports fans.
When asked what the investment risk is for LVC, Hasmida says there has been no risks associated with LVC thus far as she is physically present to address any issues. "I am the founder. You can see me with your own eyes. I [dare to] show my face in the industry because I know I am genuine in this business," she adds.
While commending Hasmida's efforts to introduce the new asset class to Malaysians, Amanie Group founder and executive chairman Datuk Dr Mohd Daud Bakar says the LVC team should provide more transparency to the investors. "I think it is a good attempt by the LVC team, but they should properly present who the developers are, how the technology works and the algorithm behind the coins issued in the white paper. This way, it is easier for investors to evaluate whether it is something they should invest in going forward," he adds.
LVC's third project — building a mosque complex — raises the question of whether the digital coin is a shariah-compliant product. According to Mohd Daud, there are a lot of elements that need to be taken into consideration when it comes to determining whether the product is deemed permissible in Islam.
"The utilisation of the coin itself is not enough to determine whether it is permissible. Many other factors, such as the risks associated and how its value fluctuates, also have to be shariah-compliant," he says.
"Of course, there have been many ICOs in the past that put aside a portion of their proceeds for charitable works, and this is always a good thing. But to ensure compliance with shariah requirements, the founder and promoter of the coin should make it clear whether it is backed by certain projects, assets or utilities. These, and other crucial information, should be made more transparent to the regulators, media, auditing firm and the public."
As the process involves investors putting in fiat money to buy digital coins, more scrutiny is to be expected, he adds. "The intention is good. But DS Vida and her team need to spend more time refining the white paper, adding expert opinions and what moves the value of the coin, especially at this early stage, where investors are taking a risk by turning their hard-earned money into coins."
In the light of more Malaysian companies issuing ICOs, Mohd Daud suggests that the regulators consider drawing up a proper framework for ICOs in the country. "Locals need more guidance when it comes to issuing and investing in digital assets. So, there needs to be guidelines for what can and cannot be done," he says.
"For example, if the ICOs are issued in Malaysia, what are the procedures and minimal requirements? If they are issued outside the country, how can the marketing be done in Malaysia? What kind of licences are needed?
"This is something on which the government should share its thoughts going forward. Otherwise, people will want to continue testing the boundaries to get the first-mover advantage."
Meanwhile, Rohani Mohd Shahir, the founder of Hijrah Wealth Management, has adopted a conservative stance on the issue and is not hot about cryptocurrencies. She has her reservations as their performance is still very volatile. She says people should only invest in cryptocurrencies if they fully understand the asset class.
"It is already tricky to explain to the public about unit trusts — a plain-vanilla investment instrument. Can you imagine what it would take to explain to them a sophisticated asset class such as cryptocurrencies? I suggest that the public follow the basics of investments, which are not to dive into anything they do not know and not to follow the herd," says Rohani.
"My advice is to stay away from investments that are very uncertain in nature. If they are already invested, I would advise them to cash out to avoid the possibility of their money being frozen in the issuing company's account."
She also says it is important that people do not to invest in something just because someone influential endorses it. "Do not invest in something just because you think the person promoting it is popular. If you really want to invest in the coin, do not put your entire retirement savings in it. You could perhaps put in just 1% of your disposable income. But it is always advisable to invest in something safe and regulated instead."