This article first appeared in Personal Wealth, The Edge Malaysia Weekly, on November 20, 2017 - November 26, 2017.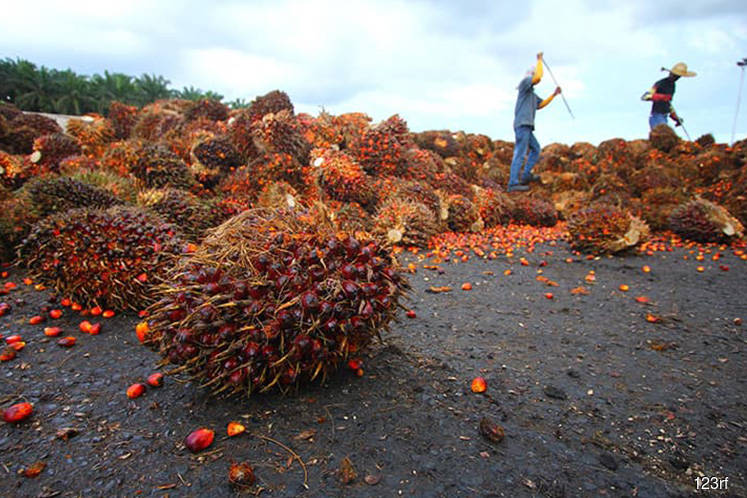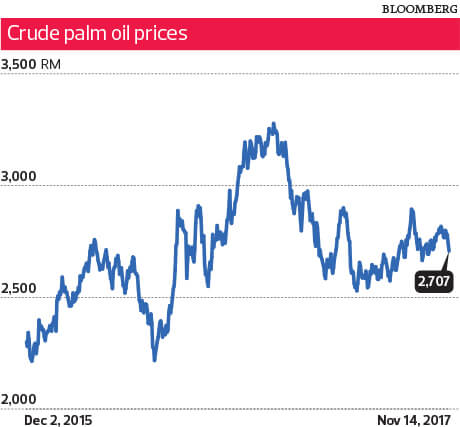 Palm oil is in for a rough time, with the industry set to experience a bearish 2018. This, according to experts, comes on the back of a number of factors such as labour shortages, improved palm oil yields amid lower short-term demand from Malaysia's traditional export markets, poor weather conditions and, in the longer term, fallout from the European Union's ratification of an import ban on palm oil-based biofuels.
Oscar Tjakra, a senior analyst at RaboResearch Food and Agribusiness, tells Personal Wealth that palm oil prices will fall slightly this year. "We should see palm oil yields improve in the fourth quarter of this year compared with last year. That is because we had to contend with the El Nino weather phenomenon at end-2016. This, coupled with the fact that a number of major palm oil export markets are in the midst of winter — a seasonal low for palm oil demand — means that we will see a little downward pressure on palm oil prices for the rest of this year."
Tjakra expects more of the same in 2018. "I am quite bearish on the palm oil fundamentals for next year. Prices will fall lower than they have this year as palm oil yields continue to normalise. So, I suppose while there is good news in that there will be more palm oil to be sold, the bad news is that supply will exceed demand next year."
The demand for palm oil next year will be "pretty much flat", with Tjakra expecting growth in exports to come from just one of Malaysia's traditional export markets — India. "India's recent soybean oil production was not very good due to a lack of rainfall during the last monsoon. So, the demand for palm oil from India will increase next year. As for the rest of Malaysia's traditional buyers, however, the demand will be quite flat," he says.
Although the fundamentals are looking poor for next year, Tjakra points to a number of external factors that he thinks may ease the downward pressure on Malaysia's palm oil sector. "There is some worry that La Nina weather patterns will have a negative effect on soybean oil production in South America. Also, the price of crude oil has been on the rise lately, albeit in small increments. These two factors may help Malaysia's palm oil sector next year," he says.
"Also, Malaysia's ongoing labour shortage could turn out to be a blessing in disguise. In theory, had the country's palm oil sector been operating at full employment, its output would have been even higher, and that would have worked out poorly with the current drop in demand for palm oil. So, these are some external factors that may ease the pressure on palm oil. But speaking purely on the palm oil fundamentals, I am still quite bearish for 2018."
In the longer term, Malaysia's palm oil sector will face some challenges. The upcoming EU ratification to ban the import of palm oil-based biofuels will present a significant longer-term challenge for the country. "We must first be clear on the EU ratification itself. The EU ratification on the ban only extends to the import of palm oil-based biofuels. So, the import of palm oil for the European food sector will remain," says Tjakra.
"But having said that, the EU imports roughly seven million tonnes of palm oil from various global sources. And biofuels make up roughly 3.5 million tonnes. So, the lost business will still be significant."
In March, the EU parliament overwhelmingly voted to phase out the use of vegetable oils in biodiesel, alleging that the oils are produced in an unsustainable fashion and leads to deforestation. The resolution calling for the ban included palm oil.
The ban is not immediate, however. According to Tjakra, the EU parliament will vote on the ratification twice more (at end-November and in January 2018) before the resolution can be passed.
"Unfortunately, these kinds of major government motions will not be overturned at a moment's notice. I do expect that the ratification of the ban will take place eventually. In fact, I was in Bali recently for the Indonesian Palm Oil Conference and its trade minister remarked that Indonesia may retaliate against the EU by banning the import of European milk powder," says Tjakra.
Malaysia has come out strongly against the ban. Last month, Plantation Industries and Commodities Minister Datuk Seri Mah Siew Keong issued a statement chastising the EU for attempting to ban the import of palm oil-based biofuels.
"We note that the European Parliament Resolution on Palm Oil and Deforestation adopted on April 4, 2017, is non-binding in nature. Malaysia is disappointed that the proposals put forth in the EU parliament resolution on deforestation are being enacted by the Commission through the formal, binding, EU regulatory process," says the statement.
"The Malaysian government will take any action necessary to protect the rights of 650,000 Malaysian oil palm small farmers and to secure the future of the palm oil sector that has lifted millions of Malaysians out of poverty. Protectionist discrimination against Malaysian palm oil exports will not be tolerated."
Although the ban is only expected to take effect in 2021, according to Tjakra, he believes that the Malaysian government and palm oil sector needs to move to cushion the blow that is to come.
"I would identify Africa as a new frontier market for palm oil. The demand for palm oil is huge in West and East Africa. If the Malaysian government could pave the way for local companies to start exporting to Africa, that would be good. But at the moment, import taxes in Africa are quite high, so the Malaysian government could negotiate for lower import tax rates for palm oil," says Tjakra.
Another strategy to make up the impending shortfall would be to develop a robust local biofuel market right here in Malaysia. "Indonesia has managed to do this in the last few years. But the problem right now is that crude oil prices are relatively low. So, subsidies and incentives from the Malaysian government will be required to make palm oil-based biofuels more attractive," says Tjakra.
Stock analysts are generally bearish on local stocks, but like Tjakra, they see limited short-term effects arising out of the EU ratification of the ban on the import of palm oil-based biofuels.
An analyst with UOB Kay Hian believes that the recent uptick in crude palm oil (CPO) prices will only have a limited positive effect on share price movements. "We have not seen a proportionate increase in share prices, even though CPO prices have picked up to about RM2,800 per tonne [as at November] from around RM2,500 [in July]. That is because current valuations are already a bit rich, in addition to the fact that the market on the whole is anticipating a bearish 2018."
A Public Investment Bank Bhd analyst thinks that CPO prices will drop to RM2,500 per tonne in 2018 for two key reasons. "I see higher inventories of palm oil in the coming months due to the strong recovery in palm oil production. Also, a recovery in the ringgit later this year will drag CPO prices down.
"Under the circumstances, I would recommend Ta Ann Holdings Bhd, Sime Darby Bhd and Genting Plantations Bhd. All three stocks are benefiting from the young age profile of their palm oil crop, strong growth in their fresh fruit bunch production and attractive valuations."