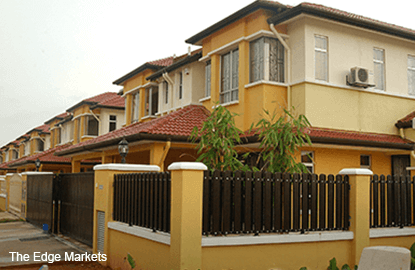 This article first appeared in Personal Wealth,
The Edge Malaysia Weekly
, on December 26, 2016 - January 1, 2017.
Equity crowdfunding (ECF) platform CrowdPlus.asia has kicked off its first property campaign, offering individuals the opportunity to invest in real estate agency RE/MAX Malaysia in exchange for equity and dividends.
The real estate agency is operated by RGroup (HQ) Sdn Bhd (previously known as Kellerhof International Sdn Bhd) under a master licence agreement. The RE/MAX brand is present in more than 100 countries with over 7,000 offices employing more than 110,000 agents.
RE/MAX Malaysia is looking to raise between RM200,000 and RM400,000 for working capital to roll out its three-year growth plan and expand its network in the country. Its campaign runs for 30 days from Dec 8.
RE/MAX Malaysia chairman Alex Gomez says this is an alternative property investing option in this challenging market. "Sales have dipped. Developers are crying out for sales. As at the third quarter of this year, sales in Malaysia (in terms of value of transactions) were only RM95.5 billion. Last year, it was RM149.9 billion. Give it another quarter, they might dip another RM20 billion.
"The local economy is under pressure. We have to come up with new schemes to get people to invest in real estate. Here, there is an opportunity for all to invest in RE/MAX Malaysia."
According to its pitch on CrowdPlus.asia, RE/MAX Malaysia sees marketing opportunity in the country as "the real estate agency industry in Malaysia is highly fragmented, where the majority of the agencies are small and localised in coverage". These have resulted in issues such as an inconsistent level of professional standards, knowledge and skills among real estate agents and compression of the agencies' professional fees as the market is mostly on a non-exclusive basis.
Bryan Chung, chief operating officer of CrowdPlus.asia, says an investment of RM5,000 is required for the RE/MAX Malaysia campaign. "To invest more than RM5,000, individuals must register themselves as sophisticated investors. This change of category will require them to not just provide a copy of their identification card but also their bank statement.
"They will also need to declare that they have a net income of RM300,000 per annum or net assets of RM3 million. These requirements are set by the Securities Commission Malaysia (SC)."
If an investor wants to exit the investment prematurely, there will not be a penalty or exit fee, but he will need to find another investor to take his position, says Chung. "The moratorium is for at least 12 months."
What makes this campaign unique is that it is both equity and reward-based, he says. "For a minimum investment of RM5,000, investors are rewarded with redeemable convertible preference shares (RCPS) in addition to receiving a guaranteed 8% yearly dividend over three years.
"A total of 800 RCPS, priced at RM6.25 per share, will be issued to the investors. If the company chooses to redeem the shares between the first and third year, the 8% dividend will still be given. If the shares are not redeemed after three years, the RCPS will be converted to ordinary shares, thus allowing the investors to enjoy the benefits as ordinary shareholders."
There will be additional discounts for real estate agents, probationary estate agents and real estate negotiators who join RE/MAX Malaysia, says its regional director Andre Keller. "As a branch owner or negotiator with RE/MAX Malaysia, if you invest in our ECF campaign, you are entitled to discounts on branch owner, joining and monthly fees."
CrowdPlus.asia is Asean's first ECF platform operator and one of six licensed by the SC. It has had five successful campaigns so far, including for a biogas power plant (Green Lagoon Technologies Sdn Bhd), a global online education platform (Edugat) and an online food delivery platform (Mammam Deliveries).