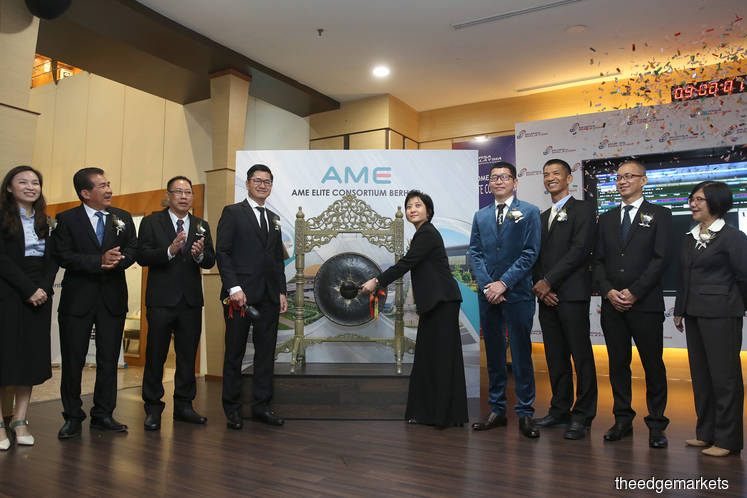 From left: AME Elite alternate director to executive director Lim Yook Kim Lim Pei Shi, AME Elite executive director Lim Yook Kim, AME Elite executive director Kang Ah Chee, AME Elite group MD Kelvin Lee Chai, AME Elite independent non-executive chairperson Tengku Azrina Raja Abdul, AME Elite executive director Simon Lee Sai Boon, AME Elite independent non-executive director Wee Soon Chit, AME Elite independent non-executive director Chang Tian Kwang and AME Elite independent non-executive director Tan Lay Beng at the group's listing ceremony today. (Photo by: Sam Fong/The Edge)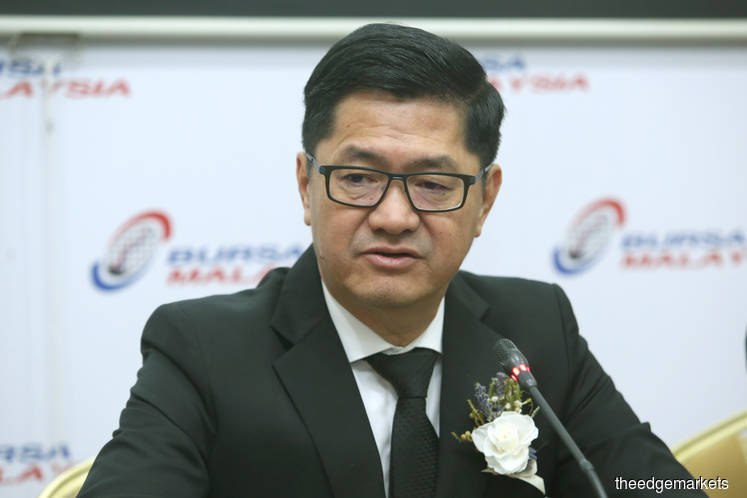 Kelvin Lee: We have received a lot of enquiries (resulting from the trade spat) and the government had announced in the Budget [it will] set a special channel to welcome trade war customers. The Budget 2020 also reveals that our foreign direct investment (FDI) had greatly improved. So, we foresee we can benefit from all the good news. (Photo by: Sam Fong/The Edge)
KUALA LUMPUR (Oct 14): Integrated industrial property solutions provider AME Elite Consortium Bhd made its debut on Bursa Malaysia's Main Market today at RM1.28 per share, 1.54% lower than its issue price of RM1.30.
A total of 3.36 million shares were transacted at the opening bell today.
Under the listing exercise, AME will raise RM166.6 million, of which RM111.1 million will be used for business expansion while the remaining RM55.5 million would go to the selling shareholders via an offer-for-sale.
Speaking to reporters at a press conference after the listing ceremony this morning, its group managing director Kelvin Lee Chai said the group hopes to chart double-digit growth for the financial year ending March 31, 2020 (FY20).
Accelerating the group's growth is the ongoing US-China trade war, which has resulted in trade diversion to other countries including Malaysia.
"We have received a lot of enquiries (resulting from the trade spat) and the government had announced in the Budget [it will] set a special channel to welcome trade war customers.
"The Budget 2020 also reveals that our foreign direct investment (FDI) had greatly improved. So, we foresee we can benefit from all the good news," said Lee.
AME Elite registered a 96% year-on-year jump in net profit for the first quarter ended June 30, 2019 (1QFY20) to RM13.1 million, from RM6.7 million.
Meanwhile revenue rose 60.8% to RM94.4 million from RM58.7 million a year ago.
The group attributed the strong 1QFY20 result to higher demand for its industrial properties resulting from Malaysia's economic growth, investments in the manufacturing sector as well as ongoing US-China trade tensions.
Affin Hwang Capital Research has initiated coverage on AME with a "Buy" rating at its retail IPO price of RM1.30 and target price of RM1.83.
In a note today, the research house said AME is a beneficiary from the general rise in demand for industrial properties in Malaysia due to trade diversion amidst the ongoing US-China trade war.
"We initiate coverage on AME with a BUY call and target price of RM1.83, based on 30% discount to RNAV," it said.