This article first appeared in The Edge Financial Daily, on July 2, 2019.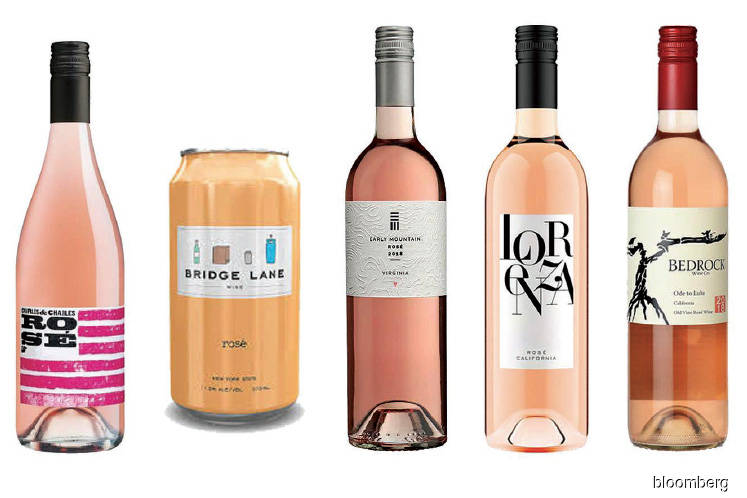 The perfect time for #roseallday is surely the Fourth of July, when beach picnics are followed by evening barbecues and watching fireworks from a blanket in the middle of a field. Now it is easy to make sure the rosés in your ice bucket are all proudly Made in America too.
In the not-so-distant past, that was not the case. Robert Sinskey, the owner of the eponymous Napa winery, said rosé was a "dirty word" when he made his first one in 1991. The most popular wines were sweet "blush" wines, aka white Zinfandel, and no one would buy his Euro-inspired dry rosé, which he named Vin Gris of Pinot noir. Today it is the fastest-selling wine in his portfolio, and more than 100 Napa wineries make their own versions, though often in tiny quantities.
In fact, just about every wine region in the US is now cashing in on the insatiable demand for pink vino. Consider these statistics from SevenFifty, an online wholesale marketplace for alcohol: 3,186 different still rosé bottlings are for sale in New York City, 550 of which are made in the US.
Although regional trade associations do not have exact data on how many of their wineries are producing dry rosé, it is one of the fastest-growing segments in Washington's direct-to-consumer business, up 17% over the last three quarters. About 65% of Oregon's nearly 800 wineries make at least one, according to the Oregon Wine Board.
Long Island pioneer Wölffer Estate released that region's first rosé in 1992 and now makes three (plus rosé sparkling wine, cider and gin). "The Hamptons was ripe for the spirit of rosé," said winemaker Roman Roth, a German native. "It has the same hedonistic beach culture as Provence." The turning point, he said, was 2014, when even keeping bottles of it in Wölffer's tasting room was a struggle.
"There's still a lot of growth possible," he ambitiously predicted. "Sparkling rosé spritzers will change beer drinking."
Many other Long Island wineries have jumped on the bandwagon. Neighbour Channing Daughters winery makes five versions, plus a couple of pét-nats.
"Instagram made it OK to drink rosé," said Napa winemaker Julien Fayard, a native of France whose Azur label now turns out 4,000 cases annually. But with the high price of Napa grapes, he has to source most of them in places such as the Sierra Foothills.
Naturally, a lot of American rosés are pretty ordinary; to be fair, so are many in France. But the US is a hotbed of rosé experiments. Winemakers are trying out different winemaking techniques and unusual grapes like Touriga Nacional and Counoise, which lend violet aromas and soft peppery flavours respectively.
There are several ways to make rosé. With the saignée method, rosé is an afterthought to making red wine. The juice picks up colour from the skins, and some is bled off for rosé, allowing the rest to become a more concentrated red. Another way is blending red and white varieties together, as they do in champagne, a technique Roth uses because he believes it creates complexity.
But more and more top winemakers are going for "intentional" rosés, as they do in Provence. That means picking earlier specifically for rosé production, macerating grapes until their desired colour is achieved, and using all the juice for a pink wine. For very light-coloured examples, winemakers press whole clusters of grapes directly into vats, just like white wine, to keep fresh, bright flavours.
As for those fancy bottles, the current trend in Provence, they are just getting started in the US.
Those on my hot list below are a mix of classic and new producers in five states. I left out superexpensive bottles that belong on a dinner table and not a picnic blanket, as well as a couple dozen more fine examples that are difficult to obtain, such as star winemaker Chris Figgins' impossible-to-resist Toil Oregon rosé. This is summer after all — it is best to just enjoy and not overthink it. — Bloomberg
Bottle-buying guide: 11 outstanding American rosés
2018 Charles & Charles Rosé (US$15 or RM62.10)
With an easy-to-open screw cap and a label that is a take on the American flag, this top-value rosé from Washington seems especially appropriate for the Fourth of July. A blend of six grape varieties, it is mostly Syrah, with bright cherry and lavender aromas as well as tart, tangy flavours.
2018 Bridge Lane Rosé (US$34 for four 375ml cans)
This is the year of the canned rosé as though producers have finally recognised the way we drink in summer. While I have recommended several already, including Una Lou, Bridge Lane's is simple and seriously tasty, with juicy berry flavours. A US$48 matching pool float is offered on its website.
2018 Early Mountain Rosé (US$20)
Delicate, crisp and lip-smacking, this salmon-hued blend of Merlot, Cabernet Franc, Syrah and Malbec from Virginia is extremely versatile and food-friendly. Do not sleep on Early Mountain's delicious rosé pét-nat either.
2018 Lorenza Rosé (US$20)
This zesty blend of Grenache, Carignan, Mourvedre, and Cinsault from old vines in Lodi, California is made by a mother-daughter duo who focus only on rosé. Rose petal–scented, it has a pale pink colour along with salty strawberry and citrus flavours. (Spritz is their bubbly rosé in cans.)
2018 Bedrock Ode to Lulu Old Vine California Rosé (US$23)
Morgan Twain-Peterson blends Mataro and Grenache grapes from 100-year-old vines for this rosé inspired by famous French producer Domaine Tempier in Bandol. The 2018 is more on the nose than previous vintages: lighter yet more savoury and spicy.
2018 Wölffer Estate Summer in a Bottle (US$25)
This year, the superpopular Hamptons rosé has a redesigned bottle with flowing imagery of blooming flowers. The wine inside is full of exuberant fruit and freshness. It is not as serious as Wölffer's prestige rosé, Grandioso, but more fun to drink.
2018 A Tribute to Grace Rosé of Grenache (US$28)
New Zealander Angela Osborne ditched a film career for winemaking and discovered her talent for Grenache grapes — she makes six, plus this rosé version from the Santa Barbara highlands. It is subtle and lush, with citrusy overtones.
2018 Arnot-Roberts Rosé (US$28)
This unique rosé from a top Sonoma producer is made from Touriga Nacional, a grape used for port in Portugal's Douro region. It is delicate and light, with violet and rose aromas and zingy mineral and spice flavours that are fantastic with grilled salmon.
2018 Stoller Family Estate Pinot Noir Rosé (US$28)
This Willamette Valley producer has been making rosé for more than a decade. It brims with citrus aromas and bright, intense cherry-ish flavours.
2018 Robert Sinskey Vin Gris de Pinot Noir (US$32)
Pure and elegant, this Napa classic comes from certified organic vineyards in the cool Carneros region. Provence-style pale pink with mouthwatering freshness, it has floral aromas and spicy, savoury minerality.
2018 Azur (US$36)
Napa winemaker Julien Fayard grew up in France, so he likes to call this blend of Grenache and Syrah from Napa and the Sierra Foothills a California rosé with a French soul. With seductive peach aromas and layers of fruit flavours, it is sophisticated and harmonious.