This article first appeared in City & Country, The Edge Malaysia Weekly, on October 18, 2021 - October 24, 2021.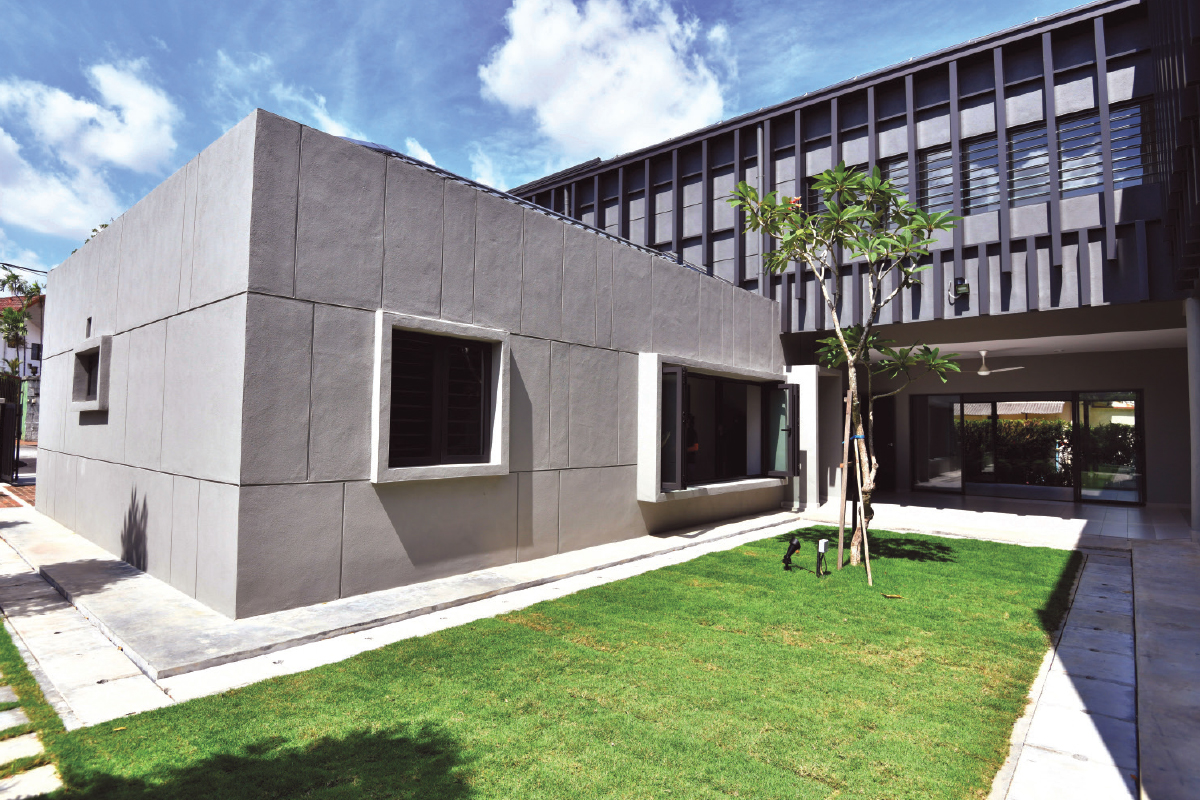 It has been a long journey, hindered by an unexpected delay caused by the Covid-19 pandemic, but five years after the old premises was razed by fire, the Women's Aid Organisation's (WAO) new child care centre is finally ready to welcome its occupants.
Rebuilt by Rehda Youth, the youth division of the Real Estate and Housing Developers' Association, in collaboration with various partners, the centre was completed in September and will be handed over this month.
The new centre is built on the site of the previous one that was destroyed by fire in 2016. "It was necessary to rebuild the centre because it had become uninhabitable. The children had to be relocated to rented premises while we drew up plans for the house and did the necessary," says Rehda Youth immediate past chairperson Carrie Fong.
"We wanted to do a meaningful corporate social responsibility (CSR) initiative — one that would be unique to our association, which is centred around property development, but also one that was inclusive. Hence, we gathered our suppliers, consultants and partners to build a house for the less fortunate by channelling everyone's resources together. We were thrilled about this prospect and received much support from some of the partners with whom we shared our ideas," says Fong during a tour of the new centre recently.
Also present at the event were Rehda Youth adviser and GreenRE director Teo Chui Ping; Veritas Design Group associate architect Choong Wei Li; BSD Consultancy Sdn Bhd ESD engineers Daniel Lim and Annabel Leong, as well as associate director Kelly Lee; EAB Consulting Engineers Sdn Bhd director Joseph Phoon; Timbunan Makmur Sdn Bhd project director Heng Song Ann and project executive Chin Wai Yip; IJM Land Bhd senior manager of property development Tan Guan Lee; and W.Lee Consulting Engineers director Lee Weng Onn and senior civil and structural engineer Onn Sook Yee.
According to Teo, the new child care centre is the country's first platinum-rated green building and acts as a safe house for children and, in some cases, women who have witnessed domestic violence. WAO also provides therapy and counselling on the premises.
"We wanted to ensure that the house or the organisation/orphanage that we work with is a properly set up establishment. It became a bit more urgent because the previous house burnt down, so we decided to work with WAO. We went through the approvals with the authorities and the tendering process in construction took about 1½ years to complete," says Teo.
She adds that Covid-19 and the various iterations of the Movement Control Order (MCO) caused some sponsors to pull out because business was bad during the pandemic. This led to a scramble to replace them.  Rehda Youth members also donated some money for the building materials.
Nonetheless, both Teo and Fong are glad that the centre has finally been completed and the children will be moving in soon.
Fong says most orphanages usually rent a place, so nobody knows who the landowner is. "But WAO is a non-profit organisation and it owns the property, so we felt that it would be a good match with us and aligned well with what we intended to do."
It takes a village
"We had a mission of building a house using as little money as possible, by getting all the partners of the industry to sponsor and contribute to this project. About 80% to 95% of the fixtures, electrical appliances and building materials in the house were donated or sponsored. We managed to raise RM2.5 million worth of donated materials. We also paid for the labour [to build the centre]," says Fong.
There are a lot of considerations when it comes to the operations of the building, child safety and green features. The layout of the house is functional and has sufficient windows and sliding doors, as well as a pitched roof for better air circulation, says Fong. The new centre is able to house more than 20 children, which is more spacious than the previous one, which could only accommodate up to 16 children.
The centre was designed pro bono by Veritas Design Group. Choong says several green features incorporated into the building will reduce utility bills by about 30%. "We used a rainwater harvesting system to collect rainwater to irrigate the landscape, and solar panels were installed to save about 10% to 20% of electricity bills. Also, water-efficient taps, showers and bathroom fittings in the house will be able to save up to 15% of water bills."
The house, which has a total built-up area of 5,704 sq ft, comprises an administrative zone and a private/living zone on the lower floor, as well as three bedrooms on the upper floor.
"The annexe was extended towards the side and back of the house, where we carefully oriented the building to create a courtyard in the middle to promote natural lighting and air ventilation," says Choong, adding that one of the rooms on the lower floor can be used as a bedroom for disabled children or be converted into a learning/play centre.
Fong says Rehda Youth would definitely want to do more similar CSR projects when the opportunity arises. "We are all volunteers, so we hope this initiative will inspire other youth to look for projects like this."