This article first appeared in The Edge Malaysia Weekly, on September 23, 2019 - September 29, 2019.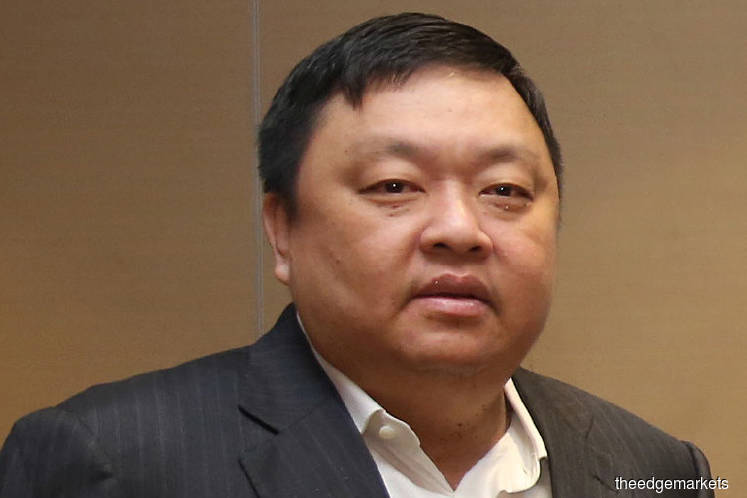 LAST week, The Edge received a tip-off — in the form of a photocopy of a notice in a local paper — that Tiger Synergy Bhd's (TSB) executive chairman Datuk Tan Wei Lian had been served a bankruptcy notice by the High Court of Seremban.
The notice dated May 23, 2019, named Prof Datuk Nik Mohd Zain Nik Yusuf as the creditor who had sought the action.
In a brief conversation with The Edge, Wei Lian says, "It's not a bankruptcy. It's settled already."
According to the portal of the Malaysian Department of Insolvency, "An undischarged bankrupt is disqualified from acting as a director of a company pursuant to the Companies Act."
Before this, there had been attempts to remove Wei Lian as executive chairman of TSB and oust his sister Tan Lee Chin as managing director, and his wife Datin Sek Chain Nee as executive director.
Many of the complaints about TSB have come from substantial shareholder Safari Alliance Sdn Bhd, which has 11.82% equity interest in the property developer. Safari Alliance is the vehicle of Goh Ching Mun, who has a 13.43% stake in TSB in his private capacity. This means Goh controls 25.25% of TSB compared with Wei Lian and family's shareholding of 5.84%.
Goh is one of the founders, former executive director and controlling shareholder of restaurant operator OldTown Bhd.
Safari Alliance had apparently written to Bina Management (M) Sdn Bhd, the share registrar of TSB, seeking a copy of the Register of Members/Record of Depositors, in order to call an emergency general meeting under Section 310(b) of the Companies Act 2016. This section states that a shareholder, or shareholders with at least a 10% stake, can convene an EGM.
However, Safari Alliance, people familiar with the matter say, was unable to call for an EGM and sought the intervention of the courts by filing an injunction on Sept 12.
Safari Alliance and Goh are understood to be vexed at some of the corporate deals TSB has undertaken in the past five years.
One of the more recent was in end-January this year, when TSB entered into a memorandum of understanding (MoU) to undertake a residential development in Rantau, Negeri Sembilan, with TSB as project developer while the partner injected land as consideration. The MoU was aborted in early August.
In this case, there was no consideration paid by  TSB, but other cases have involved capital injections of RM3 million to RM5 million.
In June last year, TSB inked a joint venture agreement with Harapan Handal Sdn Bhd for a commercial development in Klang, Selangor, on similar terms. TSB forked out RM3 million as consideration.
A few days before the Harapan Handal JV, TSB undertook a similar exercise with Tristar Frontier Sdn Bhd and another with Nujade Garden Sdn Bhd for commercial developments in Kuala Lumpur. TSB had to pay RM8 million as consideration to enter into these two JVs. There has been little or no news since then.
In end-June 2017, TSB signed an MoU with landowner LJ Development (KL) Sdn Bhd to jointly undertake a development project in Klang, forking out RM3 million as consideration. The MoU has since been extended a number of times.
In early July 2017, TSB paid RM5 million to Credence Property Management Sdn Bhd as consideration to participate in a Klang property development as project developer. Subsequently, there has not been much news.
In July 2016, the company inked a JV with Kemajuan Rowther Sdn Bhd for a development project in Mukim Batu, Kuala Lumpur, and paid
RM3 million in consideration. There has been no updates on any progress.
The total consideration for TSB's participation in these deals work out to RM22 million.
TSB's unaudited financials for the financial year ended June 30, 2019 (FY2019) show that it recorded a net profit of RM35,000 compared to a net loss of RM3.7 million a year ago. Revenue rose 54.7% year on year to RM16.99 million from RM10.98 million.
TSB derived 88% of its revenue in FY2018 from property development.
As at end-June this year, TSB had RM14.87 million in cash and bank balances and RM414,000 in deposits with financial institutions.
Its short and long-term debt stood at RM3.31 million and RM8.54 million respectively.
The company's finance cost for the year in review was RM809,000.  TSB's net cash from operating activities for the six months in review was a negative RM59.74 million.  Net cash from financing activities stood at RM72.25 million.
Wei Lian, Lee Chin and Sek received RM1.64 million in salary, emoluments and share-based payments in FY2018, and RM3.61 million in FY2017.
At its close of 5.5 sen last Wednesday, TSB had a market capitalisation of RM69.8 million.